Usenet.org Review
Last Updated: May 12, 2022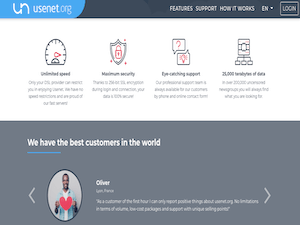 Rating
Price
€8.33 / Month
Retention
3400 Days
Free Trial
Features
Uncapped Speed
256-Bit SSL Encryption
Optimized Networks
Usenet.org is an uncomplicated Usenet service provider that offers good privacy and security as well as uncapped speed. They have a good retention rate and a competitive pricing that costs €8.33 per month.
According to their site, Usenet.org covers over 200,000 newsgroups with a community of about 8 million Usenet users worldwide.
Usenet.org Quick Summary
Uncapped speed without restrictions
Optimized networks
Privacy via 256-bit SSL encryption
Simple pricing - €8.33 per month
Professional and dedicated customer support
Live chat
200,000 newsgroups
Based in Zurich
No logs, no monitoring
Binary Retention
While not at par with the best Usenet service providers, Usenet.org has a retention rate of 3400 days of binary retention.
Pricing
Usenet.org has an uncomplicated pricing with a monthly fee of €8.33. You can also opt to pay for one full year of service for €99.96.
Free Trial Info
Signing up with Usenet.org you will automatically be directed to a 14-day free trial offering. Make sure to test out their service before committing to their paid service. Once the free trial period ends, you will automatically be billed so if you feel like the service isn't for you be certain to cancel the trial before the 14-day day period ends. You can do this by contacting their customer support as seen in their member's area.
Special Offers/ Coupons
Currently, there are no special offers from this Usenet service provider. Check back with us for possible future promotions and coupons from Usenet.org.
Speed Test
Usenet.org performs well in terms of speed. You will be able to max out your own broadband connection with this service. Please be reminded that the speed of your usenet activity not only relies on the service of your Usenet provider but also depends on how fast your own internet connection is.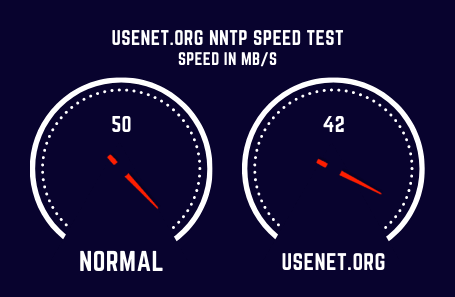 Connections
We found no connection information from Usenet.org but Usenet.org mentions that they are "constantly optimizing their network so that they can offer users the fastest and shortest paths in Usenet".
News Servers/ Ports/ Configuration
When you sign up for a Usenet.org service, they will send you all the information needed for Usenet access including how to configure your newsreader from server information and the allowable ports, both SSL and non SSL-enabled. This information is not readily available on their website.
Frequently Asked Questions
The FAQs below are as seen on the Usenet.org website:
Q: How does it work?
A: By purchasing a subscription for usenet.org you get access to the Usenet, the world's biggest file collection. This collection offers you an endless variety of video, audio, books, games, software, porn content - and so much more. With your flatrate you can access this content without any limit.
Q: What is a newsreader?
A: In order to browse the file collection you need a search engine, aka newsreader. This program helps you find the content you love.
Q: Is the 14-day trial completely free? Where do I cancel if I'm not happy?
A: Yes, the 14 day free trial is 100% free of charge. You will only be billed, if you decide to use the product after your free trial. You can cancel at any time - just contact our support via live chat, e-mail or phone. You can find all the details in the member area.
Q: I lost my password, how can I request a new one?
A: You can reset your password with just one click here: Reset your password
Q: I am looking for a specific file - is it really available on Usenet?
A: We are pretty sure about that! Start your 14 day free trial now and find out. If you can´t find the file you are looking for, you can cancel the free trial at any time.
Support
You can seek support from Usenet.org from password problems, configuration information, speed optimization and all other possible service complications. You can reach out to them via email or through their live chat option.
Contact Information
Support information are as follows:
Argovet AG
+41 44 508 3255
Usenet.org

Hallenstrasse 15
8008 Zurich CH
Security/ Company Privacy Policy
Usenet.org uses 256-bit SSL encryption to keep your Usenet activity secure and private. This Usenet service does not pass on any user information to third parties and they do not store any IP information or other user data.
The company does not monitor any user activity and does not log any other information except for your email address and other account details that are used to keep your subscription active.
Payment Options
Currently Usenet.org only uses credit cards and paypal as payment options
Our Opinion
Usenet.org is a decent and reliable Usenet service. While it is not at the same level as those we consider as the best Usenet providers today, Usenet.org does have good features from their retention rate to uncomplicated pricing. And what is great with this provider is that they do have a 14-day free trial which allows you to test their service out first to be able to check if what they offer would be fitting for your Usenet activity.
Altenatives To Usenet.org
| Name | Price | Info |
| --- | --- | --- |
| Newshosting | $8.33 | Best Price / Free Newsreader |
| UsenetServer | $7.95 | NZB Search / Fast Speeds |
| Eweka | €7,00 | Best EU Provider / Lifetime Discount |
| Easynews | $9.98 | Easy Web App / File Previews |
| TweakNews | €7,50 | Free Newsreader / Free VPN |
| PureUSENET | €5.97 | Good EU Provider / Free SSL |
| XLned | €7.49 | Fast Speeds / EU Servers |