Usenet Access Review
Last Updated: Nov 03, 2021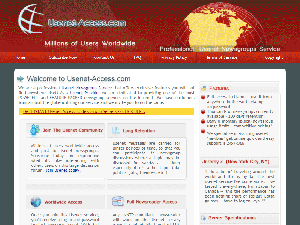 Rating
Price
$19.95 / Month
Retention
200 Days
Free Trial
None
Features
Low Retention
Limited Accounts
SSL Included Free
Editor's Note: Usenet-Access.com is no longer active and now redirects to Centaur Networks LLC, which provides access to various internet services and applications.
UsenetAccess provides several different packages, differentiated by daily or monthly download limits. There are no unlimited accounts, making this service seem rather dated.
Since this service is no longer active, you may benefit from checking out our list of the best Usenet service providers.
Quick Facts
T3 Backbone
Daily/Monthly Download Limits
Bring Your Own Newsreader
200 Days Retention
24-Hour Support
Binary Retention
Binary retention at this provider is very low, with only 200 days offered to subscribers. This is not competitive with other Usenet service providers.
Pricing
All prices are monthly, but make sure to note the way different plans allocate download amounts. Some are allocated by the day, others by the month.
| Name | Price/month |
| --- | --- |
| 500MB/Day | $2.95 |
| 1 GB/Day | $5.95 |
| 2 GB/Day | $11.95 |
| 4 GB/Day | $19.95 |
| 20 GB/Month | $6.95 |
| 50 GB/Month | $12.95 |
| 100 GB/Month | $22.95 |
Free Trial info
There is currently no free trial available from this provider.
Special Offers / Coupons
There are currently no special offers or coupons available from UsenetAccess. If we get ahold of any, however, we will share them with our readers.
Speed Test
Usenet-Access did well in speed testing. If you're having trouble connecting at your maximum speed, adjust the number of connections you have to the server.
Connections
This provider does not advertise how many connections they offer, which is problematic. Connection allotments are not a be-all-end-all deciding factor in choosing a USENET service provider, but they are important enough that they should be included with plan specifications.
News Servers / Ports / Configuration
UsenetAccess does not make the addresses of its servers publicly available. You'll be sent configuration instructions with your welcome email.
Frequently Asked Questions
Q: Are these block accounts?:

A: No. They're advertised as block accounts, but they don't quite fit the description. A true block account does not renew without you manually renewing it. It's not a subscription but, rather, a block of data download you buy, which lasts until you completely use it up. These packages renew and, therefore, they're not true block access.

Q: Can I upload with this service?:

A: Yes.

Q: Does this service provide a newsreader?:

A: No, but you can use any newsreader you like with UsenetAccess. Their page includes instructions on how to set the newsreaders up. If you want more information on newsreaders, browse through our site, as we have plenty of articles to help you make a decision. Most newsreaders are free or, at least, have a free version, so don't be afraid to experiment!

Q: Can I use Bitcoin with this provider?:

A: No, they do not accept Bitcoin at this time. If you want to use Bitcoin, take a look at our top five providers. Some of them accept Bitcoin and other private payment methods.

Q: Why don't they publish their news server addresses?:

A: We're not sure on that, because it's information that buyers should have in front of them before they make a decision. Mostly, it's important to know whether or not there's a server located close to your geographic location—maximum speed—and if there's one located outside your jurisdiction—maximum privacy.

Q: UsenetAccess's page notes Microsoft Outlook Express as a newsreader. Is that viable?:

A: Not really. At least, it's not going to be viable for what most people want out of the USENET subscription they pay for. Outlook Express doesn't handle NZB files, which are among the best ways to download binaries. If you want something more modern, take a look at Newsbin, SABnzbd, Grabbit, or any of the other modern newsreaders on the market.

Q: Is worldwide access really a big deal?:

A: This is listed as a selling point on UsenetAccess's website, but it's not much of a feature worth noting. You can access most any USENET service from anywhere in the world, just as you can access your email server or a web page from anywhere in the world. Any of our top providers offer "worldwide access," as well, so don't let that influence your decision.

Q: Is 200 days of binary retention enough?:

A: Not in our opinion. Our best Usenet service providers offer literally more than ten times that amount of retention on any of their plans, so this is an area where UsenetAccess is sorely lacking. As far as binary retention goes, we really don't see any reason to go with a provider that offers less than 1,500 days, and even that is a low figure given how long some of our top providers keep binaries available.

Q: Can I get a VPN with this USENET subscription?:

A: No. You can buy a VPN separately, of course, but you won't get any sort of discount because you're a UsenetAccess customer. You can check out our top providers for VPN deals. Many of them are including VPN services with their USENET access these days, and doing so can really sweeten the deal for customers.
Support
You can email to support@usenet-access.com if you have problems with your service.
Contact Information
UsenetAccess only provides email contact information. For questions about your account, you can contact billing@usenet-access.com.
Security /Company Privacy Policy
Unfortunately, this company's logging policy is not provided on their site.
Payment Options
UsenetAccess accepts credit cards for payment.
Our Opinion
UsenetAccess is an outdated service. They don't have any unlimited subscriptions and, for most USENET providers, unlimited subscriptions are where they really add value for their customers. Unlimited subscriptions from some of our top providers come with additional benefits like web access, VPN access, included newsreaders and much more and the fact that this provider doesn't offer unlimited access speaks to the fact that they need to update their packages.
What they call block access isn't true block access. The appeal of block access is that you buy it and forget about it until you use it up, at which time you renew or you don't, depending upon your needs. The "block" access here auto-renews, which goes against how block access usually works.
This service's webpage is also very dated and hard to navigate, which shouldn't be the case. Check out our top providers and you'll see streamlined pages with clear privacy policies, payment plan options and, in some cases, even live chat support. We don't see any reason that you deserve less than that level of service.
We cannot recommend UsenetAccess at this time, barring some sort of massive update in their plan terms. They at least need an unlimited plan to be competitive with our top Usenet service providers but, for the moment, they're not competitive at all.
Altenatives To Usenet Access
| Name | Price | Info |
| --- | --- | --- |
| Newshosting | $5.99 | Best Overall / Fastest Speeds |
| Eweka | €6,99 | Best EU Provider / High Retention |
| UsenetServer | $7.95 | Unlimited Access / NZB Search |
| Easynews | $9.98 | All-in-One / Usenet Search |
| TweakNews | €7,50 | Quality Retention / Quality Completion |
| PureUSENET | €5.97 | Good EU Provider / Free SSL |
| XLned | €7.49 | Fast Speeds / EU Servers |