Unzbin Review
Last Updated: Feb 01, 2022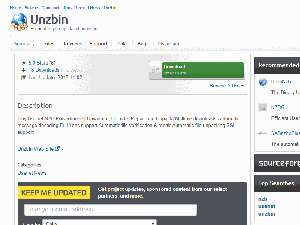 Rating
Price
free
Retention
500 Days
Free Trial
None
Features
Focused on NZB File Downloading and Extraction
RSS Intergration
Multiple Downloads
EDITOR'S NOTE: On our most recent check, the Unzbin website is no longer active which seems like the software has already been discontinued and no longer maintained. There are several software download sites that still carry Unzbin, however.
As an NZB downloader, Unzbin has appealed to a lot of users for its similarity with Utorrent clients. Unzbin's primary focus is on NZB downloading and processing – and it does its task very well. It is a lightweight program that is easy to use and appears to be more competent than Grabit and Alt.binz. However, since 2017, Unzbin has not been updated. While it may appear to be better than the previously mentioned newsreaders, users may benefit from looking at our list of other Usenet newsreaders and choose which best suit your needs. There are both paid and free options on the said list.
Highlighted Features
Unzbin was written specifically to support NZB file downloading and extraction. While it does not have a Usenet search function, it has other features that make it a good choice as far as NZB downloaders are concerned. You can search for NZB files from other Usenet search engines or free NZB sites and then extract and download them through Unzbin.
Automatic unrar 'ing, unpacking , etc
RSS integration — This is very well done and helps Unzbin differentiate itself from the others. And properly setup - RSS integration makes finding content easy!
Good for novices
Small Footprint similar to Utorrent.
HeapDisQ technology
Update Checker
Multiple downloads
Automatic message decoding
Full Yenc support UUencode & base64 support
Automatically pauses Par 's until needed
Automatic file verification, repair & unpacking
RSS/ATOM support with regex filter
Full SSL support
Scheduling
Plans & Pricing
Unzbin is completely free. If you already prefer other newsreaders like Newsbin or Newsleecher, you might find Unzbin as an NZB downloader worth checking out. It is completely free anyway, so you won't have the hang ups of paying for a downloading program.
Usage Overview
Unzbin performs its main function of downloading and extracting NZB files very well. It is a Windows-only program that is based on the Dot Net platform. It is both easy to install and use due to its interface that has limited functions and non-confusing features.
As mentioned, it is very similar to torrent downloaders, so torrent users will be pleasantly surprised with the familiarity of the Unzbin interface.
Installation
Unzbin can be downloaded from the SourceForge website where an installer is available for Windows operating systems. As mentioned, it is very easy to install. Simply download the .exe file and follow the installation process on your Windows set-up wizard. Once installed correctly, a pop-up window will show that you have successfully installed Unzbin on your device.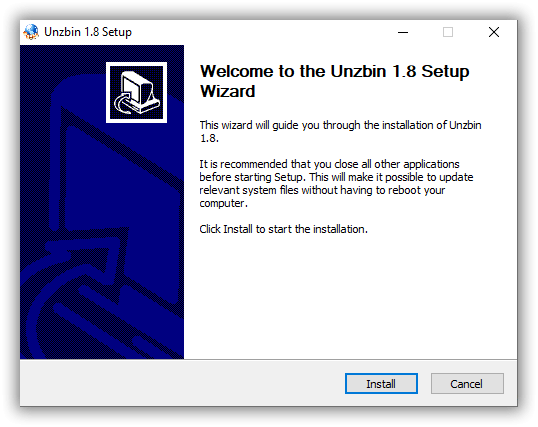 Currently, this NZB downloader is not compatible with other popular operating systems like Mac and Linux. You can check out our full list of newsreaders for other Usenet clients that may work on your computer.
Configuration
To configure the server settings on your Unzbin program, you would need to go to the Menu and then go to the connect tab. From there you can enter the server information from your chosen Usenet Service Provider including the hostname, port, username and password (if required) and the maximum number of allowable connections. Make sure you click on the "use SSL" tick box to ensure that your download activity is kept secure and anonymous. You can also disable servers or remove servers on that particular section, if you wish.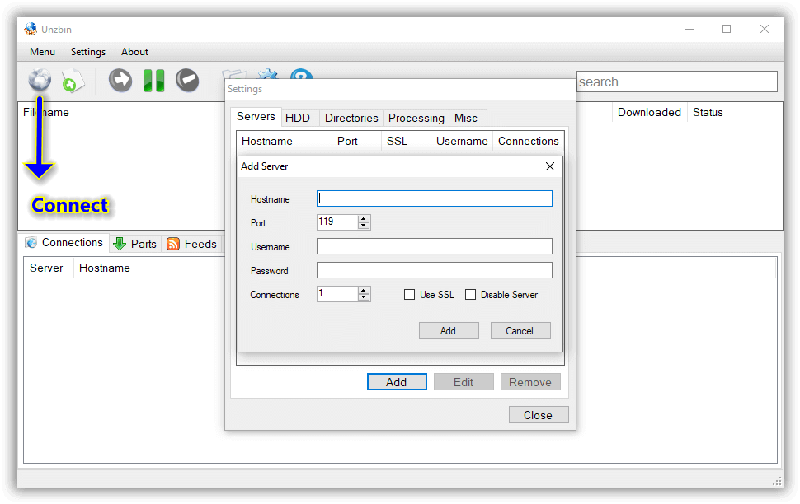 Other tabs included in the settings sections are directories where you can designate cache info and save location, HDD settings, Post Processing functions and other miscellaneous features.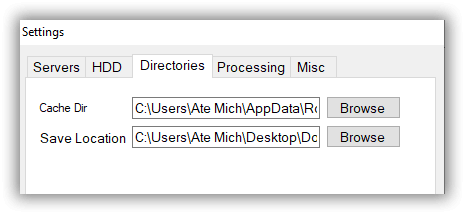 Scheduling and Automation
If you want to download NZB files periodically, Unzbin has a smart download scheduler function that conveniently allows users to gain more control on how often they want to download.
Usability
Unzbin is a perfect program for users who find Usenet either too complicated or for those who are looking for something that is similar to a Utorrent client. Since it is a very focused platform, it does not have any confusing functions and tabs, or any non-essential buttons available on the interface. It is very easy to use, and it does not take a lot of time to configure and figure out how to navigate.
Conclusion
There are a lot of good things that we can say about Unzbin. It is a completely free NZB downloader that is both easy to use and has very focused features that does the job well. However, one major concern with this program is that it has not been updated for quite some time. This also means there is a lack of customer support from its developers. While Unzbin performs well and is still a decent NZB downloader, you might consider checking out other constantly developed and regularly updated Usenet clients that are still on the top of their game.
Visit Unzbin
Best Usenet Newsreaders