Unzbin Review
Last Updated: Jun 05, 2019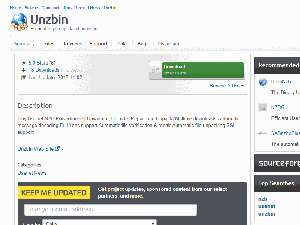 | | |
| --- | --- |
| Rating | |
| Price | Free |
| Retention | None |
| Free Trial | None |
| Features | Dead Site |
Update Nov 2017: Unzbin  has not been updated in FOREVER- if you are looking for a free USENET newsreader then we suggest you take a look here for starters our list of the best USENET newsreaders and choose among them (there are many free options)
If you like Usenet but have felt that Usenet is either too complicated or you have felt like spending the money on a good newsreader and especially if you like utorrent client and wish there was something similar for Usenet, then you are in luck. Unzbin to the rescue!
Unzbin promised to potentially revolutionize Usenet downloading. The Unzbin client focuses on one thing and one thing only and does it very well — NZB file downloading and processing and best of all its free.Even if you have already paid for a Usenet client , you might still enjoy unzbin.  Unzbin is light years ahead of grabit and alt.binz in our opinion.
Unzbin is VERY similar to the utorrent client which as a former programmer, I find a coding masterpiece. These guys a Unzbin have done their job well  – the Unzbin client is lightweight, easy to use and appear to be continuously improved. I have had it running for a few days and already noticed an update.
Pricing
Unzbin is free !!
Definitely check our their software even if you already have a preference for newsbin or newsleecher you might find you like Unzbin.
Usenet Search
Unzbin does not offer a Usenet search function. As mentioned, they focus on one thing and do it very well.
NZB Support
Unzbin supports the NZB format 100%. Their client is written specifically to support NZB file downloading and extraction.
Platform Information
Unzbin is windows only and based on the Dot Net platform. No word yet of a mac or linux version.
Conclusion
Check out our list of the best USENET newsreaders and make your choice there.
Key Details
Automatic unrar'ing, unpacking , etc – Several other news clients do this well so while this is an excellent feature
RSS integration — This is very well done and helps Unzbin differentiate itself from the others. And properly setup – RSS integration made finding content easy!
Good for novices and
Small Footprint similar to Utorrent.
HeapDisQ technology
Update Checker
Built-in update checker!
Multiple downloads
Automatic message decoding
Full Yenc support UUencode & base64 support
Automatically pauses Par's until needed
Automatic file verification, repair & unpacking
RSS/ATOM support with regex filter
Full SSL support
Scheduling
Visit Unzbin
Best Usenet Newsreaders