Newsbin Review
Last Updated: Jan 26, 2022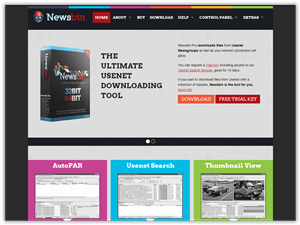 Rating
Price
$20.00
Retention
3000 Days
Free Trial
None
Features
Windows Only
One Time Price
Updates for Lifetime
Newsbin is one of the most frequently and intelligently updated pieces of software for Usenet users. It has been under continuous development for many years, which resulted in its feature-rich interface and functionality as a whole. It is one of the best newsreader options for advanced Usenet users and for novice users who really want to get the most out of their Usenet subscription.
Newsbin has been around since 1997 and it's one of the first newsreaders to use and support NZB format.
Newsbin protects you from files that might harm your computer. Through the use of advanced filtering and duplicate file detection, you will be less exposed to malicious contents and password-protected archives and spams.
Newsbin has an integrated search program that enables you to search from millions of results from Usenet newsgroups. They also offer one of the longest retention of text and binary of over 3000 days.
Finally, Newsbin has a lot of helpful automation features that you can configure. It has efficient functions for searching and downloading, and has an interface that is continuously enhanced for better user experience.
Highlighted Features
TLS and SSL connection support

Newsbin has a default TLS connection. If your server does not support TLS, you can use an SSL connection.

Supports NZBs

Newsbin is one of the first newsreaders to adapt an NZB format.

Built-in Scheduler/Speed limiter.

It has a smart speed limiter that allows you to decide how much bandwidth Newsbin uses, making it much easier to download content and surf at the same time. You can also set the pausing schedule of your download, and such.

Integrates with popular programs

Newsbin supports and integrates some popular program like Sonarr, Sickbeard, and Sickrage

Newsbin improves its AutoPAR functionality
Built-in Watch list

Watch list will enable you to check for specific upload and posters, and download them automatically from the specific groups you set. You can also set which particular topic to look for within the folder and change the folder for the downloaded unrar files.

Built-in Image Database and Viewer

You can preview images as thumbnails while you are browsing or downloading them.

Built-in PAR/RAR and Split File Processing

Automatically process your downloaded RAR file and repair the missing and damaged file. It uses the autopar to combine the Master splitter and RAR files to extract the content.

Spam filtering

Advanced spam filtering will help you segregate malicious contents from your searches. Newsbin has the ability to hide garbage posts, and block RAR password protected files as it usually contains viruses. You can set the minimum-maximum file size, cross-post filter, age filter, and you can also build your own filter rule.

Compressed Header Support with the help of XFeature header compression
Download Special (on top of all downloads)
Supports multiple servers (Proxy)

Newsbin supports SOCKS 4, SOCKS 5, and HTTP proxies

Binary and text retention of up to 3500 days
Download prioritization, and automatic shutdown (More on Scheduling and Automation Section)
Duplicate detection (Bypass Filters)

Newsbin determines the file you already downloaded. A signature of the files you downloaded are saved in a database called signature.db3.

Newsbin tutorials

Newsbin has a dedicated page for tutorials for all kinds of its users. Given the length of the time that it's been around, Newsbin created a large user base to open discussion based on its users' concerns.

Customizable interface and file and newsgroup organizer
The current version of Newbin is at version 6.82 with the following new features:
Bug fixes to 6.81 version
Version 6.82 does not run on Windows XP or Windows 2003. Version 6.73 is the last version that did.
Better integration with Sonarr and NZBHydra
Supports "Category" for Sonarr and Radarr
Improved handling of obfuscated posting styles that have no extentions
Plans and Pricing
Usenet Search Pro is the flagship product of Newsbin. It is compatible with both 32 and 64-bit machines with search limits depending on the duration of your plan.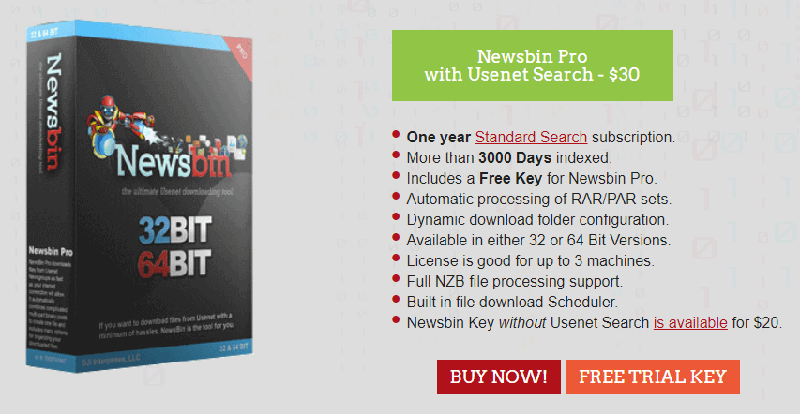 Newsbin without Usenet Search is only $20/year, and it offers the same feature given above, and allows up to 3 computers per license.
We think that any of these options is a good option, especially Newsbin has regular performance-enhancing upgrades and a frequent BETA release to add new features and fix the bugs of their software.
Payments are made via credit cards.
Free Trial Information
Newsbin has a 15-day trial period (with Trial Keys) and use of Usenet Search Service for anyone who wants to try their service. This free trial comes with full-functionality of the newsreader, so you will have an opportunity to try out their service without having to pay for anything for a limited time.
Usage Overview
Newsbin runs exclusively on Windows Operating Systems. For newsreaders that are compatible with Mac and Linux, the list of our best Usenet newsreaders should complement your needs.
Newsbin requires that you have access to Usenet news servers in order to import and download content from Usenet newsgroups.
Do not forget to use an SSL connection to encrypt your communications and keep your downloading activity anonymous.
Installation
To install the newsreader, visit the Newsbin website and download the latest version or any compatible version of the newsreader to your computer, and follow these steps:
Double click the downloaded application and allow changes on your computer;

A Welcome Setup will be displayed. Click Next;

Make sure to read the license agreement of the software, and click I Agree;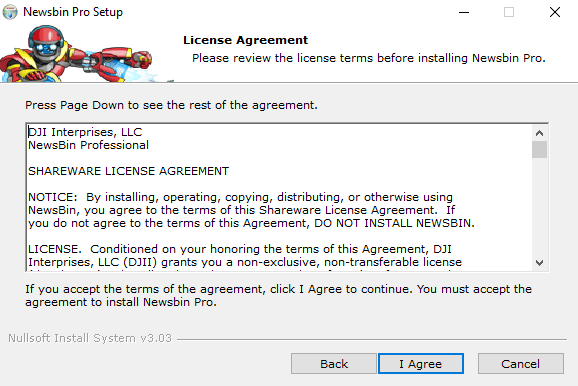 Choose where to save the program on your computer.

Choose and read the description of the components you want to install. After you click Next, the installation will start immediately.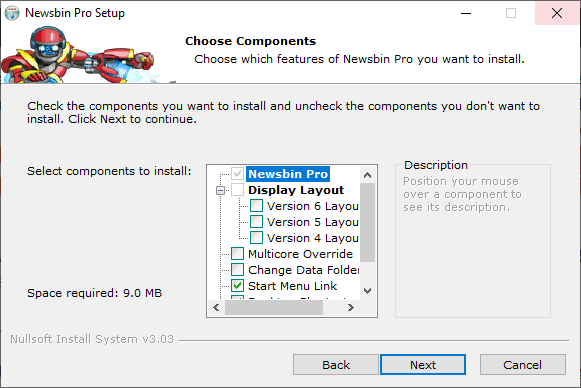 Launch the Newsbin newsreader by clicking 'Finish'.
Sample interface (6.82 Version)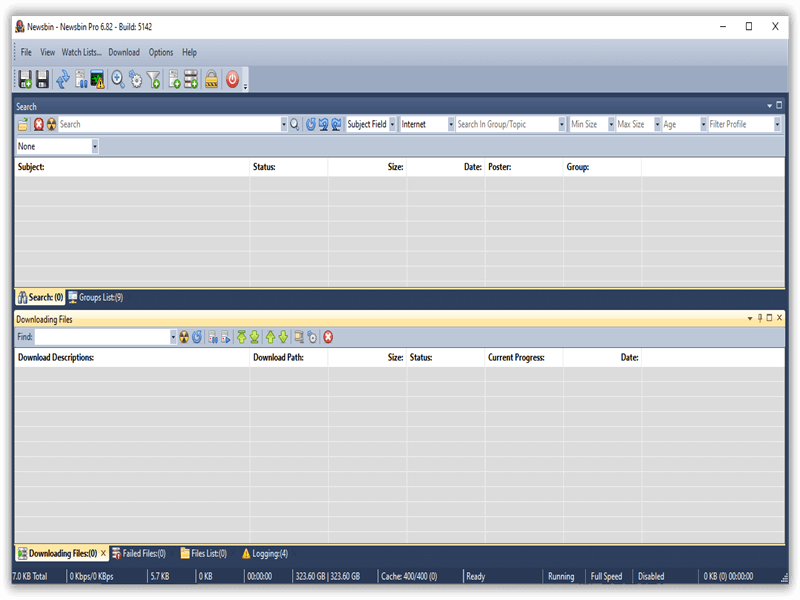 Configuration
In order for you to use Newsbin newsreader, you must have a news server that you can connect to. You will be asked to enter the server information after the program installation.
If you have an account with popular Usenet service provider, Usenet Storm, you will automatically be redirected since the full retail and license for Newsbin newsreader is already included in your plan. You can also purchase a registration key.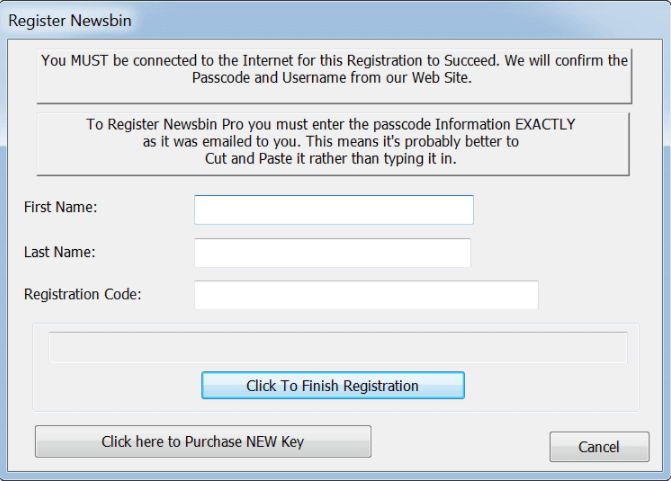 For lost registration keys:
Visit the Newsbin Help Option> Control Panel and it will display your license key. You can also send them an email containing the email you used for registration. They will provide you with an email option to reset your password and create another key.

Any technical question shall be answered within 24-48 hours of submission.
Scheduling and Automation
Newsbin has an automatic shutdown when the Newsbin finishes downloading your files. This is helpful since you don't have to always check and turn off the computer after it finishes its tasks.
Newsbin has a download prioritization and scheduler that can automatically do its job while you are asleep. You can set which ones to download first, and work on your 'wish list' and 'download later' lists.
In addition, Newsbin has automatic header updates and automatic download of headers.
Usability
Newsbin is a user friendly newsreader. It has a customizable interface and has functions and icons that are intuitive. It also has clean and separate panes for each task. And if you are not sure on how to proceed with your downloads and other functions, Newsbin has set a tutorial, FAQs and beginner guides on its program to help you.
Conclusion
Newsbin has established itself as one of the best newsreaders over the years because of its efficient functions and the support it provides. The dedication of its developers to continuously upgrade the software and to address all users' concerns are some main assets of this newsreader service. Given the fact that they are an expert in the field, you can expect more software enhancements in the future.
Newsbin has a friendly interface that is suitable for new Usenet users. The newsreader has a lot of built-in features, automated functions and integrations with reliable programs to give you the best user experience possible.
Overall, we think Newsbin is a good newsreader to try, especially for Windows OS users that are seeking a full-function trial period.
Visit Newsbin
Best Usenet Newsreaders