NewsLeecher Newsreader Review
Last Updated: May 07, 2019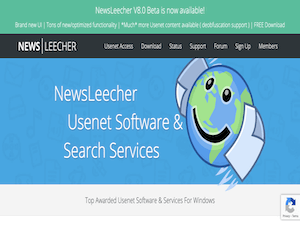 Rating
Price
$3 / Mnth
Retention
500 Days
Free Trial
None
Features
Decent USENET Search
Quick and Responsive
Windows Only Newsreader
The NewsLeecher newsreader is offered as a standalone product or as a part of the new NewsLeecher USENET access service. It comes with search features and works on the Windows platform.
Pricing
The NewsLeecher client comes with either of the USENET access products now offered by NewsLeecher. It can also be purchased as a standalone product, along with its search capabilities. The pricing for the client alone is:
Client Plus: For $3.99 per month you get the client plus access to the search service.
Client: You can get the client for $2.99 per month, sans the search feature, but still with customer support.
NewsLeecher is currently offering a 14-day trial on its packages so you can try them out without any obligation.
NZB Support
NewsLeecher supports NZB files, which makes it suitable if you're planning on using the service to work with that file type from the NewsLeecher search service or from an NZB site of your choice. It also takes care of PAR2 and RAR files automatically, so there aren't any complications to worry about when you're using these types of files.
Systems Supported
You can use this newsreader on Windows systems only at this time.
Payment Options
You can pay for the service and client using:
Credit cards
Debit cards
PayPal
Special Considerations
This client is oriented toward downloading more than it is to posting. Those USENET users who want to get on the system and check out the latest binaries will likely find it to be more than suitable and that it runs a close second to Newsbin in terms of its capabilities. Those users who want to post a great deal may find its features lacking in this regard.
Security/Anonymity
NewsLeecher doesn't come with any adware or spyware included, so that's a definite plus for users. The client is also provided with configuration options that make it particularly easy to use with the NewsLeecher service. It fully supports SSL access, ensuring private access when you're downloading or posting on your USENET service.
Conclusion
NewsLeecher is a good option if you want a newsreader that comes with a powerful search service. The fact that it can be used with other USENET access providers is a nice bonus. It does have the disadvantage of requiring a monthly subscription, rather than a one-time payment, but it's affordable, for certain, and some users may find its orientation toward downloading to suit their uses precisely.
Visit NewsLeecher
Best Usenet Newsreaders