Tera News Review
Last Updated: Nov 01, 2021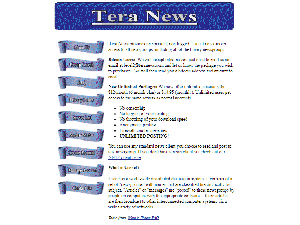 Rating
Price
$14.95 / Month
Retention
1000 Days
Free Trial
None
Features
SSL Included
Bitcoin Accepted
No Logging
Editor's Note: As of May 2019, Teranews has been shutdown and someone else owns the domain.
TeraNews offers several different account options, most of them more expensive than our best providers. The company's thin information and lack of features make our best providers much better options.
Quick Facts
No Logging
SSL (Privacy Protection)
Bitcoin Accepted
Block Access
Sponsor Package Available
Binary Retention
Oddly, TeraNews doesn't have retention figures published on its site.
Pricing
| Plan | Monthly Price | 6 Month Price |
| --- | --- | --- |
| 250 MB Daily | $7.95 | $39.95 |
| 750 MB Daily | $11.95 | $59.95 |
| Unlimited Downloads | $14.95 | $72.00 |
| 10 GB Monthly | $9.95 | $49.75 |
| 30 GB Yearly | N/A | $29.95 |
Free Trial Info
This company offers a 50 MB per month account for free, following a $3.95 setup fee.
Special Offers / Coupons
We currently don't have any special offers or coupons to share from TeraNews.
Speed Test
TeraNews, like most other USENET servers, does well in speed testing.
Connections
TeraNews allows twenty connections to its servers. This should be plenty for most users.
News Servers / Ports / Configuration
Non-SSL : news.teranews.com port 119, 443
SSL: ssl.teranews.com port 563
Frequently Asked Questions
**Q: What are retention rates and why doesn't this provider publish them? - ** Retention rates refer to how long information is kept on the provider's server. Text information is usually kept longer than binaries, but most providers offer at least two years of retention now. Most of our best providers offer more. We're not sure why Tera News doesn't have their retention figures on their site.
Q: Is the Sponsor package a good deal? -  Not in our opinion. Essentially, this plan amounts to 30 GB of access per year, with the fee renewed every year. For about $10, you can get 100 MB of block access from Tweaknews and the account doesn't expire until you use up all the data, whether that takes longer than a year or not.
Q: What is "Monthly Block Pricing"? -  This appears to be a mix of block and subscription access, but it has none of the advantages of either. The 10 GB download limit per month is very restrictive compared to the unlimited downloads companies like Newshosting offer for about the same price. Essentially, this isn't block access but a metered connection that costs as much as an unlimited connection from most of our other providers.
Q: Is 250 MB per month enough? -  In our opinion, no. That amount of data equates to approximately one video file, so it's not really worth it to get a subscription that restricts you to that little data. This plan appears more oriented toward people who want to read newsgroups and don't have any interest in downloading binaries.
Q: What about the 50 MB free account? -  The free account requires a small setup fee, but then you have it indefinitely. While this is probably a good deal for some users, 50 MB is a very small amount of data by today's standards. If you're doing anything other than reading text posts in newsgroups, 50 MB won't be good for much. You can get block access accounts for around $5 from Tweaknews that offer 10 GB of data download, which is a much better deal.
Q: Is there any economic advantage in metered plans? -  There are a few good companies that limit their plans in terms of speed or download, but most such plans aren't worth it anymore. Our best providers offer unlimited plans and block access that give you much more for your money.
Q: Is two servers fewer than other providers? -  Most USENET providers have servers in the US and EU. It's not unusual, however, for a company to only have one or two servers. As long as the servers offer SSL, they're acceptable. If a server does not offer SSL, we highly recommend that you do not use it, as your traffic is transparent. SSL provides a layer of encryption that prevents snooping. If you want protection beyond
Support
Support is available from level2@teranews.com. You can also check your account management page for additional options or the company's FAQ for the answers to common questions.
Contact Information
You can contact TeraNews at level2@teranews.com.
Security /Company Privacy Policy
TeraNews says that it does not log or sell your activity on their servers. The company says that they will only contact you with offers or billing questions.
Payment Options
TeraNews accepts credit cards and Bitcoin payments.
Our Opinion
TeraNews doesn't offer much compared to our best providers. Their plans are rather restrictive and their prices are high for what they offer. Their site is also thin on information and rather dated compared to our best providers. While that shouldn't in and of itself constitute a reason to not consider any given provider, combined with the high prices and oddly-structured plans, it counts as a strike against TeraNews.
The advantages this company has include accepting Bitcoin, which is great for those who want the highest possible levels of privacy protection, and the availability of SSL protection for your traffic. The company doesn't log or sell information, either, and that's always a good thing, but all of these features are becoming more or less standard among USENET providers and don't really make this one stand out in any particular regard.
The "block access" this company offers is not, compared to what other providers offer, true block access. In our opinion, block access accounts should not expire and that's precisely what differentiates them from metered accounts. TeraNews is offering more of a metered account, where the download allotment can expire at the end of the month but, if you don't use it, you end up paying for another block of access before you use what you had left over. We cannot say this is a good deal for our readers and recommend that you look elsewhere.
If you're looking for cheap access and don't care about having a monthly subscription, Tweaknews and several of our other best providers offer it. If you're looking for an unlimited subscription, any of our best providers will give you a truly unlimited monthly subscription for less than this provider is charging.
Altenatives To Tera News
| Name | Price | Info |
| --- | --- | --- |
| Newshosting | $8.33 | Best Price / Free Newsreader |
| UsenetServer | $7.95 | NZB Search / Fast Speeds |
| Eweka | €7,00 | Best EU Provider / Lifetime Discount |
| Easynews | $9.98 | Easy Web App / File Previews |
| TweakNews | €7,50 | Free Newsreader / Free VPN |
| PureUSENET | €5.97 | Good EU Provider / Free SSL |
| XLned | €7.49 | Fast Speeds / EU Servers |