Sunny USENET Review
Last Updated: Jan 18, 2022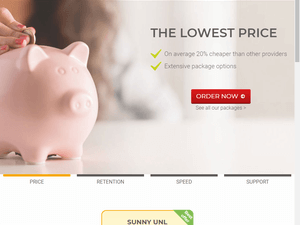 Rating
Price
€6,23 / Month
Retention
4100 Days
Free Trial
7 Days
Features
Dutch Servers
SSL Included
12 Connections
SunnyUsenet is a Usenet service provider headquartered in Iceland. SunnyUsenet provides a variety of USENET access packages, which are priced according to the maximum speed allowed. This provider offers SSL and accepts Bitcoin.
As an additional selling point, Sunny Usenet also gives away an additional 20 connections for free if you enable auto-renew on any of their plans.
Quick Facts
SSL (Privacy Protection)
4100 days of retention
Up to 40 connections
Metered and Unlimited Speed
Accepts Bitcoin
Free Seven-Day Trial
EU Servers
Unlimited Downloads
Binary Retention
SunnyUsenet currently has approximately 4100 days of binary retention. That's close, but not quite up to the level of our best usenet providers.
Pricing
SunnyUsenet has a simple range of plans, which vary according to the speed you're allowed. The number of connections provided varies by plan, as well. You can subscribe to an annual service to get about 20% of savings per month.
| Name | Price per month | Price per year | Speed Limit | Connections |
| --- | --- | --- | --- | --- |
| Sunny 20 | €3.79 | €3.03/mo | 20 Mbps | 30 |
| Sunny 60 | €5.79 | €4.63/mo | 60 Mbps | 35 |
| Sunny UNL | €7.79 | €6.23/mo | Unlimited | 40 |
To be able to gain an additional 20 free connections, you can enable the auto renew feature when subscribing to their plans.
Free Trial info
Any SunnyUsenet plan comes with a seven-day free trial. Cancel before the end of the trial period to avoid being billed if you're not happy with the service.
Special Offers / Coupons
SunnyUsenet doesn't have any coupons right now, but check back because we share when we get coupons.
Speed Test
SunnyUsenet delivered the advertised speeds in testing. Most USENET service providers have no problem doing so.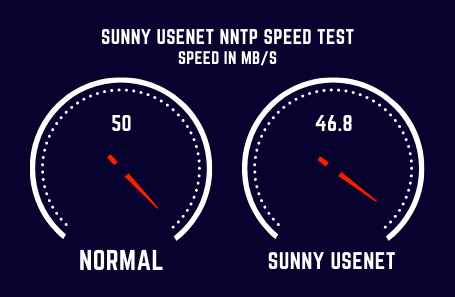 Connections
SunnyUsenet allots different numbers of connections for different subscription from 30 to 40 connections. You can see on the table above the number of connections for each subscription option.
News Servers / Ports / Configuration
Server: news.sunnyusenet.com Unencrypted Port: 119 Encrypted (SSL) Port: 443, 563
Frequently Asked Questions
Q: Is Iceland a good jurisdiction for privacy?:

A: Many people who are concerned with privacy feel safer getting service from Iceland and other nations with good privacy protections, but this is always up to you. This company does take Bitcoin, which is definitely a good thing if you want to make your subscription as private as possible, at least where payment is concerned.

Q: Is there English-language support?:

A: Yes. SunnyUsenet's page is also available in English and the content is well-written and easy to understand. English-speaking customers shouldn't have any trouble with this provider related to language barriers.

Q: Are speed limited plans worth the money?:

A: For people with slower Internet connections, speed-limited plans can be a way to save money by not paying for a level of speed you can't accommodate, anyway. For users with very fast broadband connections, however, there's a tradeoff here. If you want the lowest-priced USENET possible, we suggest looking at block access from Tweaknews or another from our best usenet service providers. See the question below for more information.

Q: How does a speed limit differ from block access?:

A: With a speed-limited connection, you're paying to download at a certain rate, which has a firm ceiling on it. With block access, you're buying a given amount of data and your subscription runs out once you download the entirety of that data allotment. If you want to download as quickly as possible, block access is better. If your connection can't accommodate a very fast download rate, or if you want to make sure you can download as much as you want, you might find speed-limited access more to your liking.

Q: Why do the lowest priced plans have so few connections?:

A: You shouldn't need that many connections to max out your download speed, even on the highest speed packages. Most users will require fewer than twenty, so there are plenty of connections offered in these packages to accommodate the download speed provided. We don't recommend basing a decision on a USENET provider upon how many connections they offer.

Q: Can I use my own newsreader with this provider?:

A: Yes, you can. Most USENET service providers, excepting those who have very specialized forms of access—web-only, for instance—allow you to use your own newsreader. Some provide their own. Check our best providers for a listing of USENET companies that offer a newsreader along with their service.

Q: Will this service work with PVR software?:

A: It will, yes. SunnyUsenet should be compatible with most any type of USENET software. If you have a specific question in that regard, you can inquire with their support department.

Q: Can I get a VPN through this provider?****:

A: No, but several of the best Usenet service providers offer them.
Support
SunnyUsenet has a FAQ that answers some basic questions about USENET and their service. If you need more information, you can email to: support@sunnyusenet.com
Contact Information
Sunny Usenet Lakahraun EHF, Sudurlandsbraut 18 Reykjavik 108 Iceland Tel: +1-602-715-1650
Security /Company Privacy Policy
SunnyUsenet says that they do not collect personal information beyond what's required to process payment. You can review or delete your personal information at any time by contacting support.
Payment Options
In addition to Bitcoin, SunnyUsenet accepts the following payment methods: credit cards, iDeal, Sofort, PayPal, and Paysafecard.
Our Opinion
SunnyUsenet isn't bad. They're focused on the Dutch market, even though they're headquartered in Iceland, so our EU readers might want to take a look at this provider. There's nothing really lacking here, but their packages don't offer the same value as our best providers. Speed limited packages, as pointed out in the Q&A, can be good for people who have limited Internet speeds and who don't want to pay for a connection so fast that their ISP can't even accommodate what it offers in terms of download speed. It doesn't make sense to pay for what you cannot have, after all, so speed limitations might be acceptable in some cases. Nonetheless, if you really want to pay less for USENET access by adding a limitation on some aspect of it, we recommend block access. The prices are just as good as speed-limited plans, and companies like Tweaknews give you more connections to their servers and the block access allocation never expires until you use it. You'll also find that, if you happen to increase the speed at which you download by getting a better broadband subscription, your block access account will most likely use all of that bandwidth, which is a good way to make sure you're getting the most for your money. SunnyUsenet isn't bad at all, but we still stand by our best Usenet service providers as the go-to options for people who want the perfect blend of value, speed, reliability and privacy protection.
Altenatives To Sunny USENET
| Name | Price | Info |
| --- | --- | --- |
| Newshosting | $5.99 | Best Overall / Fastest Speeds |
| Eweka | €6,99 | Best EU Provider / High Retention |
| UsenetServer | $7.95 | Unlimited Access / NZB Search |
| Easynews | $9.98 | All-in-One / Usenet Search |
| TweakNews | €7,50 | Quality Retention / Quality Completion |
| PureUSENET | €5.97 | Good EU Provider / Free SSL |
| XLned | €7.49 | Fast Speeds / EU Servers |