Speedium.Network Review
Last Updated: May 05, 2022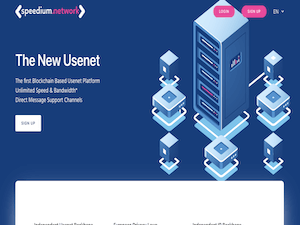 Rating
Price
€15 / Month
Retention
1500 Days
Free Trial
None
Features
Blockchain-Based Usenet Platforms
Data Centers in Amsterdam
Unlimited and Block Access
Speedium.Network is considered as the first blockchain-based Usenet platform that offers unlimited speed and bandwidth. This Usenet service provider has its own fully independent backbone that adheres to NTD regulations.
Speedium.Network covers the basics needed for Usenet access as far as providers go. Their plan covers a decent number of retention, SSL encryption, good number of connections and adherence to European privacy laws.
Speedium.Network Quick Summary
First blockchain-based Usenet platforms
Servers located in a datacenter in Amsterdam
Offers Unlimited speed and bandwidth
Offers block access
Platform based in the Netherlands
Fully independent backbone/ Tier 1 Usenet provider
SSL encryption
1500 days of retention
30 connections
Monthly and Yearly payments
No tracking and collections of private information
Live support
Direct Helpdesk via Discord and Telegram
Binary Retention
Speedium.Network offers 1500 days of binary days and a total of 5+ years of text retention.
Pricing
Speedium.Network offers monthly and yearly unlimited access. Based on their site, they offer unlimited speed but they actually cap it at 300MB/s. Aside from their unlimited plan, Speedium.Network also has block access plans that start at €15 for 500GB.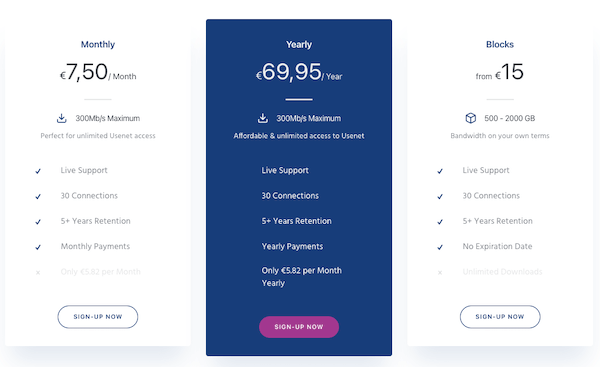 Block access plans are as follows:
€15 for 500GB
€25 for 1000GB
€40 for 2000GB
Free Trial Info
Based on their website, Speedium.Network does not have any free trial offerings. However, according to other sources free trials can be done via a "by request" basis. To do this, you can reach out to Speedium via email or possibly through their helpdesk.
Special Offers/ Coupons
Speedium.Network occasionally has coupon codes available which you can enter when choosing a plan. You also have the option for recurring payments which would give you a 10% discount from the total plan cost.
Speed Test
Like any other Usenet provider, Speedium.Network tests well when it comes to speed. Maximum Usenet downloading speed is currently at 300MB/s despite its claim that they offer unlimited speed. That being said, that is fast enough for your usenet activity. Please note, however, that the speed of your access also relies on how fast your own broadband connection is.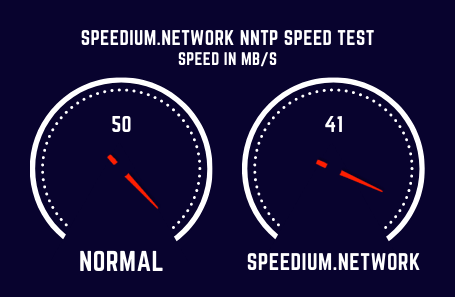 Connections
All of Speedium.Network plans include access to 30 connections.
News Servers/ Ports/ Configuration
Configuration details are as follows:
Server names:

apollo.spedium.network
hermes.speedium.network
hestia.speedium.network
athena.speedium.network

Username: sign-up email address
Password: see configuration email
Ports:

SSL disabled: 119
SSL enabled: 563 or 443
Frequently Asked Questions
Q: Can I post content?
A: Yes, posting privileges are enabled by default for all accounts
Q: Can I share my account?
A: Yes, you are allowed to share your account with friends or family. There are no IP restrictions but you are limited to the maximum number of connections.
Q: What is Blockchain storage?
A: Blockchain storage is a way of saving data in a decentralized network which utilizes the unused hard disk space of users across the world to store files. The decentralized infrastructure is an alternative to centralized cloud storage and can solve many problems found in a centralized system.
Q: Why are you using Blockchain storage?
A: A few members from the Speedium team originated from the Blockchain space, developing and testing software solutions. We wanted to experiment with storage solutions available on the market and we came across a few decent decentralized options.
Now we can store our older retention on Blockchain based platforms, reducing the cost while increasing our local retention.
Q: Are there any legal issues regarding Blockchain usage?
A: No, some claim that blockchains are immutable and there should be legal issues with using a Blockchain storage platform. But this is not the truth.
Removals from a Blockchain storage platform will be carried out the same as our local retention. We will follow NTD regulations.
Q: What articles are stored on the Blockchain?
A: Due to the decentralized set-up of our storage platform we are having issues with increasing our speed on high traffic moments. Therefore we chose to only store older articles on the Blockchain at this point in time. All recent articles are being stored on local high-end SSD or HDD servers.
Support
If you have questions, you can directly contact the Speedium.Network staff on Discord or Telegram. Their helpdesk can be reached via email or chat during office hours from Monday to Friday from 9:30 to 18:00.
Contact Information
As mentioned you can mainly reach Speedium.Network through their Discord and Telegram helpdesk. Links can be found on their website. You can also reach them via email at contact@speedium.nl.
Security/ Company Privacy Policy
Speedium.Network does not keep logs of what you are downloading. The only thing they keep track are block account users in terms of the volume of total downloads.
Speedium is in favor of privacy and anonymity of users. According to their policy: "We respect this privacy by not asking our users more than we need, therefore we only require an email account and password for signing up."
Payment Options
The following payment options are accepted for recurring:
Ideal (Sepa)
PayPal
Credit Card (Mastercard/Visa)
Sofort
Bancontact
The following payment options are for non-recurring:
Cryptocurrency (coinbase plugin)
Paysafecard
Our Opinion
What sets Speedium apart from other Usenet service providers is that they use blockchain storage as a way of saving data. They are considered as the first blockchain based Usenet platform so if that piques your interest, then maybe Speedium may just be the provider they may be looking for. That being said, we currently can't consider Speedium as one of the best Usenet service providers today since there are providers that offer better plans and features included in their services. However, Speedium is a good option. It would be better if they had a free trial offering so that users can test out their service first.
Altenatives To Speedium.Network
| Name | Price | Info |
| --- | --- | --- |
| Newshosting | $8.33 | Best Price / Free Newsreader |
| UsenetServer | $7.95 | NZB Search / Fast Speeds |
| Eweka | €7,00 | Best EU Provider / Lifetime Discount |
| Easynews | $9.98 | Easy Web App / File Previews |
| TweakNews | €7,50 | Free Newsreader / Free VPN |
| PureUSENET | €5.97 | Good EU Provider / Free SSL |
| XLned | €7.49 | Fast Speeds / EU Servers |