SmsUsenet Review
Last Updated: Mar 22, 2022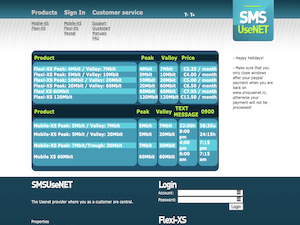 Rating
Price
$12.50 / Month
Retention
900 Days
Free Trial
None
Features
Flexi and Mobile Account Plans
SSL Available
Low Retention
SmsUsenet is a Dutch Usenet service provider that has no data limits. They offer two types of accounts that both vary in speed. What makes this provider different from most Usenet services is that they offer a mobile option which allows you to pay for their service through your phone via the 0900 number if you are from The Netherlands. This type of account is also a good option for those with no experience with Usenet. Please note, however, that SmsUsenet has a low retention rate which makes it a not so reliable option especially when compared to the best Usenet service providers today.
SmsUsenet Quick Summary
Flexi and Mobile Account Plans
More than 150,000 newsgroups
SSL Encryption available
900 days of retention
4 to 6 connections
Switching download speed
Allows you to pause your account
No notice period
No data limit
Full speed headers
99% completion
99.8% uptime
Flexible Payment options
Binary Retention
SmsUsenet only has a retention of 900 days. This is a lot lower than our recommended binary retention. Most top Usenet services are currently at 4000+ days and other providers are at 2000+ days, making SmsUsenet one of the lowest in terms of retention rate.
Pricing
SmsUsenet has two main types of product: Flexi-XS and Mobile XS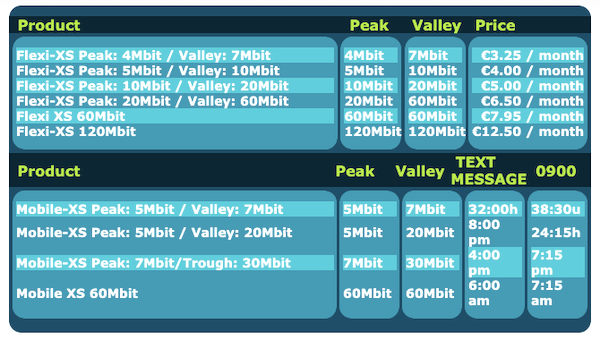 With a FLEXI-XS account you get access to our usenet service at a speed that you can determine yourself. The duration of the account depends on the speed you choose for your account, and the amount of your payment. The accounts are prepaid, there is no need to cancel or top up when your account expires. If you go on holiday, you can pause your account, and if you want to choose a different speed, you can easily set it yourself. Flexi-XS accounts come with 3 free accounts which you can use yourself or give away.
With a MOBILE-XS account you get access to our usenet service for a number of hours/days, where you get a connection to the same servers as with our FLEXI-XS accounts. The duration of the account depends on the speed you choose for your account, and varies from a few hours to more than a day. As soon as you have activated your account, the term starts, and once it has expired, access will be canceled. You can pay for a Mobile-XS account in The Netherlands by phone via the 0900 number. This costs €1.00.
As you can see on the pricing charts, peak and trough speeds are listed; Depending on the time of day, your maximum achievable speed will be the high descent speed or the lower peak speed. The peak/off-peak times cannot be specified precisely because they depend on how busy the servers are.
Free Trial Info
SmsUsenet does not have any free trial offering. The only free aspect they give is the additional 3 accounts that come with their Flexi-XS accounts.
Special Offers/ Coupons
There are no special offers from this Usenet provider. For possible future promotions, check back with us.
Speed Test
The speed of your Usenet activity depends on what plan you select since SmsUsenet plans vary in terms of speed. Whatever speed you select, you will be able to max this out. Please note, however, that SmsUsenet's speed varies throughout the day that is why they have peaks and valleys stated on their pricing.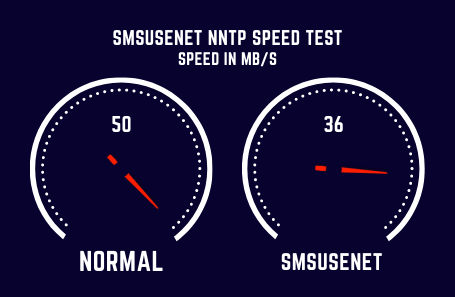 Connections
You can set your newsreader from 4 to 6 connections when using an SmsUsenet account.
News Servers/ Ports/ Configuration
Server: news.smsusenet.nl
Standard Port: 119 or 80
SSL Port: 563 or 443
Connections: 4 to 6
Frequently Asked Questions
Q: Does SmsUsenet have monthly data limits on their plans?
A: SmsUsenet does not limit the amount of data. With their plans, you are only limited by speed and this depends on the type of plan you select. Please note that the speed of your Usenet activity not only depends on your own internet connection, the speed of your plan but also depends on the time of day.
Q: What makes Mobile-XS plans different?
A: Mobile-XS plans differ from other Usenet plans since it allows you to pay for a SmsUsenet service via a 0900 number if you are in the Netherlands.
Q: How do you register for a Mobile-XS plan?
A: Call the following number: 0900-2028822 (€1.00 p/g). You will then receive a PIN code (this will only be valid for 1 week , so use it on time, you can enter the code and the account that you then get to save it for later). Write down the code and enter it on the mobile-xs sign-up page on the SmsUsenet website. You will then see your account details on the screen and these will also be sent to the specified email address.
Q: How to sign up for a Flexi-XS plan?
A: Fill out the form on their sign up page. If you then click on the 'Sign up' button, you will receive an email with your account details. With this account information you can log in to our site. If you have registered a Mobile-XS account so that you get 2 days free access, your account will be topped up with 308 credits after receipt of payment.
As soon as you have your account details you can log in to your account management. There you can follow links for payment via iDeal/Paypal/Bitcoin and Vertcoin.
Support
For any concerns and technical support needed, you can click on the "support" link on the SmsUsenet website. Their website also has an FAQ page and and a Quickstart link for newsreader set-up.
Contact Information
SMSUseNET is part of Corum Business Automation and is registered with the Chamber of Commerce in Eindhoven under number: 17071870
For general questions, you can email info@smsusenet.nl.
Security/ Company Privacy Policy
As stated on their website:
"As required by law, we will handle your personal data with care. We will not provide personal information to third parties unless we are legally obliged to do so.
Personal data as specified in the login screen will be kept with us until:
7 days after the expiry of a MOBILE-XS account
30 days after a Flexi-XS account has expired and is no longer logged in
When this period has expired, the account data will be deleted."
SmsUsenet does not monitor or keep records of users' Usenet activity.
Payment Options
SmsUsenet accepts the following payment options:
Transfer
Telephone
Text Message
iDeal
Bancontact
Sofort
Our Opinion
While SmsUsenet has a different approach when it comes to their account offerings, we find that their services are not the best option for Usenet users. With a low retention rate, not so ideal number of connections and fluctuating speeds throughout the day, it will be a lot better for users to go for more reliable Usenet service providers.
Altenatives To SmsUsenet
| Name | Price | Info |
| --- | --- | --- |
| Newshosting | $8.33 | Best Price / Free Newsreader |
| UsenetServer | $7.95 | NZB Search / Fast Speeds |
| Eweka | €7,00 | Best EU Provider / Lifetime Discount |
| Easynews | $9.98 | Easy Web App / File Previews |
| TweakNews | €7,50 | Free Newsreader / Free VPN |
| PureUSENET | €5.97 | Good EU Provider / Free SSL |
| XLned | €7.49 | Fast Speeds / EU Servers |