Simonews Review
Last Updated: Mar 01, 2022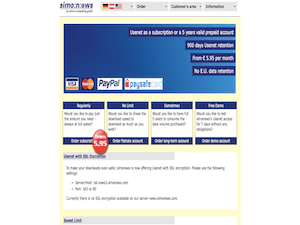 Rating
Price
€18.95 / Month
Retention
900 Days
Free Trial
None
Features
Low Retention
Subscription and Flatrate Accounts
SSL Encryption Available
Simonews is a Usenet service provider that offers subscription/ flatrate accounts and long-term accounts. Their long-term accounts are similar to current block accounts however there is an automatic expiration of 5 years.
At first glance, Simonews seems like a decent Usenet provider. However, when going into details, the service and their website is outdated. This provider has a low retention rate and only one of their servers has SSL encryption available.
Simonews Quick Summary
Subscription/ Flatrate Accounts Available
Block Plans for long-term user - expires in 5 years
Low Retention - 900 days only
Usenet speed up to DSL 16000
109,000 Usenet newsgroups
One server with SSL Encryption available
No E.U. data retention
Credit card and Paypal payment option
Binary Retention
Simonews has a very low retention rate compared to the best Usenet service providers. Currently, their website states that they have 900 days of retention.
Pricing
Simonews has 2 types of accounts: Subscription and Long-term accounts.
Subscription accounts either give you monthly data transfer or flatrate speed of x mbit/sec. Long-term accounts are similar to block accounts but automatically expires after 5 years.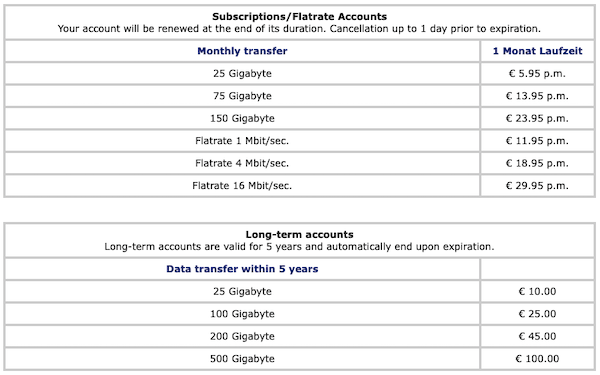 Free Trial Info
Simonews has a free demo account of 0.5 Gigabyte good for 7 days.
Special Offers/ Coupons
Simonews currently has no special offers or coupons. Make sure to check back with us for future promotions of this Usenet provider.
Speed Test
Simonews performs decently well in terms of speed like any other Usenet provider. They may not be as fast as our current top Usenet services but their speed is decent enough for Usenet activity. Please note, however, that the speed of your activity also greatly relies on how fast your own internet connection is.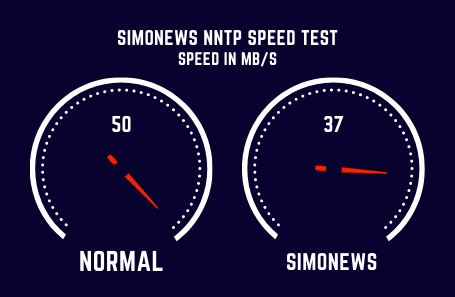 Connections
Simonews offers 8 connections for their users.
News Servers/ Ports/ Configuration
Simonews recommends Sabnzbd as their newsreader of choice. To configure select "Config" and go to servers. From there, enter the following data
Server/Host: news.simonews.com
Port: 119
Username: see confirmation email from provider
Password: see confirmation email from provider
Timeout: empty
Connections: 8
Enable: check
Please note that the above mentioned server does not have SSL encryption available. To make your downloads safer use the following settings:
Server/Host: ssl.news3.simonews.com
Port: 563 or 80
Frequently Asked Questions
Q: What does "Flatrate" mean?
A: Prices for flatrate accounts depend on the maximum speed. Monthly data transfer is unlimited. To use full bandwidth with flatrate accounts, your client software has to be configured to use 8 concurrent connections.
Q: What kind of software do I need?
A: To download from our Newsgroups, you may use any News Client you wish. For example: SABnzbd, Grabit, NewsbinPro
Q: What are Newsgroups?
A: Due to acknowledged standards, newsgroups today are the international discussion-platforms. In over 100,000 thematic structured and publicly available forums not only text-news are transmitted, but binary data is also exchanged.
It doesn't matter whether they're computer problems, child education or lifestyle topics – the interested user will certainly find "his" newsgroup and they can engage in a vivid discussion or to receive a swift answer to his question in regards to the millions of different participants. More information regarding this issue you may find on our link-page.
Q: What does high download-speed mean?
A: On each of our two News servers, up to 8 ports at 1 MB/sec for download are at your disposal. Therefore you can download up to 16 MB/sec. (The speed of flatrate accounts depends on the selected tariff).
Q: I lost my password
A: You can visit Simonews' customer area and link on "password lost"
Q: I want to upgrade my account
A: Simply go to their customer area. Should you have any questions, they are at your disposal via telephone or email.
Q: I want to cancel my account
A: You can cancel online via the customer area, email or telephone. Subscriptions can be canceled up to one day before expiry date.
Support
You can reach Simonews through their customer area and click on the ideal link for you (technical help, password lost, support, etc.). They are also available via email or phone.
You can also check out the information link on their website for FAQs, order support, methods of payment, etc.
Contact Information
Company details are as follows:
Simonews is a service of
Simon consulting gmbh
Schießstattgass 53/13
A-8010 Graz
Phone: +43 699 11622029
E-Mail: office@simonews.com - for support: support_en@simonews.com
Member of the Chamber of Commerce of Styria
Commercial register: FN 220639w beim LG f. ZRS Graz
VAT: ATU53833400
Security/ Company Privacy Policy
Simonews does not retain any user data on their system except for those needed for account processing. User activity is not monitored based on their privacy policy.
Payment Options
Payment options include Visa, Mastercard or Diners Card, PaySafeCard, upon invoice, Direct Debit, "pay before you buy" and PayPal.
Our Opinion
With their outdated service, low retention rate, low number of connections and other features that may be decent but not spectacular, we cannot recommend Simonews as a good option as far as Usenet services. You would be better off, of course, going for our current best Usenet service providers.
Altenatives To Simonews
| Name | Price | Info |
| --- | --- | --- |
| Newshosting | $8.33 | Best Price / Free Newsreader |
| UsenetServer | $7.95 | NZB Search / Fast Speeds |
| Eweka | €7,00 | Best EU Provider / Lifetime Discount |
| Easynews | $9.98 | Easy Web App / File Previews |
| TweakNews | €7,50 | Free Newsreader / Free VPN |
| PureUSENET | €5.97 | Good EU Provider / Free SSL |
| XLned | €7.49 | Fast Speeds / EU Servers |