Shemes Review
Last Updated: Feb 22, 2022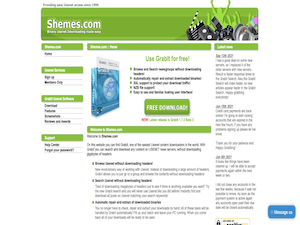 Rating
Price
$12.95 / Month
Retention
6+ years Days
Free Trial
None
Features
EU and US Servers
SSL Included
Offers 45 Connections
Shemes is a Usenet service provider that offers Grabit software which is a Usenet content downloader. This service regularly updates their service like server upgrades and other features to make your Usenet experience better.
Shemes has plans that both include unlimited downloads and block access. If you also need Usenet just for searching, they also have a plan for that.
Shemes Quick Summary
EU and US Servers
SSL Encryption
Offers 45 connections
6+ years of retention
Usenet search only plans
Unlimited download plans
Block plans
Unused download credits rollover for block plans
Offers Grabit Usenet Software
Binary Retention
According to their website, Shemes has a retention rate of 6+ years. It is quite unclear, though, if this refers to binary retention or text retention.
Pricing
As mentioned, Shemes offers various plans which includes Usenet search only plan, search and unlimited download plan and block access plans.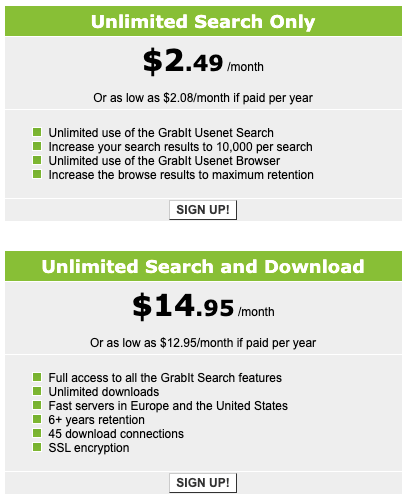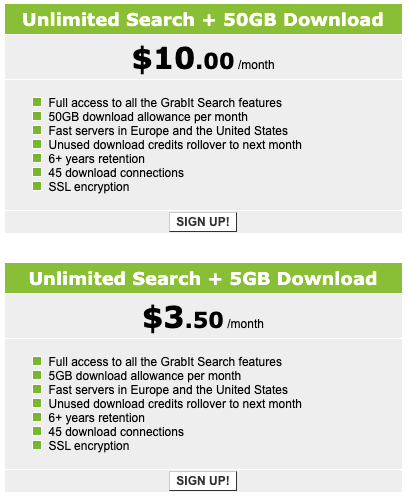 Free Trial Info
No free trial information is mentioned on the Shemes website.
Special Offers/ Coupons
When you sign up with a Shemes service you get unlimited use of the Grabit Usenet search feature. Other than that, Shemes does not have any special offers or coupons available. You can check back with us for future promos with this Usenet service.
Speed Test
Shemes performs well in terms of speed just like any other Usenet provider. Since they have servers in both the US and EU, they provide better speed and access compared to services that only have servers in a single region. Please note, however, that the speed of your Usenet activity also relies on how fast your internet connection is.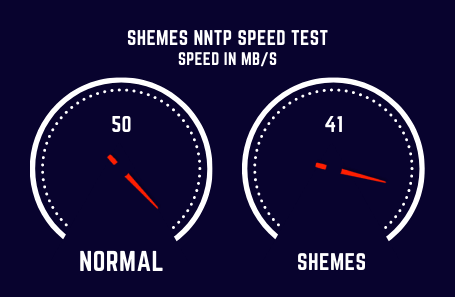 Connections
Their unlimited download plan and block access plans include up to 45 connections.
News Servers/ Ports/ Configuration
Once you have registered to a Shemes Usenet service, all the configuration details will be sent to you. This includes the news server (news.shemes.com) and ports you can use for both SSL and non-SSL access. Standard SSL ports are 119 or 80 while SSL ports are 563 or 443.
When configuring Grabit Search, make sure you enter your correct Shemes.com account details.
Frequently Asked Questions
Q: 502 Error after renewing account
A: First make sure you entered the new account information into GrabIt. Either by changing your username / password in the Server profile, or by importing the registry file provided with your new account information.
If you are sure you entered the new account information correctly, but there are still items stuck in the batch with the 502 error message, try downloading them with another server profile by following the following three steps:
Switch to the Batch tab
Right click on the item you are trying to download
Select 'Download with other server'
This will open a new menu with all your server profiles. Choose one of the new server profile here and see if that works.
Q: Grabit Search still doesn't work after opening a new account
A: If you still get the "Daily limit of free searches reached" error message after you opened a new Shemes.com account, please make sure you entered your new username and password into GrabIt.
There is a separate username and password screen for using the features in the GrabIt Search tab. This can be accessed by clicking on the 'Account Information' button in the GrabIt Search tab in GrabIt.
These settings are automatically set by importing the registry file that was provided to you after registering.
Q: Retrieving your lost of forgotten password:
A: Retrieving your lost or forgotten password is possible by using the form on this page: http://www.shemes.com/index.php?p=forgotpassword
Please make sure to enter the same e-mail address that you used to open the account (usually your PayPal e-mail address). Also please check any active SPAM filters if you don't get your account information within 5 minutes after you submitted the form.
Q: Why did you cancel my account?
A: Did your credit card expire or did you change your credit cards in PayPal? When you change your payment sources in your PayPal account, PayPal cancels all subscriptions linked to that credit card. There is nothing I can do to change this behavior. Your account will remain active for the period you last paid for.
After this period you will get a message that the account has been closed and you can setup a new account. Sorry for this inconvenience.
Support
For any account or technical support needed from Shemes, you can access their help center through their website. This would redirect you to a page where frequently asked questions are available. If your questions are unanswered by these FAQs, you can submit a request through the same page.
Contact Information
We did not find any contact information available on the Shemes.com website. But as mentioned, if you have any concerns, you can reach Shemes through their help center.
Security/ Company Privacy Policy
Shemes collects several information including name and email address as well as your financial information to process and provide their service. With the information they collect: "We will use contact information to email purchase receipts, software update notifications, security update notifications as well as a few helpful emails to get started with the software. We also may occasionally send out a promotional email. Nothing more than once per month and all promotional emails will have a link allowing you to opt-out of all future emails"
According to their privacy policy: "We will not disclose your email address, or other personal information, to anyone unless we reasonably believe it is necessary to comply with a subpoena, court order, law, or regulation. We may disclose your personal information to the extent required to fulfill our legal obligation."
Payment Options
You can pay for a Shemes service via credit cards or PayPal.
Our Opinion
Shemes has been providing Usenet access since 1999 and has made a mark as a decent Usenet service provider. However, in recent years they have been more recognized as the company that offers easy Usenet content downloading via Grabit newsreader. Because of this, some may not know or have forgotten that Shemes.com also offers Usenet access.
Their Usenet plans are fairly decent with several options that cater to multiple types of users, from those just in need of a Usenet search deal to those looking for unlimited and block access plans. Their features also cover SSL encryption, high number of connections and a good retention rate. Although it would be better if they had a free trial so that users can test their service out first before subscribing. That being said, Shemes is worth exploring as a back-up service or even as your main provider, but if you want more established services, you can check out our list of top Usenet service providers.
Altenatives To Shemes
| Name | Price | Info |
| --- | --- | --- |
| Newshosting | $8.33 | Best Price / Free Newsreader |
| UsenetServer | $7.95 | NZB Search / Fast Speeds |
| Eweka | €7,00 | Best EU Provider / Lifetime Discount |
| Easynews | $9.98 | Easy Web App / File Previews |
| TweakNews | €7,50 | Free Newsreader / Free VPN |
| PureUSENET | €5.97 | Good EU Provider / Free SSL |
| XLned | €7.49 | Fast Speeds / EU Servers |