NZBVortex Review
Last Updated: Jun 01, 2019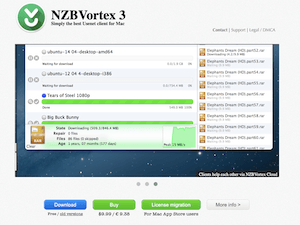 Rating
Price
Free or $14.99
Retention
500 Days
Free Trial
None
Features
Lightweight NZB Client for OSX
RSS Feed Support
NZB Downloads Only
NZBVortex is a small and efficient NZB client for OSX . It is a very fast USENET client, which has ability to skip not-required par2 files and will skip downloads of sample files. It also has extremely fast par2 pre-check called "SmartCheck", which is a feature that is able to detect if a par2 check is required at all. If par2 check is not required, NZBVortex will completely skip it. The software has recently updated to version 3.3.10, and there are plenty of improvements that have been introduced, making it an even better option.
Requirements
Size: 10.6 MB
Mac OS X 10.7 or newer
Price
NZBVortex is available in two editions: free and paid. In the free version, some advanced features are not available. The personal license costs $14.99. It is possible to purchase this license with the use of Paypal, Mastercard or Visa.
Features
Core features NZBVortex has are:
Multi connection / threaded downloading
Optimized downloading (auto par2 skipping)
Par and par2 verify and repair
Automatic decompressing of downloaded files
SmartCheck
RSS feed support
Cleanup unwanted files
Ability to start post processing manually
Separate download and Complete folder
Shutdown when all downloads are completed
NZB watch folder
Skip Sample files (option)
Automatic cleanup files
Simultaneous transfer (option)
yEnc encoded articles
Simple but clear Native OSX UI (Cocoa)
Low HDD usage (memory caching, good for SSD drives)
Supports SSL servers
Zipped NZB support
Download Throttling/Limiting
Growl support
Sparkle auto update
Recently Added Features, as of version 3.3.10, include:
Support for XtremeSplit files
Par2 file availability check, cuts down wasted bandwidth!
Thread sleeps have been removed and replaced by semaphores, this will cut down on CPU wakeups.
Switch animation has been improved.
RSS TVshow watchers will process from new to old
If you've downloaded episodes already, TVshow watchers will still process all feed titles
NZB files that contain the password in the file name no longer pause
There are many other features that have been added to this new release. Among the most significantly useful is a feature that cuts down on the amount of junk you spend time downloading. The new version will detect junk and, according to the developers, offers 10% improvement on pauses due to damaged content.
There is a new trick out there where junk and spam are concerned, as well, which is designed to defeat passworded RAR protection. The new version of the program has an improvement that allows it to detect this new trick and to help you avoid wasting your time downloading junk files.
There are plenty of other features that have been added, as well. Some of them make the program a lot more reliable, including a fix that prevents crashes from empty strings in RSS feeds, an improvement to the UI threading with finished searches and an upgrade to RAR version 5.0. Overall these improvements make a program that was already quite good even better.
Speed
With version 3.11, NZBVortex is even faster than it was, and that's saying something. The new improvements have addressed a few issues that the program had but, overall, this program is very fast and easy on resources.
NZBVortex Cloud Features
If you happen to download a file that has a password requirement, your client will let other clients know about the file, which will save everybody some time. Other features that have been improved are junk and spam detection, constant challenges for USENET users, which are now being addressed using cloud technology in NZBVortex.
One other nuisance that the NZBVortex Cloud is designed to deal with is damaged USENET files. If you can't download a file, other clients will get that information, again sparing people wasted time.
The feature is included with your regular subscription, which is purchased by getting a one-time license. None of this information includes anything that could be used to identify you, so you don't have to worry about it being used to spy on you by any government entities.
Other improvements have been added to the latest version of NZBVortex, including the interface being updated to make it look more attractive, features that have improved downloading, including better junk and spam detection and more.
Conclusion
Since the update to version 2.11, the developers say that the feedback has been very positive. They are also getting a lot of requests to build a Windows version of their client. For the money and just based on quality alone, this is one of the best NZB clients available for the Macintosh OS platform and one any USENET user will likely appreciate.
The new improvements make this well-worth checking out if you have an older version and want to see what's been added and improved upon in this program.
Visit NZBVortex
Best Usenet Newsreaders