NZB Drop Review
Last Updated: Jan 31, 2022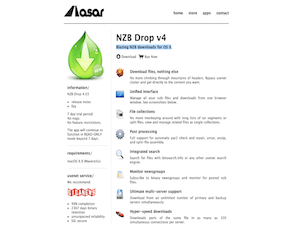 Rating
Price
$18.00
Retention
500 Days
Free Trial
None
Features
NZB Downloader for Mac OSX
Multi-Server Support
Par2 Full Support
NZB Drop is an NZB Downloader for Mac OS X designed by the same developers of Hogwasher. It has several good features as far as NZB downloaders are concerned and may be compared to other top programs like NZBGet and SABnzbd.
This NZB Downloader is made by the same developers of another Usenet newsreader, Hogwasher, which is also a decent software for Usenet activity. Both are in constant maintenance and updating.
NZB Drop requires macOS X.9 (Mavericks) and later versions for it to be able to run on a device. It can download files by avoiding heaps of headers and getting you directly to the content that you want. The latest version is currently at version 4.03 with several bug fixes and updates.
Highlighted Features
Designed by reliable software developer, Asar, NZB Drop is a paid NZB downloader that has pretty good features. Although it is not as popular as NZBGet and SABnzbd, it can compete well with these fore-mentioned downloaders because of its efficiency, attractive interface and decent functions.
Download files

Bypass Usenet clutter and get the files you need directly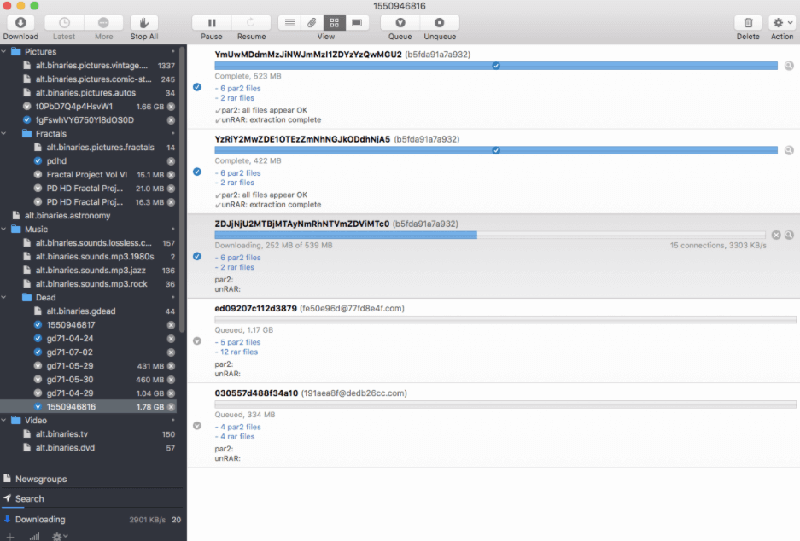 Unified Interface

Manage all your NZB files and downloads from one browser window

File Collections

View and manage related files as single collections.

Post Processing

Full support for automatic par2 check and repair, unrar, unzip, and split-file assembly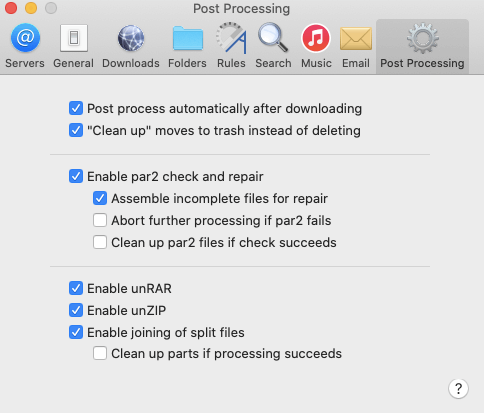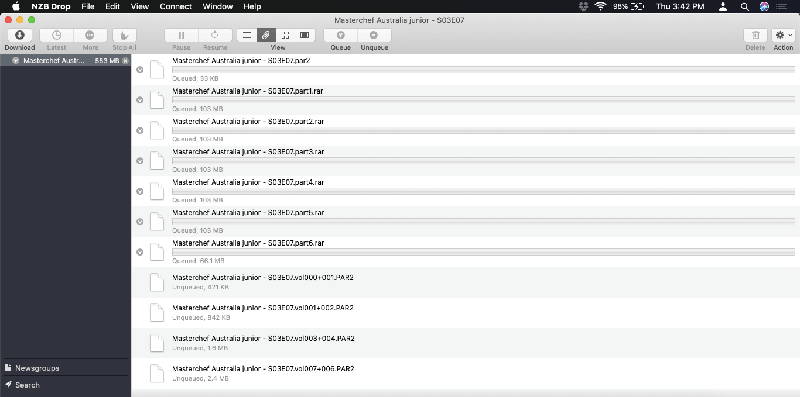 Integrated Search

Search for files from Usenet search engine. Default at binsearch.info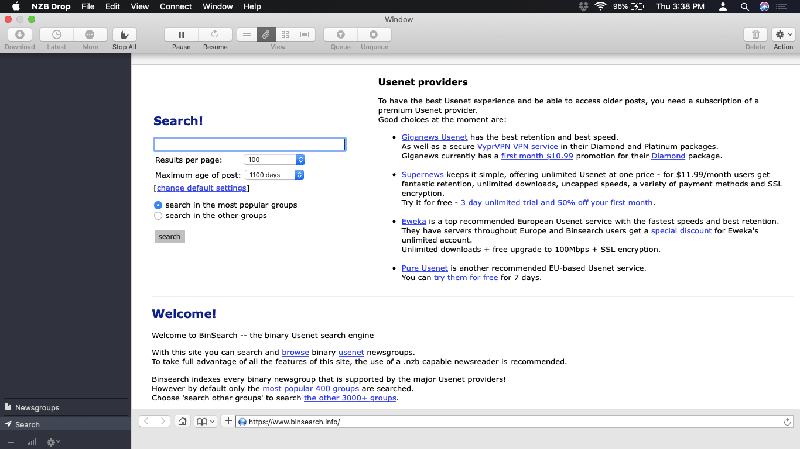 Monitor newsgroups

Subscribe to binary newsgroups and monitor for posted NZB files

Multi-server Support

Use and download from an unlimited number of primary and back-up server simultaneously

Fast Downloads/ Multi-connection Support

As many as 100 simultaneous connections per server

Built-in Image Viewer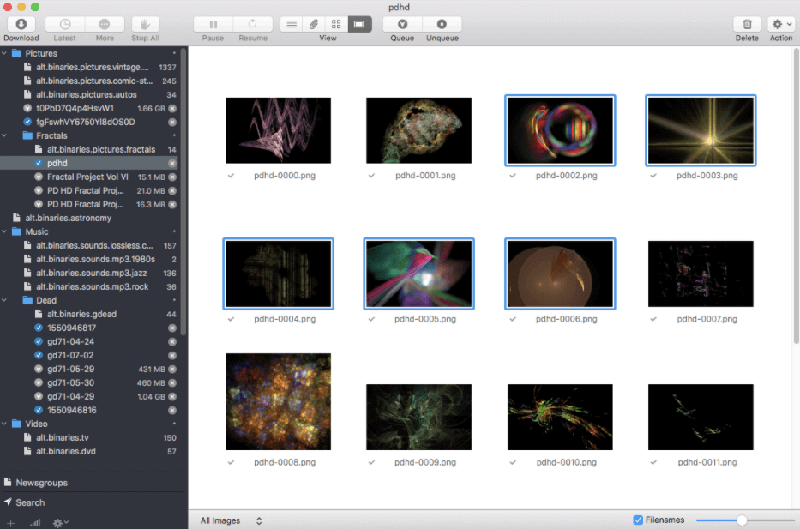 Plans & Pricing
The latest version of NZB Drop (version 4) is currently at $18.00 and can be purchased from their website. Accepted payment options include Visa, Mastercard, Amex and PayPal. You can also purchase NZB Drop via Check or Money order and mail payment to:
attn: Sales
Asar Corporation
3142 Rush Mendon Rd.
Honeoye Falls, NY 14472
USA
For users with an older version of this software (3.x), you are entitled to an upgrade valued at $10. Simply click on the "upgrade pricing" link on the purchasing section of the NZB Drop website and then enter your NZB Drop 3.x serial number on the space provided.
Free Trial Information
You can download the NZB Drop program for free and test it out for the first 7-days. After the trial period, the application will continue to function, but only in Read-only mode. This means you can monitor newsgroups, search for files and inspect contents of NZB files; however, you will not be able to download the files you want.
To avail of the free trial, just click on the "Start Trial" button from the NZB Drop app. From that section, you also have the option to purchase a serial number for full functionality or unlock the full features if you've already purchased a serial number.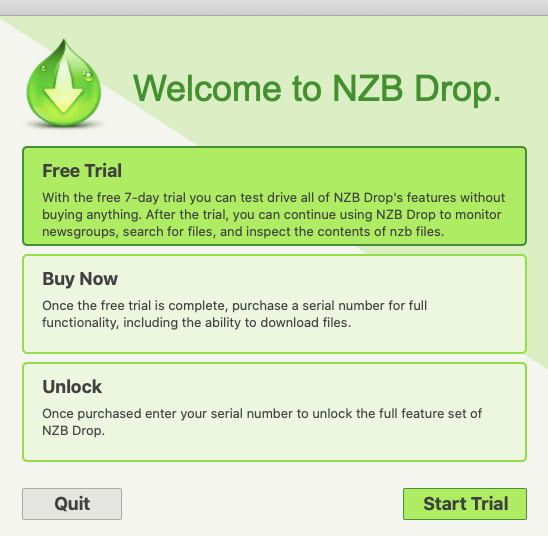 Usage Overview
NZB Drop lets you manage everything in one window. This makes downloading easier and visually appealing since you do not have to move from one browser window to another to perform different tasks. NZB Drop has a simple and easy-to-use interface that is also highly configurable based on the how you want the program to look like and perform. Aside from its actual usage, it can also be installed effortlessly.
Installation
NZB Drop can be downloaded and installed the same manner as other Mac softwares. Simply download the installer, open it, and then move the NZB Drop file to your applications folder. You may also opt to read the manual available to know more about the program.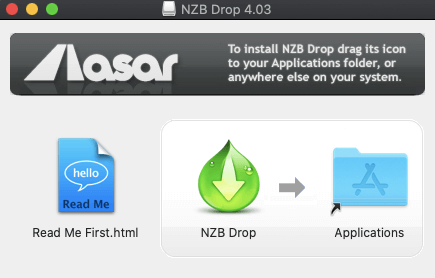 You will also be prompted to read a license agreement, which you would have to agree to, to be able to install the application properly.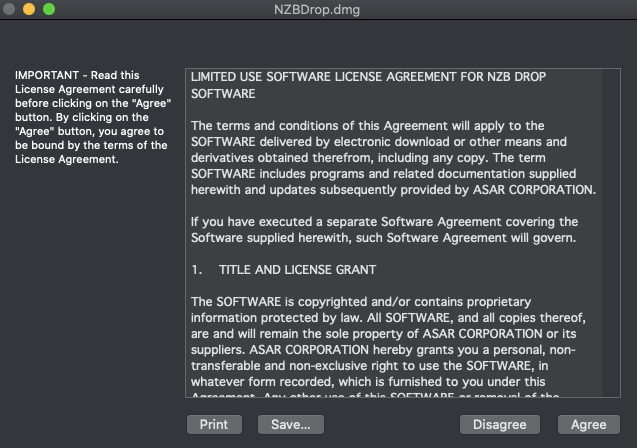 Once installed, you will be prompted to enter your login keychain password which you would have to either allow or deny. You can open your Keychain Access app on your Mac computer and make the necessary changes on your access control.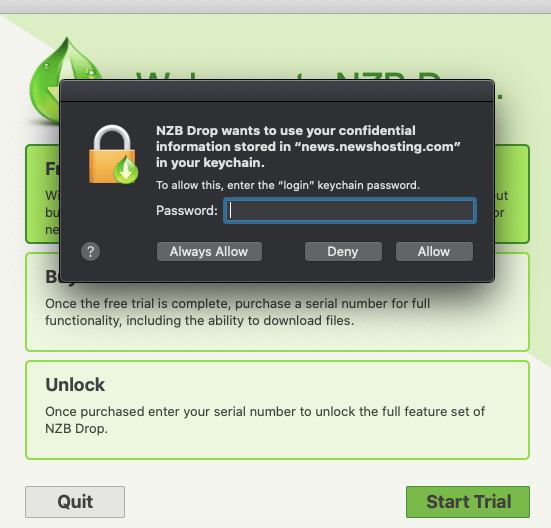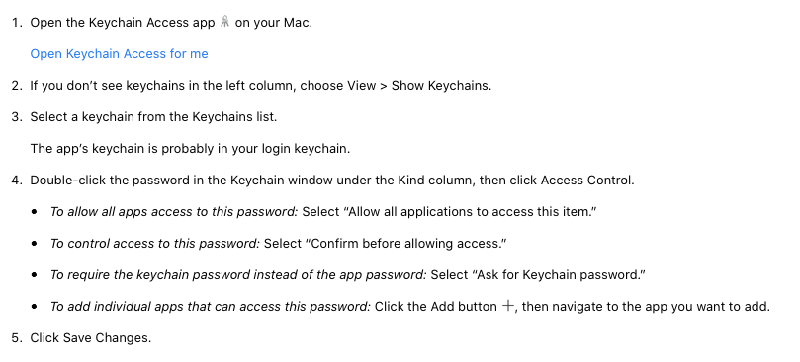 Configuration
Like other Asar softwares, NZB Drop has several settings that are fully configurable according to the settings you need to enter or your preference. Initially, you would have to enter the proper server information to be able to use NZB Drop. Make sure you have a valid Usenet service provider account and enter the server details from your chosen provider. Also, use an SSL port to keep your download activity secure and anonymous.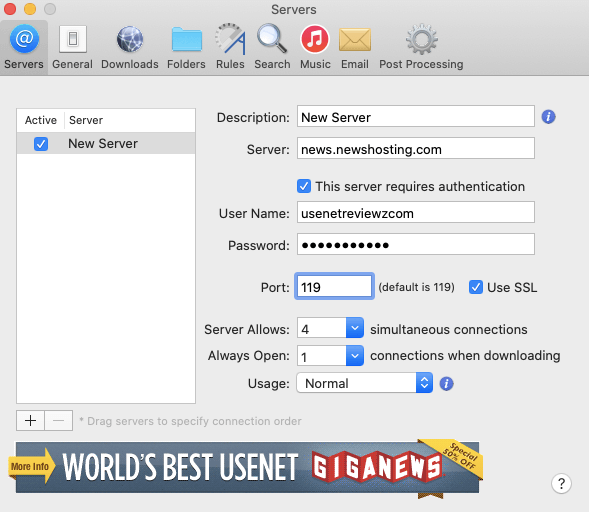 You can also explore your general settings and enable or disable some features from that section. Aside from that, you can also add bookmarks on your selected search site and decide where to save your NZB files.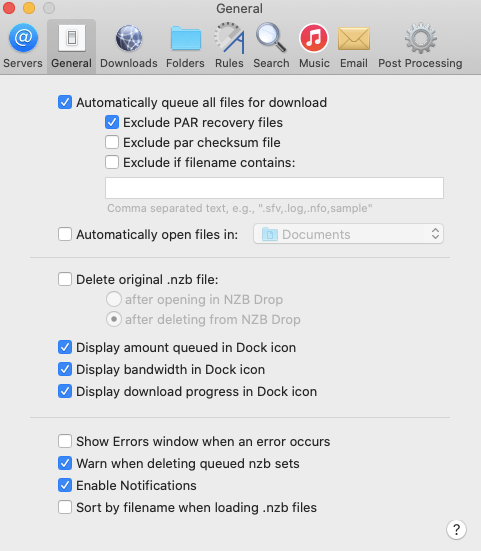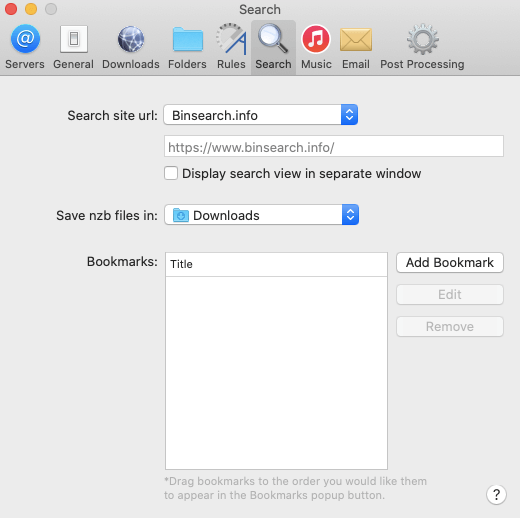 NZB Drop also has configurable settings for downloads, emails, rules, saving music files and folders. All these sections can be found in the same area as that of your server and general settings.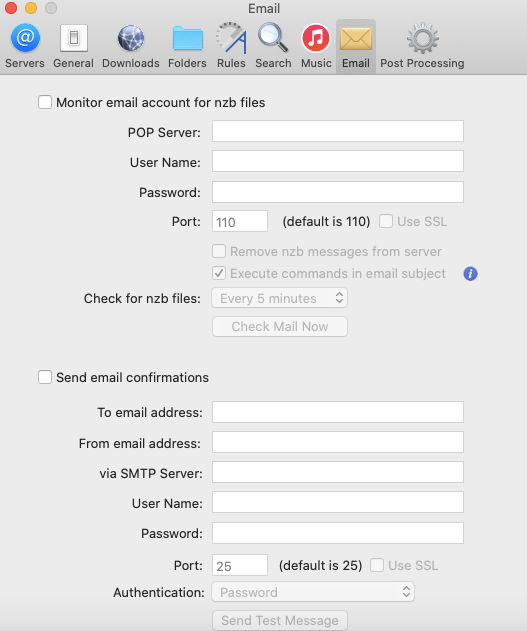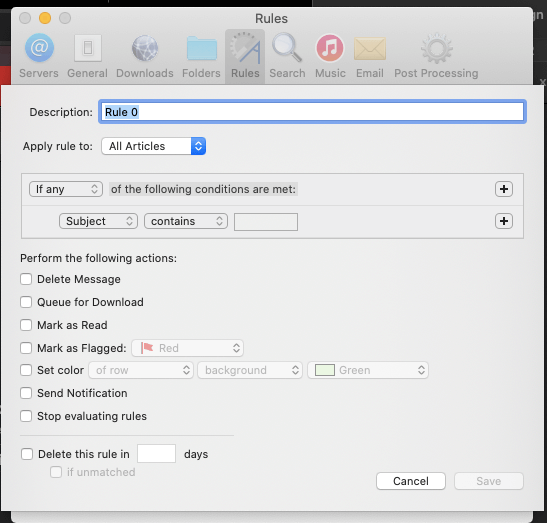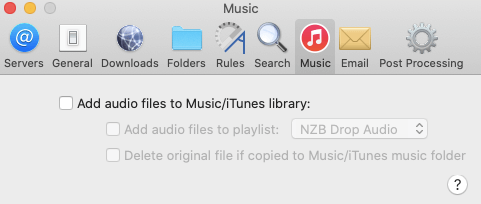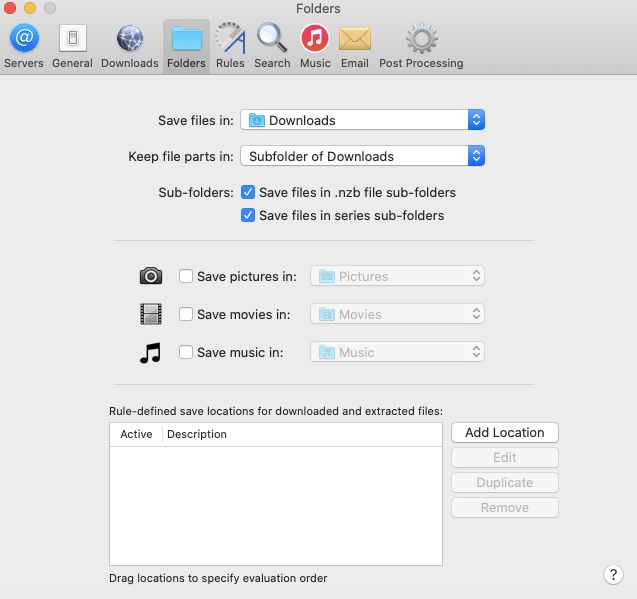 Scheduling & Automation
NZB Drop has several automated functions that you can configure on your settings from automatically opening files from a designated folder to determining NZB file check at a certain span of time. Aside from that, you can also limit your connection and overall bandwidth and limit the download speed at a certain time frame.
You can also schedule your downloads from start to finish.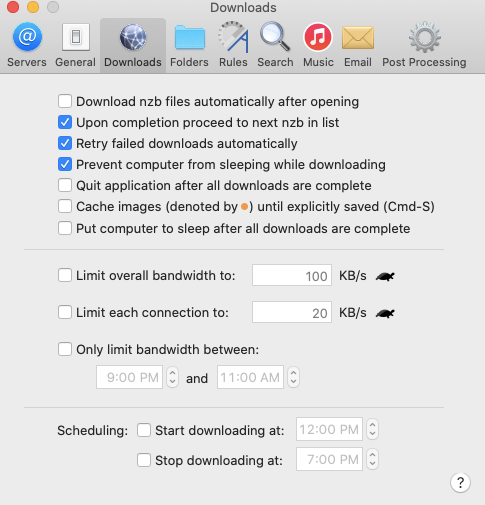 Usability
Probably the most appealing thing about NZB Drop is its interface. As it is, the NZB Drop interface is clean and modern-looking, free from clutter and other unnecessary tabs or functions. Since it has a unified interface, everything is performed on one window and does not open several windows when you decide to do different functions.
What makes it even more user-friendly is that it has a lot of configurable settings to make your downloading experience suit your preference.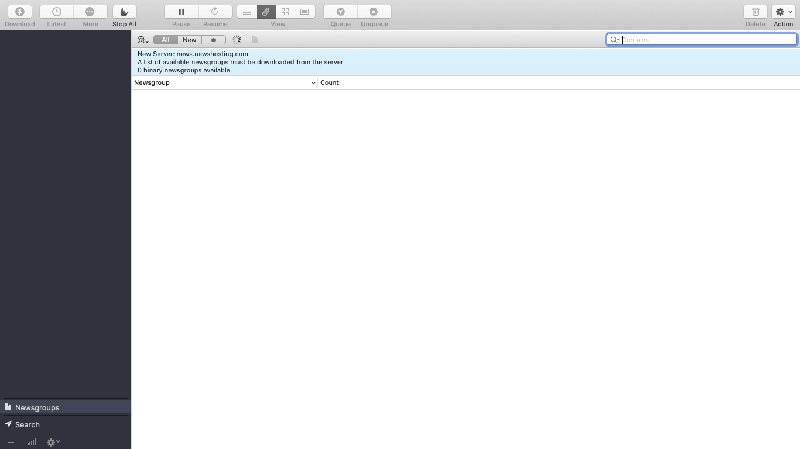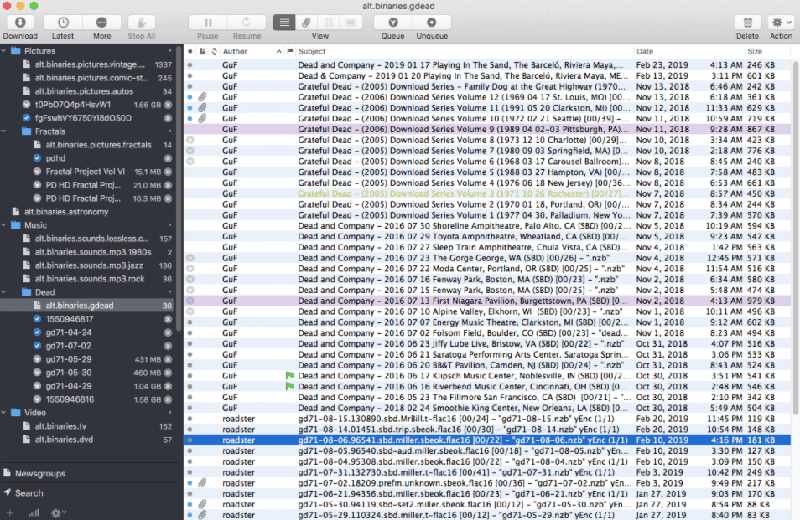 Conclusion
Although this program is only compatible with Mac OS, NZB Drop still has some pretty pleasant features that make it a very competent NZB downloader. It has a modern-looking and easy-to-use interface. It also has highly configurable settings that users can customize according to their preference. However, aside from it being only for Mac users, one downside of this NZB downloader is that it is a paid application. There are other impressive downloaders in the market, like NZBGet or SABnzbd that are free for use and can run on multiple operating systems. That being said, we are not disregarding NZB Drop's good features. So if you are considering a paid newsreader and downloader, then you might want to test NZB Drop out. They have a 7-day trial that would allow you to test out their features without having to buy anything.
Visit NZB Drop
Best Usenet Newsreaders