Newsoo Review
Last Updated: Nov 02, 2021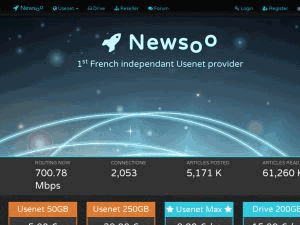 Rating
Price
€5.99 / Month
Retention
1000 Days
Free Trial
None
Features
French Service
Shutdown in 2016
EU Servers Only
Newsoo went online in 2015 only to go offline in later 2016. The company was headquartered in France and ran a network that spread across three datacenters. It offered USENET access and a drive feature that allows you to have all your files downloaded to their storage. You could download the uncompressed, assembled and repaired files once they're completed. Their webpage was notably slick compared to many other USENET services, full of graphs that show you the current activity on the Newsoo system.
Since Newsoo is no longer active, make sure to check our list of the Best Usenet service providers for better options.
Binary Retention
The binary retention at Newsoo is currently set at 1000.
Pricing
The pricing structure at Newsoo was a bit different than you'll find at a lot of other providers; no surprise there, given that they had a product that differs from the norm. The pricing is as follows:
50GB USENET: €5, up to 1,000Mbps speed with ten connections
250GB USENET: €20, up to 1,000Mbps speed with 10 connections
USENET Max: €8, unlimited traffic, up to 1,000Mbps, 10 connections
Drive 200GB: €15, same as USENET Max but including a 200GB online drive, Bittorrent access and OwnCloud access
All prices will have French VAT added to them.
Free Trial Info
There was no free trial offered with this service. You had fifteen days to ask for a refund if you're unable to connect to the Newsoo servers.
Coupons
There were currently no coupons offered for this service.
Payment Options
You could have paid with credit cards, PayPal or Bitcoin. Newsoo accepts Euros and USD.
Special Considerations
Newsoo was a newer service, so quite a few users were recommending using it as a backup until it's been up and running for a while.
The online storage feature is a nice addition to what they offer, as is the ability to integrate this service with torrents.
Keep in mind that this service was located in France, so users in the Western hemisphere might have trouble getting in touch with the operators for support. While the website was scant on specific news and information, the operators were very active on Twitter. You could find them at @newsoo_fr. Their feed is in French.
This provider did not offer redundant infrastructure, so there may be the occasional issue with service going down.
Security/Anonymity
Newsoo didnt outsource any of their storage, so any data you store on the service would only be on their servers. French law applies where privacy is concerned. Since you can download directly to their storage, there are some potential privacy advantages here.
Newsoo did  take Bitcoin, which is a significant privacy advantage in and of itself.
Conclusion
Unfortunately Newsroo is now defunct.   Their integration with torrents was  an innovative feature but likely could have made problems for them. We suggest taking a look at our list of USENET service providers for options.
Altenatives To Newsoo
| Name | Price | Info |
| --- | --- | --- |
| Newshosting | $8.33 | Best Price / Free Newsreader |
| UsenetServer | $7.95 | NZB Search / Fast Speeds |
| Eweka | €7,00 | Best EU Provider / Lifetime Discount |
| Easynews | $9.98 | Easy Web App / File Previews |
| TweakNews | €7,50 | Free Newsreader / Free VPN |
| PureUSENET | €5.97 | Good EU Provider / Free SSL |
| XLned | €7.49 | Fast Speeds / EU Servers |