Newsleecher Review
Last Updated: Jan 17, 2022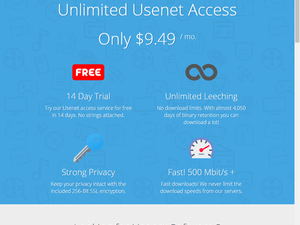 Rating
Price
$9.49 / Month
Retention
2850 Days
Free Trial
14 Days or 10 GBs
Features
Good Newsreader Included
USENET Search Additional Fee
US and EU Servers
Newsleecher is a Usenet service provider that has  their own newsreader which is definitely an advantage. However they don't include a VPN option that some of the best Usenet service providers offer.
Quick Newsleecher Facts
Unlimited Downloads
256-Bit SSL (Privacy Protection)
Comes with Newsreader (current version V8.0 Beta available)
Fourteen-Day Free Trial
Diverse Plans
Binary Retention
Newsleecher is currently at more than 2850 days of binary retention and text retention of 4,150 days.
Pricing
The $3.99 package does not include USENET downloads from Newsleecher, only the use of their search service. The Pure Usenet package is USENET access only and the Ready-to-Go package offers both the search service and USENET access.
| Name | Price | Download Limits | Connections |
| --- | --- | --- | --- |
| Client Plus | $3.99/month | Search Only, No Downloads | None |
| Pure Usenet | $9.49/month | Unlimited | 30 |
| Ready-to-Go | $11.99/month | Unlimited + Newsreader | 30 |
Free Trial Info
Every package comes with a fourteen-day free trial. If you're not happy with the service, cancel before your trial ends and you won't be billed.
Special Offers / Coupons
There are no special offers or coupons from this provider at the moment.
Speed Test
Newsleecher uses the same backend as Thundernews, and it's fast. With their unlimited download speeds, it's highly unlikely that you won't be able to max out your broadband connection with this provider.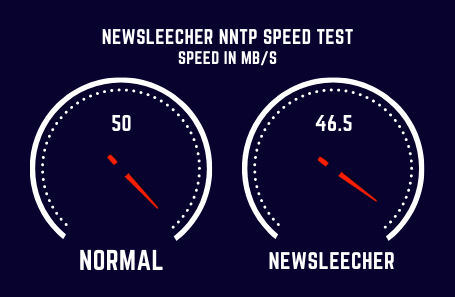 Connections
The two packages that include USENET access from this provider offer 30 simultaneous connections to the servers. Most users will not need this many.
News Servers / Ports / Configuration
The server addresses and ports for Newsleecher are as follows.
us.newsleecher.com
eu.newsleecher.com
Unencrypted: ports 119, 23,  3128, 7000, 8000, 9000
Encrypted: ports 563,443, 80, 81
Frequently Asked Questions
Q: How good is the included newsreader/downloader?
A: Newsleecher has a good included newsreader by any standards. It handles all the search features for you, which eliminates one of the most daunting learning curves for users who aren't all that familiar with USENET as of yet. It can also automatically download files for you once they become available on USENET. Easynews's reader might be simpler for some users, however.
Q: Is there risk in using non-anonymous payment methods?
A: This depends upon where you're located and what the laws are where you live. For users in the EU and the US, and many other nations, using an anonymous payment method is a nice privacy enhancement, but it's not really necessary for all users, so providers like Newsleecher that only take credit cards and PayPal don't present any real disadvantage. For users who really need the most privacy protection or who are in nations where USENET access is frowned upon, Bitcoin is usually preferred.
Q: How do I get help with Newsleecher's software?
A: Newsleecher has a web form—linked below—and forums where you can get support. Their newsreader is not difficult to use. If you don't like it, however, remember that you can always get another newsreader, such as Newsbin, and use that instead of the included reader.
Q: Why would I want a search feature with no downloads?
A: Newsleecher offers this option for people who want to use their search feature but who might have another way of downloading whatever binaries or NZBs they want from USENET. This is not at all a throw-away feature; not all USENET search engines are created equal and it's sometimes worth it to pay for a premium service.
Q: What is 256-bit SSL?
A: SSL refers to the encryption that's used to protect your privacy and 256-bit refers to the strength. Most Usenet service providers offer 256-bit SSL, but some mention the 256 number as a selling point. We recommend that you always use SSL encryption on your news server connection. The addresses for servers given below indicate which ports accept SSL connections. Use those; always.
Q: What kind of speed can Newsleecher deliver?
A: Put simply, most any USENET provider that doesn't limit your download speed will offer download speeds high enough to max out most users' Internet connections. USENET is very, very fast, particularly compared to Bittorrent and other downloading options. If you have a slower connection, a throttle on your speed likely won't make any difference.
Q: Can I get block access from Newsleecher?
A: Not at this time, no.
Q: I'm worried because there is no phone or live chat support option. Should I look elsewhere?
A: Not necessarily. Some USENET service providers that only offer web forms or ticket system support do a great job of it and you shouldn't write off a provider simply because they don't offer a live chat or phone option. That being said, plenty of providers do offer one or both of those options and, if you're more comfortable going that route, check our list of the best Usenet service providers.
Support
Support is available via a web form located on their website. There is also a forum available, with a technical support thread that you can use to get information on any issues you might have.
Contact Information
Unfortunately, Newsleecher only offers their contact form for support, which you'll find on their website. Other than that, the company does not offer any way to get in touch with them on their site. The company replies quickly, however.
Security /Company Privacy Policy
Newsleecher doesn't allow the use of its search feature or USENET service to track user activity, articles or other information about users.
Payment Options
Newsleecher accepts Visa, Mastercard, Maestro and PayPal for payment.
Our Opinion
Newsleecher is a good service, but it lacks some of the features we'd like to see. We do like that they include their own newsreader, which makes USENET a lot more accessible to new users.
They do not include a VPN option, however, and that puts them a bit behind providers such as Newshosting. For that reason, we cannot recommend this provider over Newshosting, though we can say that they do have a lot going for them.
An included newsreader is a big benefit, particularly for users who have just discovered USENET. Newsleecher updates their newsreader regularly and they've added some great features, such as the auto download option, which takes care of downloads for you as soon as they become available.
For easy access to USENET, Newsleecher does a great job. If they added a VPN option, however, that would take them to the next level. While we like their service and their speed, we still recommend Newshosting over this provider, simply because Newshosting gives you the option of getting a VPN to keep all of your Internet usage secure.
Altenatives To Newsleecher
| Name | Price | Info |
| --- | --- | --- |
| Newshosting | $8.33 | Best Price / Free Newsreader |
| UsenetServer | $7.95 | NZB Search / Fast Speeds |
| Eweka | €7,00 | Best EU Provider / Lifetime Discount |
| Easynews | $9.98 | Easy Web App / File Previews |
| TweakNews | €7,50 | Free Newsreader / Free VPN |
| PureUSENET | €5.97 | Good EU Provider / Free SSL |
| XLned | €7.49 | Fast Speeds / EU Servers |