Kwooty Review
Last Updated: Jan 27, 2022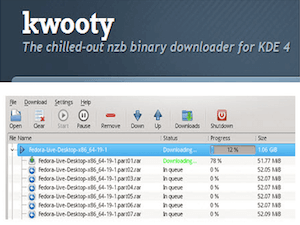 Rating
Price
free
Retention
500 Days
Free Trial
None
Features
NZB Binary Downloader for KDE 4
Solid Graphical User Interface
Automatic File Verification/Repairing
Kwooty is a free NZB binary downloader developed for a software compilation based on the K Desktop Environment. This software compilation runs as Linux's graphical user interface, which means Kwooty can be installed on all Linux-run machines.
Kwooty is free to download and use. It has some good features built into it, like the usual automatic file verification or repairing, multi-server support, and built-in YEnc and UUEncode file decoders.
Kwooty can mainly be found at the KDE store. However, there are also other websites where you can download this software from. We advise you to choose a reliable site or check your downloaded program with an antivirus software before opening or using it.
The most recent version of Kwooty is at version 1.1.0 and based on the github page, the latest update of this software was done in December of 2018.
Highlighted Features
Kwooty has some pretty good features built-in to its system. It has Unrar 5 support that automatically verifies and repairs files. It is also able to do automatic archive extraction for multiple formats and supports split file archives.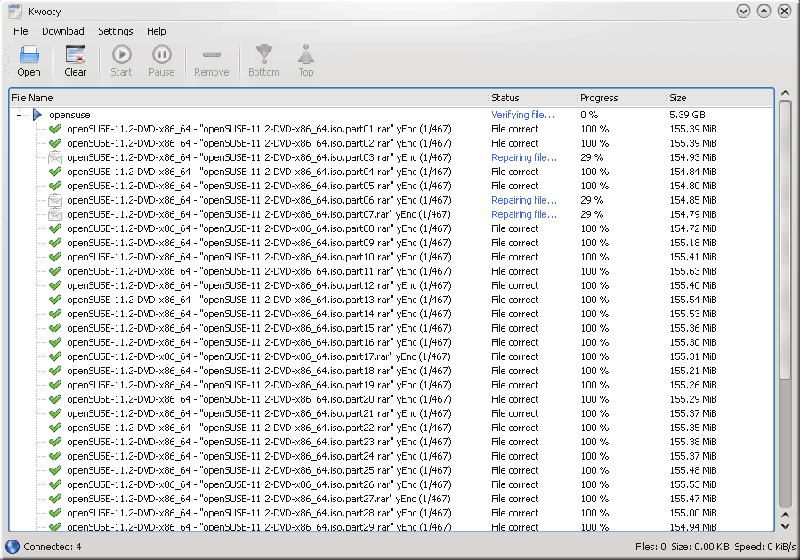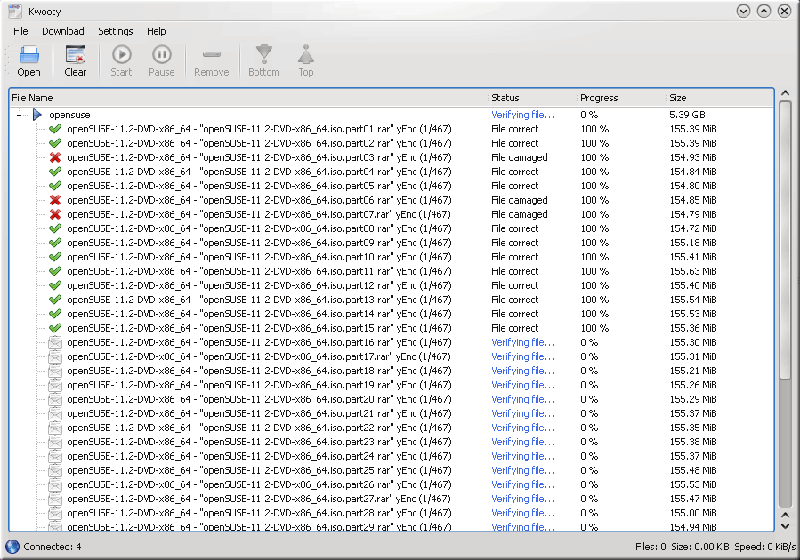 This downloader also allows you to be conservative with how much of your bandwidth the program actually consumes. It also has a watch folder and a favorite transfer folder feature.
If you download an NZB file, Kwooty can be set up so that it automatically downloads the corresponding binary. SSL connection is supported, so you don't have to worry about losing the privacy protection your USENET provider offers you when you use this downloader. You can also use a system shutdown scheduler built into the software to keep things automated.
For a full list of Kwooty's features and functions, please see below:
Automatic file verification/repairing
Automatic archive extraction (Rar, Zip and 7z, split archive formats supported)
Multi-server support
Automatic download retry in case of failure
Built-in YEnc and UUEncode file decoders
Bandwidth throttle and scheduler
Favorite transfer folder for each type of downloaded contents
Watch Folder
File queue and priority management
System shutdown scheduler
Save/Restore pending downloads when application is closed/open.
Built-in SSL connection support
Pause/Resume downloads
Suspends downloads if disk is full
Display of Remaining Time or Estimated Time of Arrival (ETA)
Display of available free disk space
Automatic connection to host at start-up
Automatic file downloading after opening NZB files
Plans & Pricing
Kwooty is free to install and use. And while there are no options to donate to this program, you can contribute to the further development of the software if you are capable. Visit the Kwooty Github page to be a contributor.
Usage Overview
One of the most prominent features of Kwooty is that it has a good graphical user interface that allows users to easily navigate through and use the platform. It is a convenient and efficient piece of software that is a good option for Linux users. It also works on portable operating system interfaces like BSD and Unix-like operating systems.
Installation
Kwooty has several requirements that you need to be able to install on your device. You must have a KDE version of 4.6 and you will be required to additionally install par2 and unrar to be able to use Kwooty's automatic archive verification/ repairing, and automatic rar extraction.
To build and install the program:
Untar the archive
Build and Install

cd kwooty
cd build
cmae -DCMAKE_INSTALL_PREFIX=kde4-config –prefix ..
sudo make install OR > su -c 'make install'

Uninstall

sudo make uninstall OR > su -c 'make uninstall'
You can also find packages needed to build Kwooty on several distributions from its Github page.
Configuration
Once you're in the program, you would need to configure your general set-up first. There you can designate a download folder and a temporary folder. There are also miscellaneous options which you can enable or not.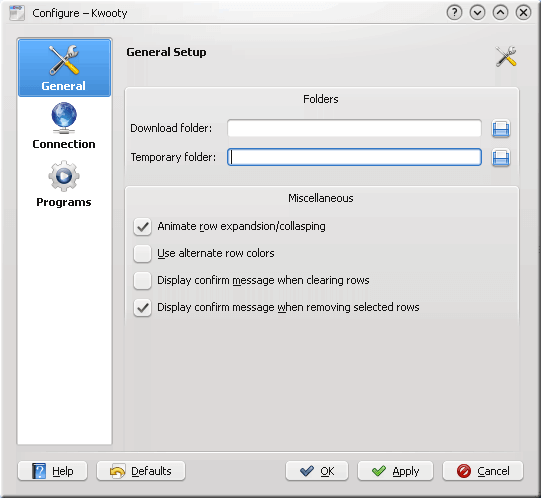 As for your server settings, go to your configure tab and enter the necessary details needed for Usenet access. Provide the host, port and number of connections as given by a reliable Usenet service provider. You may need to enable the authentication function if your chosen Usenet service requires you to log in with a username and password. Also, make sure you enable SSL connection to keep your activity secure and anonymous.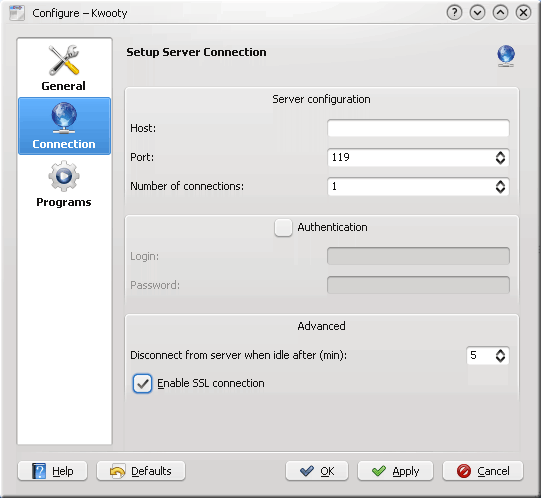 Scheduling & Automation
Kwooty allows users to configure its settings to automatically download binaries. With its Watch folder feature, it is able to be on the lookout for files that have yet to be posted.
Kwooty also has a systems shutdown scheduler that allows you to turn your device off as soon as downloads are finished or set a specific time for it. Aside from this, you can also set a schedule for your bandwidth throttling. This means you can set a specific time of the day when you want your bandwidth to be limited or controlled.
Usability
Since Kwooty has a good GUI, it is both convenient to use and visually appealing for a lot of users. It has a clean-looking interface that is clutter-free and has no unnecessary tabs or distracting functions. If you are used to downloading files from Usenet, Kwooty would be very simple for you to use. You will also be able to see the current status of your activity as files are being downloaded, so you can just leave the software alone and do its thing while you do other things.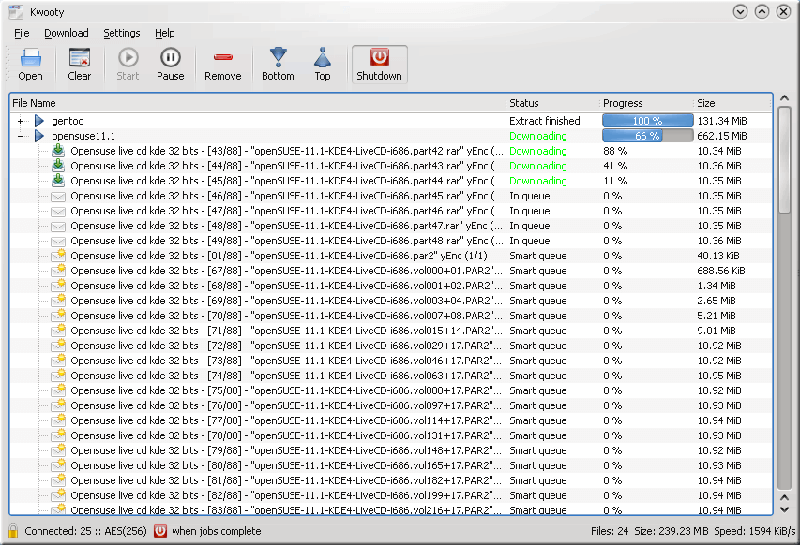 Conclusion
Kwooty is a decent downloader option for Linux users. Linux users who want something that allows them to get out of a console interface and to keep the power that they're accustomed to might find Kwooty tempting in that regard. However, there are some drawbacks.
While Kwooty has several good features, popular downloaders like NZBGet and SABnzbd have more automated features. Having said this, Kwooty still is a reliable choice. It provides enough functions that a lot of Linux users can explore and enjoy. At the end of the day, it all would boil down to preference – if you want a program that has a very good graphical user interface that simplifies your Linux experience as much as possible or a software that has the maximum possible automation with a console interface.
Visit Kwooty
Best Usenet Newsreaders