Gebruikhet.net Review
Last Updated: Jan 18, 2022
Rating
Price
€14.99 / Month
Retention
1100 Days
Free Trial
None
Features
Dutch Servers
VPN Add on Available
Selling Webhosting
Gebruikhet is a Usenet service provider located in the Netherlands. The company offers a mix of speed-limited and block access accounts. They offer support both in English and Dutch.
Quick Facts
Numerous Plans
Block Access
EU Servers
Dutch & English Tech Support
1100 Days Binary Retention
Multiple Payment Methods
Binary Retention
Binary retention at Gerbuikhet is currently at approximately 1100 days. This is lower than our best providers offer.
Pricing
Flat Rate Accounts
| Name | Price | Speed Limit | Connections |
| --- | --- | --- | --- |
| 6 mBit | € 4.99 | 6 Mbps | 4 |
| 8 mBit | € 5.99 | 8 Mbps | 6 |
| 10 mBit | € 6.99 | 10 Mbps | 8 |
| 15 mBit | € 7.99 | 15 Mbps | 10 |
| 20 mBit | € 9.99 | 20 Mbps | 12 |
| 60 mBit | € 14.99 | 60 Mbps | 15 |
| 120 mBit | € 19.99 | 120 Mbps | 20 |
| 200 mBit | € 24.99 | 200 Mbps | 20 |
Block Pricing
All block accounts are divisible and have no runtime limit. You can use up to 20 connections with these accounts.
| Block Access | Price |
| --- | --- |
| 5 GB | € 1.99 |
| 15 GB | € 5.99 |
| 25 GB | € 7.99 |
| 45 GB | € 9.99 |
| 75 GB | € 14.99 |
| 150 GB | € 24.99 |
| 400 GB | € 49.99 |
| 1 TB | € 95.00 |
| 2 TB | € 135.00 |
Free Trial info
There's currently no free trial available from this Usenet service provider. The closest thing would be a 3- or 5-GB block access account, which isn't free, of course, but which would allow you to test the service without a subscription.
Special Offers / Coupons
We don't have any coupons for Gerbuikhet right now, but come back soon because we'll share them if we get them.
Speed Test
Gerbuikhet delivers the speeds it promises, based upon our testing. You shouldn't have any trouble maxing out your connection with this provider.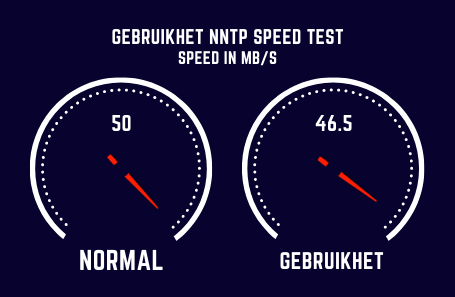 Connections
The number of connections you're allotted varies according to your subscription. See the table above to clarify.
News Servers / Ports / Configuration
Server: news.gebruikhet.net
Unsecured Port: 119 Secured (SSL)
Ports: 443, 563
Frequently Asked Questions
Q: Are these block access prices good?:

A: They're actually a bit higher than we'd like to see. Our preferred providers, including Tweaknews, offer block access for quite a bit cheaper than Gebruikhet does, so we'd advise going through our top 5 providers and finding a solution there if you want low-priced, block access.

Q: Is there English-language tech support available from this provider?:

A: Yes. The web page, however, is very thin on information and some of it isn't translated well. There is English-language tech support available, however.

Q: Can I use Bitcoin here?:

A: No, this provider does not accept Bitcoin.

Q: I want a VPN, can I get one through this provider?:

A: You can, but we'd recommend our best usenet service providers first, since their prices are better and their VPNs are excellent. Check with Newshosting, Tweaknews, or UsenetServer if you want VPN access packaged with your USENET subscription.

Q: I don't know how to decide between block and subscription plans. What do I want?:

A: This is really a needs-based question. If you plan on downloading a lot of data every month and don't want to worry about caps, then go with a subscription. It might end up costing a bit more for light users, but subscriptions are usually better deals for the very heavy USENET downloaders out there.If you want access to USENET on an intermittent basis, or if you really only need some specific binaries off the system and aren't interested beyond that, block access is great, since it doesn't renew automatically and expires once you use it up. Block access is good for testing out a service, too, since you're not making a commitment to subscribe to that provider's service.

Q: Can I use my own newsreader with this provider?:

A: Yes, you can. Most USENET service providers let you use whatever software you want, and some provide their own as another option, but USENET services in general are not terribly restrictive in terms of what software you use. All you need from them, really, is a server address and an account.

Q: How much difference in terms of speed will an EU server make if I'm outside the EU?:

A: Probably not too much. Most USENET providers are very fast. If you want service from the EU, the best way to test providers is to use free subscriptions or a block account to see how they perform and to make a decision from there. Our best Usenet service providers all offer very fast speeds to customers around the world, so you won't have any speed issues with them.

Q: Is the EU better for privacy than the US?:

A: Some users believe so, yes. Others may differ. When you're looking for the highest level of privacy, however, it's usually best to buy access outside your own nation and to use Bitcoin or another anonymous payment method to buy it.
Support
Contact Information
MSN: support@bullcat.nl Email: info@bullcat.nl Tel: 0031 (0)23 5443581 Fax: 0031 (0)23 5443580
Security /Company Privacy Policy
Unfortunately, Gerbuikhet doesn't have its privacy policy published on its site, so we cannot comment on it.
Payment Options
Gerbuikhet accepts credit cards, PayPal, iDeal, Paysafecard and several other methods of payment.
Our Opinion
Gebruikhet isn't a bad provider and they have good flexibility where plans are concerned. They do have some issues, however, that make us recommend our best Usenet service providers very strongly above Gebruikhet. Gebruikhet's web page hasn't been updated in a long time, it appears, and they have very thin information where it needs to be fleshed out.
Their FAQ is very limited and they don't have enough information on their privacy policy relative to what we see from other providers. Particularly for those purchasing USENET access from the EU to increase their overall level of privacy, this is a problem.The block access this provider offers is good, but expensive compared to what we see from our best providers. Combine that with the thin information in some areas and we have to recommend our best providers to our readers over this one.
Gebruikhet isn't a bad service or company, but the information regarding privacy and other aspects that people want needs to be presented in a clearer way.If you want EU service, check out our best providers, as some of them offer EU servers to their customers. If you want block access, we also recommend our best providers over this one, as the prices are better and, with block access, that's almost always the prime motivation behind choosing it.
Altenatives To Gebruikhet.net
| Name | Price | Info |
| --- | --- | --- |
| Newshosting | $5.99 | Best Overall / Fastest Speeds |
| Eweka | €6,99 | Best EU Provider / High Retention |
| UsenetServer | $7.95 | Unlimited Access / NZB Search |
| Easynews | $9.98 | All-in-One / Usenet Search |
| TweakNews | €7,50 | Quality Retention / Quality Completion |
| PureUSENET | €5.97 | Good EU Provider / Free SSL |
| XLned | €7.49 | Fast Speeds / EU Servers |