FrugalUsenet Review
Last Updated: Jan 18, 2022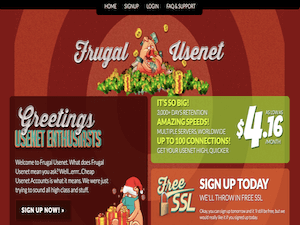 Rating
Price
$4.99 / Month
Retention
3000 Days
Free Trial
None
Features
Good Retention
SSL Included
US and EU Servers
FrugalUsenet offers a simple pricing model, with only two plans available, both of them unlimited in speed and download amounts. The Usenet service provider is remarkably inexpensive and they have increased their binary retention to 3000 days.
FrugalUsenet also now gives access to a bonus server, UsenetFarm, with all of their accounts. Their yearly accounts also get a BlockNews account with a retention going back to more than 4000 days.
Quick Facts:
Simple pricing model
Multiple Servers worldwide
Access to up to 100 connections
Free SSL
Bonus/ Backup EU server
Additional 300GB Block Account from BlockNews for yearly accounts
Binary Retention
FrugalUsenet has increased their binary retention to 3000 days while still keeping their low pricing. And with their yearly accounts, you can also get access to binaries going back more than 4000 days with a free 300GB block account from BlockNews.
Pricing
FrugalUsenet has non complicated plans that include monthly and yearly unlimited plans. Both of which can be purchased on a non-renewing basis or as a subscription plan. Aside from its standard inclusions, their monthly plans include access to a bonus EU server. Their yearly plan, on the other hand, also includes this bonus server as well as a 300GB high retention block account.

Currently their monthly plan only covers 3000 days of retention. But If you select their yearly plan you get access to more than 4000 days of retention with the additional block account.
Free Trial Info
Currently, FrugalUsenet does not offer any free trial.
Special Offers/ Coupons
FrugalUsenet does not have any special offers or coupons listed. You may not have any need for this since their pricing is already low.
Speed Test
FrugalUsenet performs quite well in terms of speed. With its main servers, you should be able to max out the bandwidth of your internet service provider. This Usenet service provider does not limit the speed of your connection. Their bonus server, however, has a download limit of 1.5 TB per calendar month.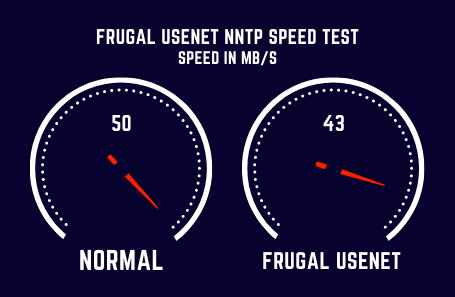 Connections
Both of FrugalUsenet's monthly and yearly plans give users access to up to 100 connections. This is quite a lot for most users and is definitely competitive with other Usenet providers. While the number of connections aids in the speed of your access and downloads, please be reminded that there are other variables that affect speed.
News Servers/ Ports/ Configurations
MainServers
news.frugalusenet.com
eunews.frugalusenet.com
Bonus Server
IPv6
news-v6.frugalusenet.com
eunews-v6.frugalusenet.com
Ports
Standard ports: 20, 23, 53, 119, 443, 2000, 8080, 9000, 9001, 9002
SSL ports: 563 or 5563
Bonus Server port: 80 or 119
Bonus Server SSL port: 443 or 563
Frequently Asked Questions
Q: Can I post on Usenet?

A: You can use your favorite Usenet posting program with the server addresses mentioned above

Q: Does FrugalUsenet record or monitor the things users do on Usenet?

A: FrugalUsenet does not monitor or record any Usenet activity into their system. The provider values privacy and the security of its users.

Q: Is SSL really necessary?

A: It is always good to use to use an SSL server to keep your Usenet activity safe and private. If you wish not to use an SSL server, browse and download from Usenet at your own risk.

Q: Does FrugalUsenet limit how fast a user can download news?

A: No, they do not. The only limit would be that of your own internet service provider

Q: Does FrugalUsenet provide any refunds for any reason?

A: According to their website, FrugalUsenet does not entertain refunds, however if things are really messed up they are open to working something out with their users.

Q: Is account sharing allowed?

A: FrugalUsenet does not allow account sharing. If their system detects sharing, your account will be locked for an hour.
Support
The FrugalUsenet does not have any contact form available on their website. However, for any concerns or inquiries, you can email them at support@frugalusenet.com.
Payment Options
FrugalUsenet accepts PayPal and credit card payments. They also accept cash or money order payments which would give your 2 free extra days of service. Cryptocurrency payments only apply for non-recurring payments.
Conclusion
FrugalUsenet has some attractive features to it. It offers a rather bare-bones USENET service with all the basics you need to get going, but doesn't cut corners in terms of what you actually need. SSL encryption is provided, so your anonymity is protected. The company has two servers, so you can connect to a server in the US or the EU, whichever you prefer and whichever is best for your privacy concerns.
They offer an impressive 100 connections which is more than enough for most users. Those with powerful machines and fast connections will, most likely, get the most out of the unlimited bandwidth. However, it is also important to remember that the speed of your Usenet access and download capability does not only rely on how much connection you have. There are other variables that also affect this.
FrugalUsenet previously had low retention times but has increased this to 3000 days. And with their yearly plan, you can also get access to files going back as far as 4500 days which comes from a free additional block access account from BlockNews. Overall, FrugalUsenet offers the basics of what people want from USENET, and their prices do live up to their name, making it a suitable service to consider if you really need to keep your costs down.
Signup to our mailing list also on the special offers page to be notified when a new USENET Site is opened and available.
Altenatives To FrugalUsenet
| Name | Price | Info |
| --- | --- | --- |
| Newshosting | $8.33 | Best Price / Free Newsreader |
| UsenetServer | $7.95 | NZB Search / Fast Speeds |
| Eweka | €7,00 | Best EU Provider / Lifetime Discount |
| Easynews | $9.98 | Easy Web App / File Previews |
| TweakNews | €7,50 | Free Newsreader / Free VPN |
| PureUSENET | €5.97 | Good EU Provider / Free SSL |
| XLned | €7.49 | Fast Speeds / EU Servers |