Astraweb Review
Last Updated: Jan 20, 2022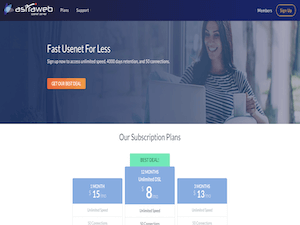 Rating
Price
$8.00 / Month
Retention
4000 Days
Free Trial
24 Hours
Features
Free SSL
US and EU Servers
Complete Headers
Astraweb is a well-known USENET service provider that offers quite a few attractive features. With Astraweb, you can get low-cost unlimited accounts, as well as block accounts. You also have the option of paying via Bitcoin aside from using major credit cards.
Unlimited and Block Accounts – a variety of various plans.
Reduced Prices for Longer Terms of Service
4000 days of retention
Up to 50 connections
Accepts Bitcoin, iDeal, Major Credit cards – other payment options available
24-Hour Support
SSL (Privacy Protection)
Runs Own Servers
Binary Retention
Astraweb current has 4000 days of retention for binaries.
Pricing
Astraweb has both unlimited and block accounts. Both of which have access to 50 secure connections and have unlimited speed.
Unlimited Plans
| Plan | Price | Speed | Connections |
| --- | --- | --- | --- |
| 1 month | $15/month | Unlimited | 50 |
| 3 month | $13/month | Unlimited | 50 |
| 12 months | $8/month | Unlimited | 50 |
Block Plans
| Plan | Price | Download Limits | Connections |
| --- | --- | --- | --- |
| 25 GB | $10 | 25 GB | 50 |
| 180 GB | $25 | 180 GB | 50 |
| 1000 GB | $50 | 1000 GB | 50 |
Free Trial info
They do not have a free trial period. However, if a customer is unhappy with their service for some reason, they are open to give a full refund if the account is cancelled and refund is requested within the first 24 hours of sign up. You can check out other Usenet service providers that offer a free trial period.
Special Offers / Coupons
Check out the time limited special offers for UsenetReviewz visitors at $15 for two months special,  $11 month / time limited special or $96 year time limited special if you are looking to get a good deal. Bookmark our website and/or signup to our mailing list to stay informed about discounted pricing.
Speed Test
Astraweb is fast. While their standard accounts are limited to 10 Mbit/s, their unlimited and block accounts have no speed thresholds. Most users should easily max out their broadband connection speeds using this provider.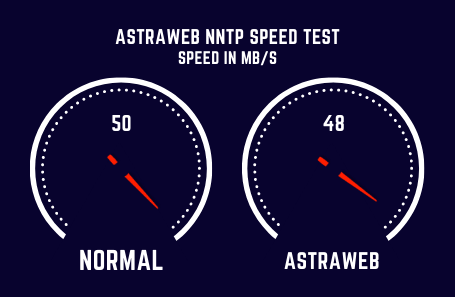 Connections
Astraweb gives all users fifty connections. Most users will not need this many connections, but it's always good to have extra if your setup can handle it.
News Servers / Ports / Configuration
General Servers (Non SSL) on ports 119, 23, 1818 or 8080:
news.astraweb.com
eu.news.astraweb.com (European servers)
us.news.astraweb.com (U.S. servers)
Secure Servers (SSL) on ports 443 or 563.
ssl.astraweb.com
ssl-eu.astraweb.com (European servers)
ssl-us.astraweb.com (U.S. servers)
Frequently Asked Questions
Q: Is 10 Mbit/second fast enough?
A: For people who have very fast Internet connections, probably not. Most users, however, will likely find 10 Mbit/sec to be plenty of speed. If you're not sure, you can buy a low-cost block access package and see how fast you can download off of USENET. If you get better speed than 10 Mbit/sec, get a DSL subscription or stick with block access; either offers unlimited speed.
Q: Why would I pay for USENET access with Bitcoin?
A: Some nations are restrictive in terms of what information people are allowed to access online. Bitcoin provides an easy, anonymous option for getting USENET access for such customers. Some customers simply prefer Bitcoin because it is almost completely anonymous, and that layer of security is desirable for such users.
Q: What does it mean when providers say they operate their own servers?
A: Some USENET service providers are resellers, meaning that their service gets its USENET servers from another provider. In many cases, whether or not a USENET service operates its own servers will have no bearing on the end-user experience. However, companies that operate their own servers obviously have more control over them and, for some users, it's the only type of company they're willing to work with. It's not really a strike against any company if they don't have their own servers but, at the same time, companies that do have an edge, in some regards.
Q: I see this company has headquarters in Singapore. Is their English-language tech support good?
A: Yes, Astraweb has good tech support and English speakers will find themselves entirely accommodated by this company.
Q: Is a ticketing system good for support?
A: The answer to this question depends upon the company. As far as Astraweb is concerned, they're responsive and do a great job of attending to their tickets. Ticket systems are not as fast as live chat, of course, but they can be nearly as fast when you're working with a good company. Telephone support may be faster, in some cases, but may also involve more time on hold and ticket systems and live chat can actually be faster than phone support in the end.
Q: Does this provider offer a newsreader?
A: No, Astraweb does not offer a newsreader. Many of our best Usenet service providers do, however. With Astraweb, you can use most any newsreader and downloading app you want, but you'll have to bring your own.
Q: Is there a security advantage to picking a company located outside my home nation?
A: That depends upon the privacy laws in your nation but there very well might be. Some USENET users prefer to get access outside their own nation so that their USENET records are subject to the laws in a nation that may have better privacy protection than their own. Astraweb says that they do not log user activity at all and, in such cases, there would be no user logs for anyone to check, anyway.
Q: Is the SSL connection really secure?
A: SSL provides excellent security. It only protects your USENET usage, however, so keep in mind that, if you want security for all your Internet usage, you'll need to look to a solution like a VPN. Some of our top providers—Newshosting and NewsDemon, for example—offer discounted VPN services with their USENET products.
## Support
Astraweb has a ticketing system on their website where you can submit issues directly to support. Support is available around the clock and response times are good with this provider. In addition to the ticketing system, Astraweb has a very detailed FAQ and knowledgebase section you can use to research answers to your questions.
Contact Information
Searchtech Limited
16-20 UOB Plaza 2
80 Raffles Place
Singapore 048624
Submit help ticket: helpdesk.astraweb.com
Security /Company Privacy Policy
Astraweb says that they do not log user activity. They do log server performance information but, according to the company, this information is completely anonymous.
Payment Options
Astraweb takes major credit cards, iDeal, Sofort and Bitcoin for payment. You can pay for block, monthly or tri-monthly subscriptions.
Our Opinion
Astraweb is a solid USENET service provider, particularly for those who need block accounts. The company has been in business since the late 1990s, so they aren't among the companies that come and go quickly. They've been around for a long time and appear to be here to stay.
Astraweb's block access accounts are particularly good deals for those who don't consistently download off of USENET, but who need access now and then. The 1,000 GB block is a particularly good deal. For many users, this will cover their usage for an entire year. That translates to USENET access with unlimited speed for less than $5 per month, if you manage to stretch out the allotment for twelve months.
Astraweb also offers competitive subscription programs. The $10 per month Unlimited plan, despite it being limited to 10 Mbit/sec, might be enough speed for many users and the price is certainly good.
Astraweb doesn't stand out as the very best Usenet service provider for subscription USENET access but, for block access, they are definitely among the top providers in the business.
Altenatives To Astraweb
| Name | Price | Info |
| --- | --- | --- |
| Newshosting | $5.99 | Best Overall / Fastest Speeds |
| Eweka | €6,99 | Best EU Provider / High Retention |
| UsenetServer | $7.95 | Unlimited Access / NZB Search |
| Easynews | $9.98 | All-in-One / Usenet Search |
| TweakNews | €7,50 | Quality Retention / Quality Completion |
| PureUSENET | €5.97 | Good EU Provider / Free SSL |
| XLned | €7.49 | Fast Speeds / EU Servers |