AnonyNews Review
Last Updated: Jan 25, 2022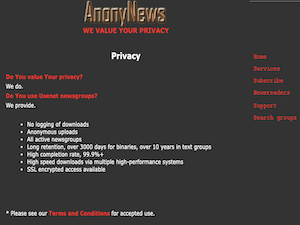 Rating
Price
$19.99 / Month
Retention
3000 Days
Free Trial
None
Features
US and EU Servers
Simple Subscription Plan
Decent Retention Rate
While not so well-known as the best Usenet service providers, AnonyNews has some decent offerings from a long retention of 3000 days to high speed downloads via a multiple high-performance system. Their pricing is also simple and straightforward having basically only one package that you can either a monthly, quarterly or per year basis.
AnonyNews Quick Summary
Dual server system - US and EU
No logging of downloads
Anonymous uploads
Active newsgroups
Retention of over 3000 days for binaries
Over 10 years or retention in text groups
99.9% completion rate
High-speed downloads
SSL encrypted access available
Simple subscription plan
Multiple payment methods
Binary Retention
AnonyNews has a binary retention of over 3000 days and a text retention of over 10 years. This is higher than low-end Usenet providers but a little lower than our best Usenet service providers.
Pricing
This Usenet service provider does not want to burden subscribers with a lot of options in terms of their subscription plan. AnonyNews only offers a single plan which you can either subscribe to on a monthly, quarterly or per year basis.

Free Trial Info
AnonyNews does not have any free trial offering.
Special Offers/ Coupons
Currently, there are no special offers or coupons with this usenet provider. Make sure to check back with us for future offers and promotions.
Speed Test
AnonyNews has servers both in the US and EU allowing them to have fast connections. Their servers are connected to the internet with many redundant high-speed gigabit connections ensuring good download speed for users around the world. Please be reminded, however, that the speed of your Usenet activity also relies on how fast your own Internet connection is.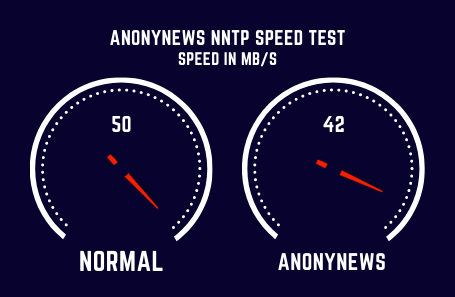 Connections
You are allowed 50 simultaneous connections to their servers, to increase speed and reliability.
News Servers/ Ports/ Configuration
AnonyNews has two server systems:
US: news-us.anonynews.com
EU: news-eu.anonynews.com
Make sure to use the server closest to you. However, you can also use the other server system should any issues arise.
You should also configure the ports to:
NNTP: 119, 20, 23, 53, 443, 2000, 8080, 9000, 9001, 9002
NNTP + SSL: 563, 80, 81, 465, 993
We recommend that subscribers use SSL ports for security purposes.
Frequently Asked Questions
Q: Do I have to have a credit card to sign up?
A: Yes. At the moment they only accept CCDeb subscription payments, both for security reasons and to keep their administrative load down. Since their subscription system is completely automated around CCDeb's subscription function, they can not at this time accept payments any other way.
Q: I don't understand how to log in to your servers!
A: You need a newsreader program to log on. In your newsreader you configure your login, and which server(s) to use. Please refer to your newsreader's documentation on the details for your specific software.
Q: The server gives me an error when I try to access it, and I have checked my username and password, they are correct!
A: Most newsreaders have an option to toggle if the reader should try to log on to the server or not. Please make sure that the option "News server requires login" or equivalent is checked in your newsreader's configuration. If it is, and the problem persists, please recheck that the login is entered correctly. The best way is to copy and paste the username and password from our welcome letter into your newsreader config.
Q: When downloading I get very slow download speed, why?
A: This is usually due to lack of capacity on your local net, or traffic congestion somewhere on the net between you and their server location. In some rare cases your ISP may throttle you; In that case, try connecting via SSL, and use an alternate port.
Q: Some articles that I post to your servers do not seem to propagate to other news servers, why?
A: Another news server may be canceling them . They can take no further responsibility for articles not propagating once they have been sent to their upstream servers. Another reason could be if you have a record of abuse on their servers your posting access may have been disabled. Once your posting access has been disabled due to posting abuse it will never be restored, so don't even ask. Nor will they issue refunds for this reason.
Support
AnonyNews has an available online web form on their support page. You can also check out multiple options on the said page from FAQs, status page, online forms for lost login, status check for submitted support ticket and a link to cancel your subscription. Their customer support is said to be available 24/7.
Contact Information
There is no contact information available on the AnonyNews website, not even a direct email address for support concerns.
Security/ Company Privacy Policy
While it is clearly stated on their homepage that AnonyNews values user privacy, it is quite unclear what that privacy policy is. They guarantee, however, SSL encrypted access. But in terms of what they log and do not log, it was not mentioned in any part of their website.
Payment Options
Currently, AnonyNews only accepts credit card payments.
Our Opinion
While we appreciate how simple and straightforward AnonyNews' plan and service is, we cannot shake the feeling that they have a lot lacking. First, their website seems very outdated and could use a lot of improvements not just in terms of its aesthetic but more importantly, the information that it should have. There seems to be a lack of information especially in terms of their privacy policy. Second, when compared to other Usenet providers, their pricing seems to be expensive and with a service not at par with the best Usenet service providers, we don't seem to find it fitting that they charge subscribers that much. Lastly and all in all, this Usenet provider could use a lot of other improvements from offering more variety in their subscription plans, more payment options, improved retention and simply just giving users more information on their full service.
Altenatives To AnonyNews
| Name | Price | Info |
| --- | --- | --- |
| Newshosting | $8.33 | Best Price / Free Newsreader |
| UsenetServer | $7.95 | NZB Search / Fast Speeds |
| Eweka | €7,00 | Best EU Provider / Lifetime Discount |
| Easynews | $9.98 | Easy Web App / File Previews |
| TweakNews | €7,50 | Free Newsreader / Free VPN |
| PureUSENET | €5.97 | Good EU Provider / Free SSL |
| XLned | €7.49 | Fast Speeds / EU Servers |