AnarQy Review
Last Updated: Jan 21, 2022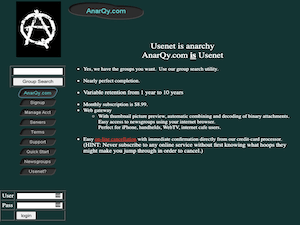 Rating
Price
$8.99 / Month
Retention
500 Days
Free Trial
None
Features
US and EU Servers
Paid Trial Version
Outdated Provider
Anarqy is a Usenet service provider that offers unlimited access and downloads through their variety of servers. Their pricing is relatively decent at $8.99 per month, however their service seems to be outdated. This is initially quite evident by their website that does not just look old-fashioned in terms of its look but also lacks key information that users may need to make them decide which Usenet provider to subscribe to.
At an initial glance with Anarqy, it may serve users well to check out the best Usenet service providers rather than go for an unsure and seemingly outdated provider.
AnarQy Quick Summary
Monthly subscription: $8.99
7-day trial version: $2.95
Variable retention of 1 year to 10 years
Nearly perfect completion
Access to newsgroups via internet browser
Easy online cancellation
With US and EU servers
12-20 connections (depending on the server)
SSL ports
Binary Retention
It is unclear what the binary retention is of Anarqy. The only retention information that their website states is that their variable retention ranges from 1 year to 10 years.
Pricing
You can subscribe to Anarqy monthly for a fee of $8.99. While the pricing seems to be competitive with top Usenet providers, you have to check at the information they have on their site first and compare it with the best Usenet service providers. Anarqy service information is not that complete and seems to be very outdated.
Free Trial Info
This Usenet provider does not have any free trial offering. However, they do have a 7-day trial service that costs $2.95. If you are trying their service and are not satisfied with it, make sure you cancel on or before the 7th day or else you will be charged with the regular monthly price until cancelled.
Special Offers/ Coupons
Anarqy does not have any special offers or coupons available.
Speed Test
As expected, Anarqy is decent enough for Usenet activity. Speed isn't really much of an issue with most Usenet service providers. However, please note that the speed of your Usenet access also heavily relies on how fast your internet connection is.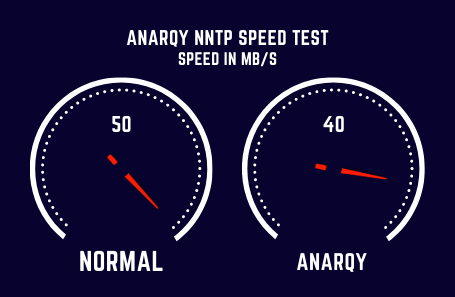 Connections
Depending on the server you are connected to, you can use up to 12 or 20 connections with Anarqy.
News Servers/ Ports/ Configuration
Anarqy server information are as follows:
news.anarqy.com (Chicago)

Unlimited server
Speed cap depending on your subscription level
Connections: 12 (speed cap divided between connections)
NNTP ports: 119 or 80
SSL ports: 563 or 443

alt.anarqy.com (Amsterdam)

Daily download allowance, unused credits accumulate
No speed cap
Connections: 12
NNTP ports: 119, 23, 80, 443, 8080
SSL port: 563

east.anarqy.com (Atlanta)
euro.anarqy.com (Amsterdam)

Both operated by Highwinds-media.com
Article numbering is synchronized with each other, and with their unlimited server for groups that both carry
Daily download allowance, unused credits accumulate
No speed cap
Connections: 20
NNTP ports: 119 or 443
SSL: Not available

post.anarqy.com (Chicago)

Own unlogged, anonymous, posting-only server
Requires generating a unique login
Login is not associated with your primary account or any personal information, and remains valid as long as you use it responsibly.
NNTP port: 119
SSL ports: 563 or 443
Frequently Asked Questions
Q: Is Anarqy compatible with a lot of newsreaders?
A: This Usenet service provider should be compatible with all Usenet newsreaders. Based on their website, they do recommend several like Newsbin Pro an Grab-It.
Q: Does Anarqy offer several Usenet packages?
A: According to their site, they only have a single pricing which is at $8.99. However, upon reading their server information there was a Chicago server info mention there, "speed cap depending on your subscription level". This got us confused if they offer several plans. But this may also just depend on if you have a trial version or a full version.
Q: Does Anarqy have their own servers?
A: They own two of the servers that users can use and these are the ones located in Chicago. The other servers they offer are owned by different companies like news-service.com and highwinds-media.com.
Q: Do they offer SSL encryption?
A: All Anarqy servers have SSL ports except one. Make sure you connect to the server with an SSL port to keep your Usenet activity private and secure.
Support
As mentioned, there isn't a lot of information on the Anarqy website, not even a comprehensive FAQ page that can educate people on the type of service Anarqy has or some troubleshooting information that can help out existing users. But if you do have questions, you can email them.
Contact Information
The only contact information available is their email address: support@anarqy.com.
Security/ Company Privacy Policy
While Anarqy does have SSL ports available that allows users to access Usenet safely and securely, other layers of privacy are quite unclear. Their website does not provide much information on the company's privacy policy which should include information on what they log and don't log.
Payment Options
You can pay for an Anarqy subscription or trial service via credit card. As per their website, they accept MasterCard, Visa and Discover.
Our Opinion
AnarQy isn't a service that we can recommend. There seems to be several flaws with the type of service they have just based on the information they have on their website. At first glance, their website is very outdated and could be better if they have more information about their service. And while their pricing is decent and competitive enough, it is unclear if you will be getting a really good service with the price that you pay for.
It would have been good if they offered a free trial so that users can test out their service but Anarqy doesn't even have that. Instead you would have to pay a few bucks to be able to test their service out. All in all, Anarqy is very questionable and really not at the same level as the best Usenet service providers today.
Altenatives To AnarQy
| Name | Price | Info |
| --- | --- | --- |
| Newshosting | $8.33 | Best Price / Free Newsreader |
| UsenetServer | $7.95 | NZB Search / Fast Speeds |
| Eweka | €7,00 | Best EU Provider / Lifetime Discount |
| Easynews | $9.98 | Easy Web App / File Previews |
| TweakNews | €7,50 | Free Newsreader / Free VPN |
| PureUSENET | €5.97 | Good EU Provider / Free SSL |
| XLned | €7.49 | Fast Speeds / EU Servers |