100 Proof News Review
Last Updated: Nov 04, 2021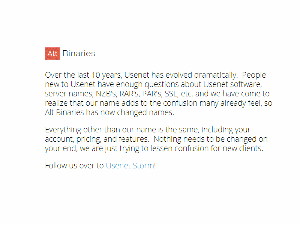 Rating
Price
$12.95 / Month
Retention
1600 Days
Free Trial
None
Features
30 Connections
SSL Included
NewsRover Included
Editor's Note: 100 Proof News is no longer active and has moved to altbinaries.com. No new information or updates have been made by this provider. It is better to check out our best Usenet service providers.
100 Proof News provides web and NNTP access to newsgroups. This provider's page is dated and their service is more expensive than our best Usenet service providers.
Quick Facts
Web access
Unlimited Downloads
Unlimited Speed
30 Connections
SSL (Privacy Protection)
Binary Retention
100 Proof News currently has 1,600 days of binary retention. The company says this is "industry leading" but it is not. Newshosting and most of our other providers have far higher retention figures than this.
Pricing
Maximum, which offers 80 GB and has the SSL encryption, 20 streams and unlimited picture interface, has the pricing of $12.95 per month
Standard, whic differs from the maximum only when talking about gigabytes and price; it offers 40 GB and has the pricing of $8.95 per month Basic package offers 10 GB and costs $4.25 per month
| Name | Price | Connections |
| --- | --- | --- |
| 1 month | $12.95 | 30 |
| Semi-Annual | $69.95 | 30 |
| Annual | $139.95 | 30 |
Free Trial info
There is no free trial available for this provider.
Speed Test
100 Proof News did well in speed testing. Any slow download issues you have with USENET services will usually be due to having too many or too few connections configured in your newsreader or downloader.
Connections
You're allowed a maximum of 30 simultaneous connections to 100 Proof News' servers. This is more than most people will need to maximize their speed.
News Servers / Ports / Configuration
Server Address: news.100 Proof News.com
Standard Ports: 119 - 8080
SSL Ports: 563
Maximum Connections: 30
Frequently Asked Questions
Q: This site's FAQ advertises a VPN as providing a more secure NNTP experience. Do I need a VPN for USENET?:

A: This is stated oddly on the site but, no, you do not need a VPN for private USENET usage provided that your USENET company offers an SSL connection. We recommend that you always use SSL. VPNs offer privacy protection for everything else you do, including Internet surfing, Bittorrent and so forth. If you are using SSL to connect to your USENET provider's news servers, however, you do not need to use VPN on top of it. Use VPN for everything but USENET access.

Q: It says on this site that their retention figures are "industry leading," is that true?:

A: It appears that 100 Proof News' site hasn't been updated in a while. Their 1,600-day retention figure is far from the 3,000-plus-day retention figures our best Usenet service providers offer. 100 Proof News' 1,600 days of binary retention lags behind what our recommended providers offer.

Q: What do USENET providers mean when they say "unlimited"?:

A: It can mean an unlimited quantity of downloaded data, unlimited speed or both. It depends upon the provider. Some of our best Usenet service providers offer limited accounts as a way to make USENET more affordable. For example, Tweaknews offers block access, as well as unlimited access. Block access is great for people who don't need a monthly subscription. Block access offers a limited amount of data for a fixed price, but the access doesn't expire until you use all that data. Other companies offer speed limits on their connections.

Q: Can I use my own newsreader with this service?:

A: Yes, you can use most any newsreader with 100 Proof News. They have a configuration page you can use to set up your newsreader if you get confused during the process. You can also use the preconfigured newsreader that comes with this service or their web access version.

Q: Is web access to USENET rare?:

A: It's not the most common service, but some of our best Usenet service providers offer it. If you want web access for a better price, Easynews is what we recommend. In addition to their better prices, they have longer retention times and all-around better customer service, so go ahead and give them a try.
History
They have been with us since around year of 2001 and during their existence, they were constantly upgrading the retention capacity; it is reported that during the year of 2006, they offered more than 30 days of retention and in the following year, there was more than 60 days of retention capacity. Today, this number equals more than 6 months.
They have geographically diverse nodes; there are East Coast, West Coast and Europe nodes. For the Windows XP & Vista, they highly recommend the News Rover newsgroup reader.
On the other hand, for the Mac OS X, they recommend MT-NewsWatcher stating that it is currently considered as the best free newsgroup reader available for this OS. It is also handy to know the fact that although the News Rover usually costs $29.95, for the altbinaries Usenet clients it is free.
Support
You can contact support at support@100 Proof News.com or you can use the website FAQ to find information for the most common questions. Configuration information for various newsreaders is also available at the company's website.**
**
Contact Information
Usenet News Server Co.
5150 Fair Oaks Blvd.
Suite #101, PMB #362
Carmichael, CA 95608
Security /Company Privacy Policy
100 Proof News says that they do not keep log files of user activity on their servers. They will, of course, have to cooperate in the event of a legitimate law enforcement investigation.
Payment Options
100 Proof News accepts major credit cards for payment. You can also send a money order or personal check to the contact address for service. Checks and money orders must be in US dollars.
Our Opinion
100 Proof News has a service that, in our opinion, is dated and expensive. Their retention figures, despite carrying the bullet point "industry leading," aren't even close to leading the industry. Any of our best providers have much higher retention figures than does 100 Proof News.
100 Proof News also offers a very expensive subscription relative to what our best Usenet service providers, and even most other providers, offer. 100 Proof News offers its subscription at half the regular price for the first month. At that fifty-percent price, 100 Proof News' subscription price is closer to our best providers than it is once the price goes back up to its regular level, which is more than $12 per month. In our opinion, that is far too much to pay for USENET access. If you need a subscription, any of our best providers will give you a better deal. If you need block access, any block access provider can do better, and many of our best providers do much better on price.
Overall, we cannot recommend this provider to our readers. Their prices are too high and, despite the boasting on the company's websites, they are not industry leaders in retention. If you want web access to USENET, Easynews will give you just that—with a better client—for less than $10 per month and with much better retention fees. If you want USENET access that's unlimited and fast over NNTP, any of our best Usenet service providers offer it for a lower price than 100 Proof News.
Altenatives To 100 Proof News
| Name | Price | Info |
| --- | --- | --- |
| Newshosting | $5.99 | Best Overall / Fastest Speeds |
| Eweka | €6,99 | Best EU Provider / High Retention |
| UsenetServer | $7.95 | Unlimited Access / NZB Search |
| Easynews | $9.98 | All-in-One / Usenet Search |
| TweakNews | €7,50 | Quality Retention / Quality Completion |
| PureUSENET | €5.97 | Good EU Provider / Free SSL |
| XLned | €7.49 | Fast Speeds / EU Servers |