SeaMonkey Review
Last Updated: Jan 28, 2022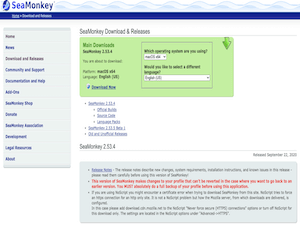 Rating
Price
free
Retention
500 Days
Free Trial
None
Features
All-in Internet Suite
Very Basic Newsreader Functions
Mail & Newsgroups Functions
SeaMonkey is more known as an email client. Aside from that feature, it also has a built-in chat function and its own web browser. While it is considered more as an all-in internet suite, what most people don't know is that this software also has some newsreader functions. It is capable of reading articles from Usenet and allows posting on threads and replying to messages.
SeaMonkey uses the same source code that Mozilla Firefox uses, which means it basically has the same functions as Thunderbird. But unlike Thunderbird, SeaMonkey can work on Linux, Mac and Windows. Thunderbird, on the other hand, only works on Mac and Windows devices.
Highlighted Features
SeaMonkey has several good features as an internet suite. However, it has limited functions as a newsreader. It only performs basic newsreader functions and does not support binaries and NZB files.
Browser:
Tabbed browsing – gives you're a better way to surf the internet
Restore Session – opens all windows and tabs you've previously opened if SeaMonkey crashes
Add-Ons Manager – add additional functionalities and extensions
Data Manager – central management interface for all kinds of site-specific data
Lightweight Themes – customized your interface according to your preferred theme
Feed Detection – notifies when web pages offer RSS or Atom feeds
Feed Preview - lets you view their contents and choose a reader with which to subscribe to
Smart Location Bar - enables you to search your visited web pages as you type into the browser's location bar and find what you want to re-visit
Pop-up blocker - lets you surf the web without interruption from annoying ads.
Find as you type - gives you another way to navigate a page. Just start typing to jump from link to link or to find a word or phrase within a page.
Safe Mode - helps you solve problems that might occur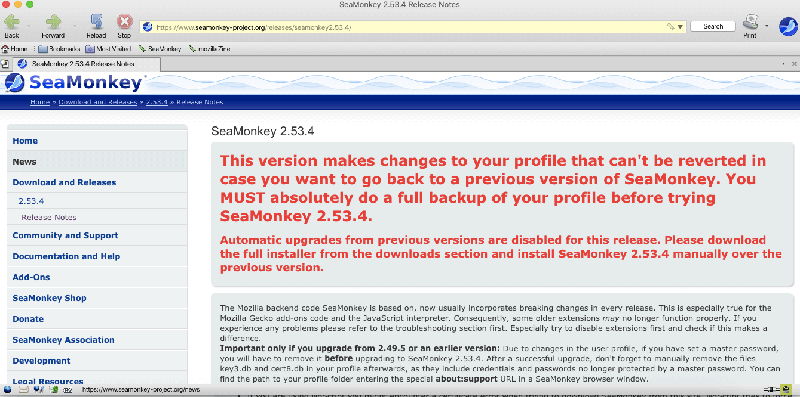 Mail & Newsgroups:
Tabbed Mail – manage your mail and folders in parallel
Junk Mail Control – control your mail from spammers
Multiple Accounts – manage all your mail in one interface
Blog & News Feeds – reader for RSS and Atom feeds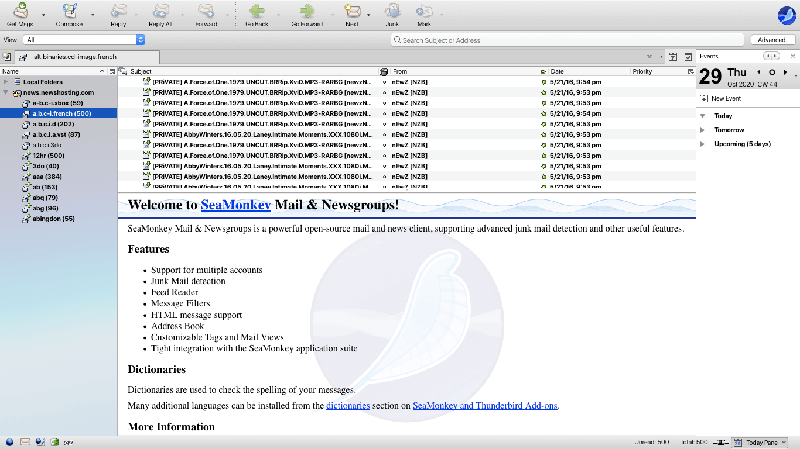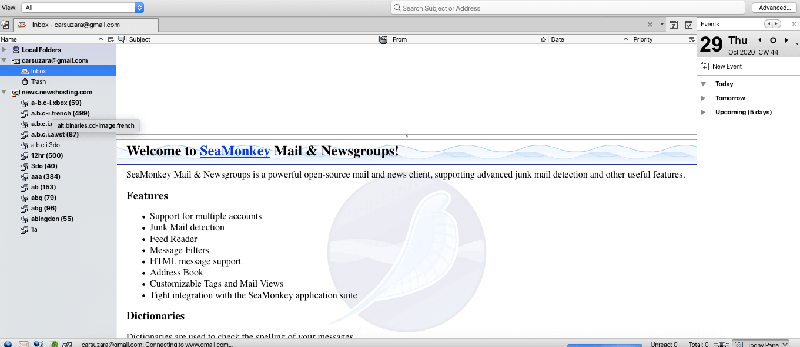 Composer:
HTML editor – dynamic image and table resizing, quick insert and delete of table cells, improved CSS support, and support for positioned layers.
IRC Chat:
ChatZilla – multiple networks and multiple channels in a familiar tabbed interface
Customizable look and feel
Web Development Tools:
DOM Inspector enables you to dig into the document structure of web pages, add-ons or even the SeaMonkey "chrome" itself and inspect a huge number of properties of any element in that structure, including JavaScript objects and CSS styles.
JavaScript Debugger ("Venkman") lets you debug JavaScript code on your websites, add-ons, and even in SeaMonkey itself with a suite of powerful debugging tools.
As mentioned, SeaMonkey has some very basic newsreader functions. You might benefit from looking at the best Usenet clients that provide full features or consider SeaMonkey as a secondary newsreader.
This all-in-one internet application suite was also recently updated with its 2.53.10 stable version released in November 2021. This version is an is an incremental update from the 2.53.x branch and incorporates a number of changes, including support for time and date input types, improvements to browser and mailnews tab handling, enhancements to the ChatZilla client, reorganization of some preferences, and fixes from the underlying platform code. Futher releases of this version, 2.53.10.1 and 2.53.10.2 was put out in December of 2021 addressing minor bugs and additional security fixes.
SeaMonkey is regularly updated and project news and version releases can be seen on their website.
Plans & Pricing
While SeaMonkey is free to download and use, its developers are open to donations so that they may continue to do further updates with the software and provide user support.
You can donate to SeaMonkey via PayPal or Wire Transfer. We would also like to note that all donations to SeaMonkey will be in Euros regardless of the country of origin of the contribution.
Usage Information
There is a big learning curve that users have to deal with when using SeaMonkey. While they claim to have features that make everything easy for users, its interface can be viewed differently. Initially, SeaMonkey would direct you to its web browser, which causes quite a confusion for some users. Mail and Newsgroups access is also a bit tricky since it is not readily available on visible option, instead you would have to go to the tools section of the interface to access it. Navigating from one window to another could be easier, like other newsreaders where you simply need to move from one tab to another. SeaMonkey windows pop up separately instead of tabular viewing.
Installation
While SeaMonkey can greatly be compared to Thunderbird, its edge is that it can also be run on Linux aside from MacOS and Windows. Below are the steps on how to install SeaMonkey depending on your computer's operating system.
For Windows:
To install SeaMonkey by downloading the SeaMonkey installer, follow these steps:
Click the Download link in the relevant Windows column for your architecture (x64 for 64-bit or x86 for 32-bit) on the site you're downloading SeaMonkey from to download the installer file (seamonkey-2.53.1.en-US.win64.installer.exe or similar file name) to your machine.
Navigate to where you downloaded the file and double-click the installer file icon on your machine to begin the Setup program.
Follow the on-screen instructions in the setup program (see the note about Unknown Publisher warnings above). The setup program gives you the option to launch SeaMonkey once the installation is completed.
You also have the option to download a .zip file and install manually.
For MacOS:
Click the Download link in the macOS column on the site you're downloading SeaMonkey from to download the disk image file (seamonkey-2.53.1.en-US.mac.dmg or similar file name) to your machine.
Double-click on the .dmg file. The disk image will now mount, and a new Finder window should appear.
Drag the SeaMonkey icon to the Applications folder.
Eject the disk image.
If you want SeaMonkey to be accessible from the Dock, simply drag the SeaMonkey icon from the Applications folder to the Dock.
There are a couple of warnings that you may receive from your mac device when installing SeaMonkey. You can either discontinue or configure your security and privacy settings and make the necessary adjustments on the allowable apps section.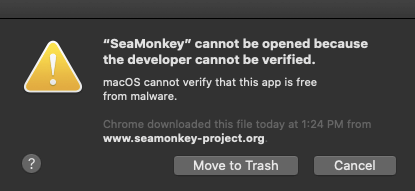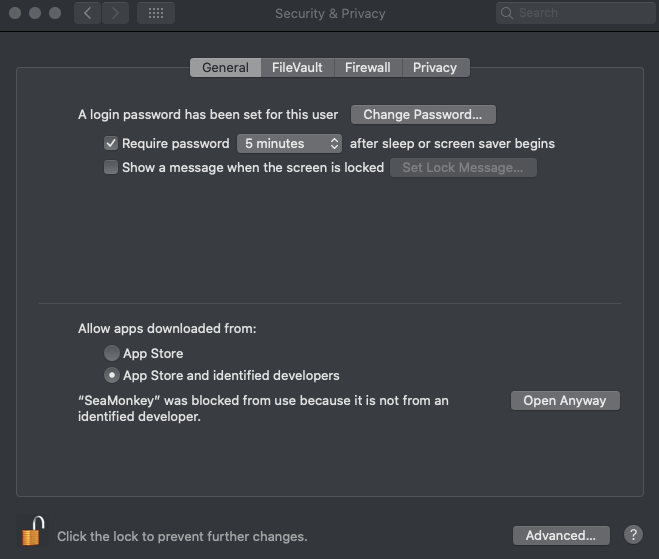 For Linux, there are several ways to download SeaMonkey. Below is how to install the software via a tar.bz2 file. On the SeaMonkey installation page, you can also find other methods.
Create a directory named "seamonkey2" (mkdir seamonkey2) and change to that directory (cd seamonkey2).
Click the Download link in the relevant Linux column for your architecture (x64 for 64-bit or x86 for 32-bit) on the site you're downloading SeaMonkey from to download the package (seamonkey-2.53.1.en-US.linux-x86_64.tar.bz2 or similar name) file into the seamonkey2 directory.
Decompress the file with the following command:
tar jxvf seamonkey-2.*.tar.bz2
This creates a "seamonkey" directory under your seamonkey2 directory.
Change to the seamonkey directory (cd seamonkey).
Run SeaMonkey with the following command: ./seamonkey
If you are upgrading from a 2.49.5 or older release we strongly advise you to make a full backup of your profile before installing the latest version.
Configuration
To enable its newsreader functions, you would need to configure SeaMonkey's server settings with the necessary details provided by a reliable Usenet Service. You can also select your connection security, enable or disable certain server settings and make changes on your message storage. If you have yet to choose which provider is best for you, we have a list of the best Usenet service providers on this website.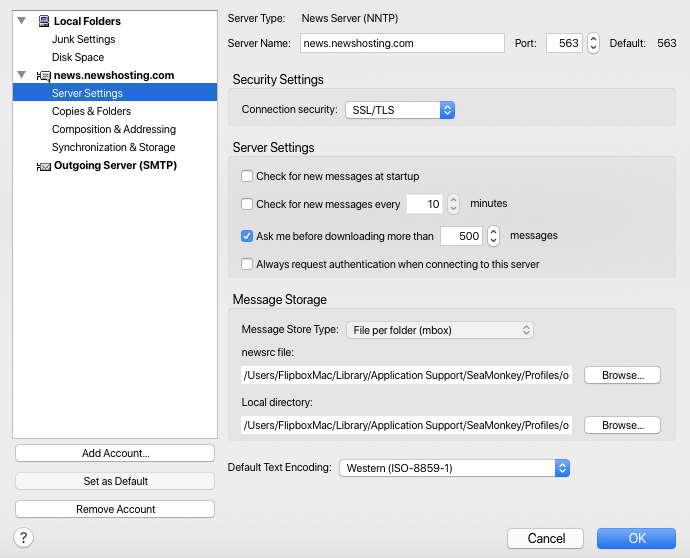 Upon entering your server information, there may be alerts that pop up that require you to enter the account details (username & password) related to your Usenet service.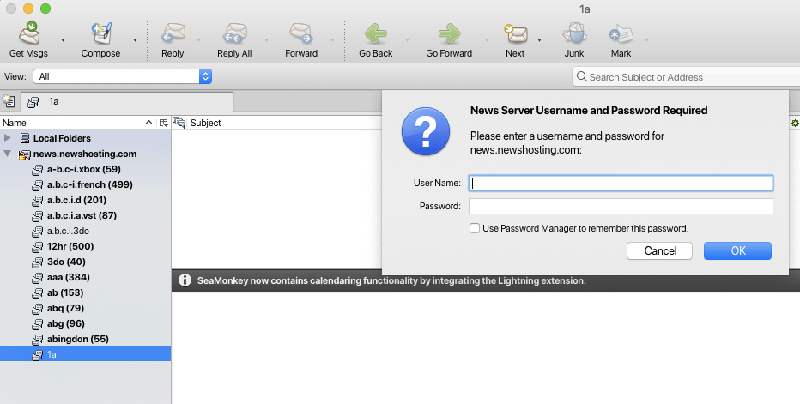 SeaMonkey also allows you to manage your newsgroup subscriptions. On this section, you can select the server account you want and check out the list of newsgroups that you either want to subscribe to or unsubscribe.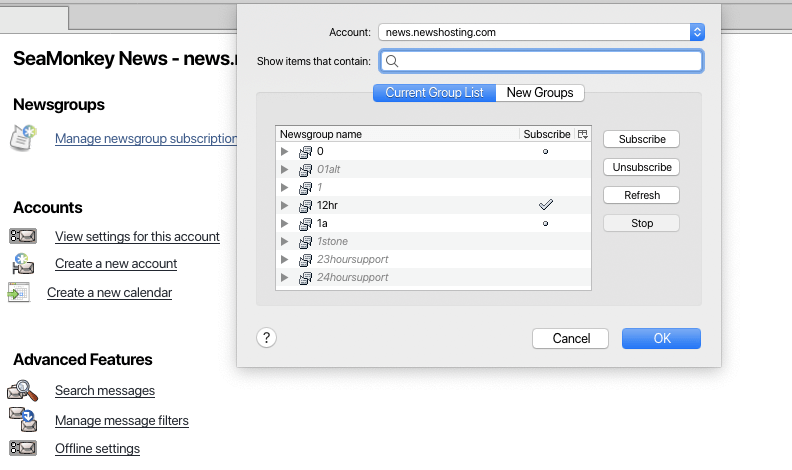 Scheduling and Automation
As a very basic newsreader, SeaMonkey does not have any scheduling or automated features. However, there are add-ons or extensions that you can use to automate some of SeaMonkey's mail functions.
Usability
Being a very basic and limited newsreader, it lacks several features that would allow it to be considered as a top-notch Usenet client. And while it may be a good choice as far as email clients are concerned or as an all-in internet suite, SeaMonkey also needs to put a lot of focus on the user's experience. Its interface could be more simplified and easier to navigate through, and they could update the look of their software to make it look less outdated. However, the program also has some noteworthy features, including its IRC chat and capability to support multiple languages.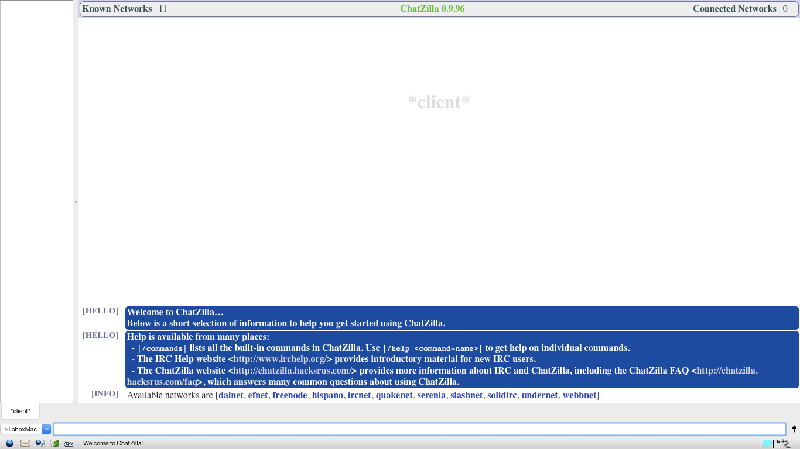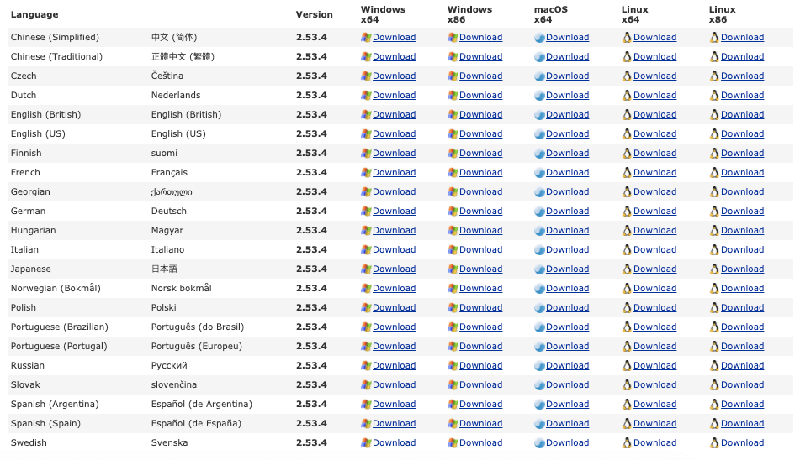 Conclusion
While SeaMonkey seems to be a reliable email client and has a decent web browser function, it cannot compete with top Usenet clients as a newsreader. There are full-featured newsreaders in the market today that may be a better option. However, we are not saying that SeaMonkey fails in its function as a basic newsreader. Its newsreader functions, although very limited, works as how it should be. Although, we have to be honest in saying that this software would benefit from more updates and a better user interface.
Best Usenet Newsreaders