Thunderbird Review
Last Updated: Feb 17, 2022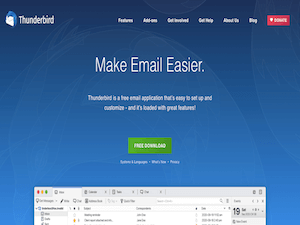 Rating
Price
free
Retention
500 Days
Free Trial
None
Features
Mail Reader and Usenet Client
Very Basic Newsreader Functions
Supports Multiple Servers
Designed and developed by the same makers of Firefox, Thunderbird is a Usenet client capable of reading mail and articles off of Usenet. It is free to use and can run on multiple popular platforms, including Mac, Windows and Linux.
Thunderbird has no Usenet search features and does not support NZBs since it is only meant for reading Usenet and not binary downloading. However, as a free newsreader, it does its main job well at zero cost.
If a simple newsreader is not for you and you are looking for either a free Usenet client with binary downloading features or a paid option, we have several listed on this website.
Highlighted Features
Thunderbird performs the basic functions of a newsreader. It reads articles from Usenet newsgroups and functions as a very good email client. The software has a modern and clean-looking interface and has functions that are easy to understand and use.
Thunderbird quickly generates newsgroups lists and searches these newsgroups efficiently so you can check out the messages you are interested in or are looking for.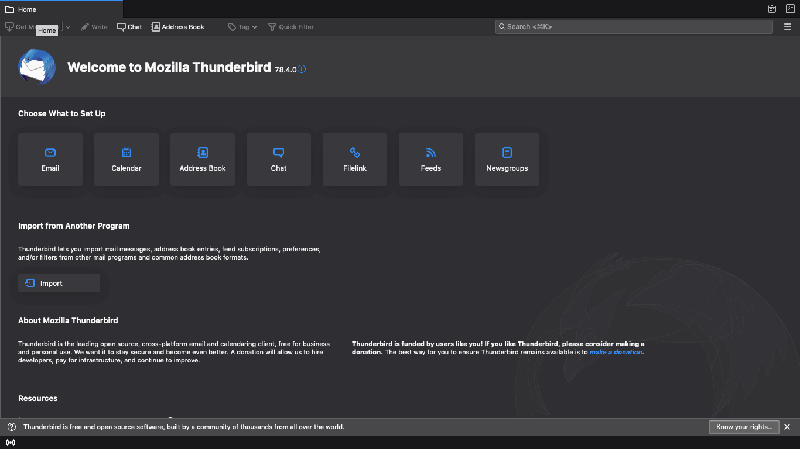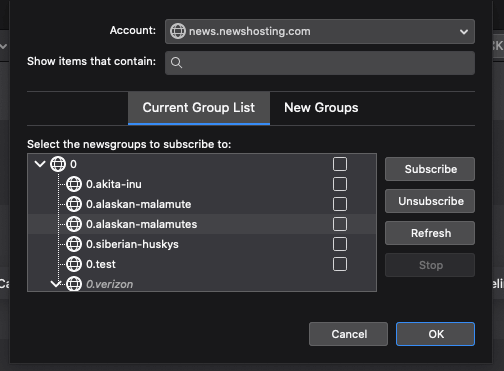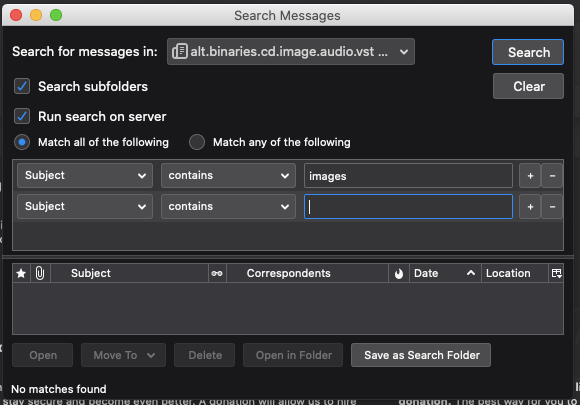 Very good email client
Basic Newsreader functions
No binary downloading capabilities
Mail Account Set-up Wizard
Tabbed Email
Built-in calendar
Built-in one click address book
Chat Feature
Quick Filter Toolbar
Search Tools & Message Archive
Newsgroups Management
Newsgroups filters
Filelink Option
Feed Subscription
Capable of importing data from another program
Built-in Do Not Track and Remote Content Blocking
Customizable with Extensions and Themes
The newest stable release of Thunderbird, version 91, includes a lot of new features and bug fixes. The most notable of these new features include:
Multi-Process Support - this makes Thunderbird work faster than ever by taking better advantage of the processor of your computer by splitting up the application into multiple smaller processes instead of running as one large one.

New Account Set-up - new wizard not only features a better look, but does auto-discovery of calendars and address books and allows most users to set them up with just a click.

Attachments Pane + Darag and Drop Overlay - The attachments pane has been moved to the bottom of the compose window for better visibility of filenames as well as being able to see many at once. They've also added an overlay that appears when you drag-and-drop a file into the compose window asking how you would like to handle the file in that email.

PDF Viewer - now has a built-in PDF viewer, which means you can read and even do some editing on PDFs sent to you as attachments.

UI Density Control - Three options are available: compact – which puts everything closer together, normal – the experience you are accustomed to in Thunderbird, and touch – that makes icons bigger and separates elements.

Calendar Sidebar Improvements - There is a quick enable button for disabled calendars, as well as a show/hide icon for easily toggling what calendars are visible. There is also a lock indicator for read-only calendars.

Other notable news features:

Better Dark Theme
Native support for macOS devices built with Apple Silicon CPU
CardDAV Address Book Support (and CardDAV auto-detection support)
Printing UI updated
Ability to change order of accounts in UI
Support opening of .ics files by double-click in calendar
Aside from the latest version featuring new updates that include the following:
New language - Latvian
Existing email set up made easier
CardDAV and CalDAV support and auto-detection added
Several stacked views in your email folder
Native support for macOS devices built with Apple Silicon
New public bulk mail notification
New user interface for adding attachments
New integrated PDF viewer
Improvements and fixes to the Dark theme
Image-based emoticons replaced with Unicode characters
The latest release in February 15 2022 which is version 91.6 closed security gaps and fixed various errors.
Thunderbird also released its beta version, 97.0, in January 11, 2022. Users of this beta version are encouraged to give feedback on how to imporve the beta version and report or file a bug if there are any.
Plans & Pricing
Thunderbird is free to download and use. It is funded via user donations so that the software can continuously be supported and developed. You can donate via PayPal, credit cards, SEPA/ BACS or Check. The developers accept one time donations or monthly donations of a minimum of $2.
Usage Overview
Since Thunderbird has minimal features and is just a very basic newsreader, it is quite easy to use and navigate through. However, configuring the software requires a bit of a learning curve since it is mainly an email client and may not be something that a lot of newsreader users are used to.
Installation
Installing Thunderbird depends on the operating system of your machine. Below is a detailed description of the installation process for Windows, Mac and Linux.
Windows Installation:
Check that your computer meets the system requirements
Download the installer from the Thunderbird download page.
Click "Run" to start the process
Follow the usual installation steps as instructed by the set-up wizard
Open the app once you're done installing
Mac Installation:
Check that your computer meets the system requirements
Download the installer from the Thunderbird download page.
Click on the .dmg file
Open the downloaded file
Move the Thunderbird Icon to your Applications folder
Open the app once you're done
Linux Installation:
Download Thunderbird from the download page
Open terminal and go to your home directory
Extract contents of the downloaded file

tar xjf thunderbird-*.tar.bz2

Close Thunderbird if it opens
To start Thunderbird, run the thunderbird script in the thunderbird folder

-/thunderbird/thunderbird

Thunderbird should now start. You can create a launcher on your desktop to run this command.
Configuration
As mentioned, Thunderbird can be difficult to configure initially especially for Usenet service providers like Newshosting or other paid Usenet services. However, once you've properly configured this software, it will be easy to use and navigate through.
Add an NNTP/ Usenet connection
Enter your server name and port
Enable SSL/TLS connection security
Configure server settings

Checking for new messages
Number of messages to download
Authentication request
Message storage

Thunderbird connects and downloads all available groups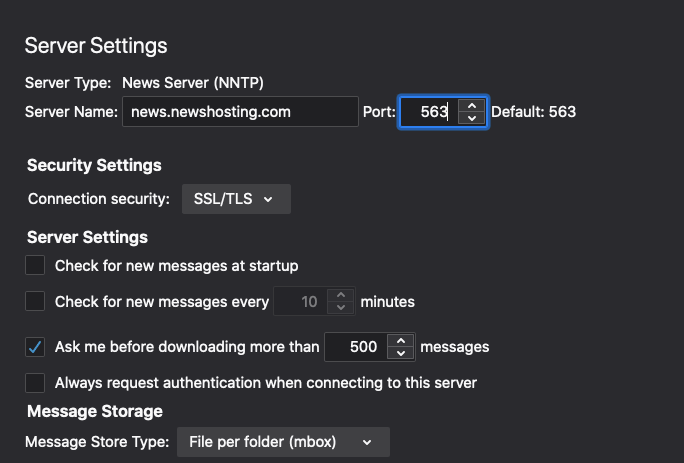 You can also sift messages by enabling filters. You can apply these filters on specific servers, and these filters will run automatically based on the order you've entered them.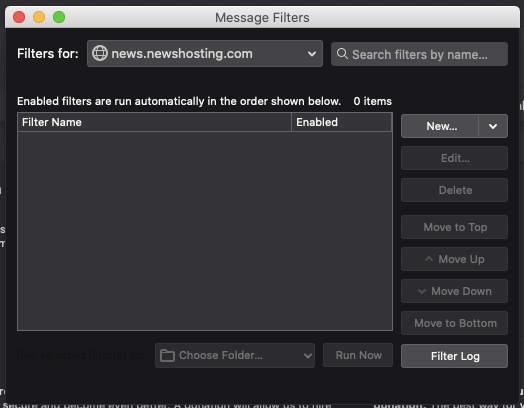 Scheduling & Automation
Thunderbird has an automated update feature that checks if you are running the latest version of the software. When updates are available, it instantly sends you an update.
This email client also has a built-in lightning calendar that allows you to manage schedules, create to-do lists and even subscribe to public calendars.
And as mentioned, Thunderbird has an automatic message filter you can configure to slim down your message results based only on what you are looking for.
Usability
While Thunderbird is a little complicated to initially configure, once you're done with that process, using the software is relatively easy. Since it is a very basic newsreader and an email client, there's not a lot you can do if you compare it to other Usenet clients. Having said that, Thunderbird gets its job done well as an email client and a software capable of reading messages from Usenet.
Thunderbird has a modern-looking and an easy-to-navigate interface that can be enjoyed by a lot of users who are just in need of a basic newsreader. It has some features that enhance productivity and some functions that allow you to streamline your message reading and viewing experience.
Conclusion
Thunderbird is a good option as far as free and basic newsreaders are concerned. However, if you are in need of a Usenet client that is also capable of downloading binaries, then you might want to look for other newsreader/ NZB downloader options that would address that need. But while Thunderbird may not be able to compete with top newsreaders out there, it is a software that is worth exploring and considering if you are only into reading off of Usenet.
Visit Thunderbird
Best Usenet Newsreaders