Thunderbird Review
Last Updated: May 06, 2019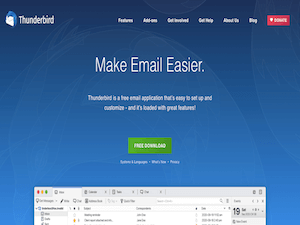 Rating
Price
Free
Retention
500 Days
Free Trial
None
Features
Free Basic Newsreader
No NZB File Import
Not for Binary Files
Thunderbird is a mail reader and Usenet client that, like Firefox, is free. While it really is not meant to be used for downloading binary files off of Usenet nonetheless it is a  very good Usenet client ( and email client ).
Pricing
Thunderbird is FREE!
Usenet Search
Thunderbird does not do Usenet search but you can't beat the price.
NZB Support
No NZB support, Thunderbird is meant for reading Usenet and not binary downloading.
Platform Information
Thunderbird, like Firefox, is available for Windows, Mac and Linux
Conclusion
If you want to read Usenet newsgroups and don't want to pay for a newsreader and do not want to download binaries. Thunderbird is for you. If you are interested in downloading binary files then I would suggest you look at the free options and also the paid options for USENET newsreaders.
More Details
Despite being free and a decent USENET client Thunderbird can be difficult to configure initially for USENET service like Newshosting or UsenetServer where you have pay for Usenet access.
Thunderbird Usenet Configuration Tips
Install Thunderbird as normal and add an NNTP/USENETconnection. Next, to get Thunderbird to accept your username and password you will need to click on the manage newsgroup subscriptions link.
Next  choose your username (be sure to click save !! )
Choose your Password ( be sure to click save !! )
And then watch as Thunderbird connects and downloads all the available groups.
See above Newsgroups are downloading ..  ALL is working just fine.
Some of the advantages of Thunderbird is that it is FREE and that is easy enough to use (once you get past the initial configuration ).  Thunderbird has SSL encryption support also.
Visit Thunderbird
Best Usenet Newsreaders