Giganews Review
Last Updated: Jan 20, 2022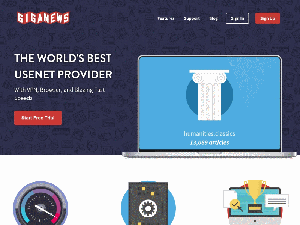 Rating
Price
$8.33 / Month
Retention
2367 Days
Free Trial
14 Days or 10 GB
Features
Fast Speeds
VPN Add On
Good Retention
Giganews is a well-known USENET service provider. They're reputable and reliable, but very expensive compared to what other providers charge.
Quick Facts
In Business for More than 20 Years
SSL Encryption (Privacy Protection)
Very Fast Servers
Claims nearly 100% Completion Rate
Company Operates Its Own Servers: Not a Reseller
VyprVPN Available
Binary Retention
Giganews has good retention figures, with more than five years of binary retention.
Pricing
Giganews recently changed its pricing plans to be able to compete with other top Usenet Providers. All plans now include:
Unlimited transfer and speed
100 connections - that's the most in the industry
Trusted, no-log VyprVPN
Big savings when a customer signs up for an annual plan
| Name | Price |
| --- | --- |
| 1 Year | $8.33/month (save 54%) |
| 6 months | $9.17/month (save 49%) |
| 1 month | $9.99/month (save 44%) |
Free Trial info
Every Giganews package comes with a 14-day free trial. There's no commitment required and, if you decide you don't want to continue on with the service, you can cancel before your first billing cycle.
Special Offers / Coupons
Giganews doesn't currently offer any special deals on their service. However, they do include VyprVPN in all of their current plans. Giganews may occasionally run special offers or promotions. Bookmark us and/or signup for our mailing list to stay up to date.
Speed Test
Giganews has very fast servers. They operate their own servers, as well, rather than outsourcing them to a third party.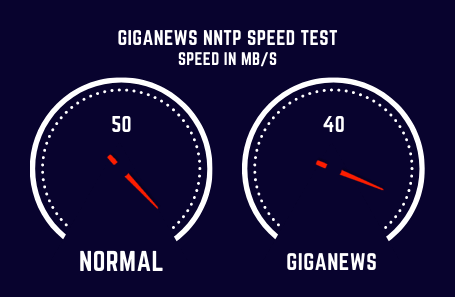 Connections
This usenet service provider offers 100 connections accross all their plans. Most users will not need more than twelve connections to max out their download speed, so keep that in mind when shopping: more connections is not necessarily going to be worth paying a higher price.
News Servers / Ports / Configuration
news.giganews.com, ports 593 or 443 for SSL. Ports 119, 23 and 80 are unencrypted.
Frequently Asked Questions
Q: Why is Giganews more expensive than other providers?
A: Giganews has always been pricier than other USENET providers tend to be. Their service is very good but, for our money, you can get just as good USENET service from a provider like Newshosting that charges far less than Giganews for any of their plans.
Q: Is VyprVPN included for free?
A: Yes. It is included in all of their plans.
Q: Does VyprVPN offer good privacy protection?
A: Encryption-wise, both Giganews and the associated VyprVPN services are good.  VyprVPN no longer logs IP addresses. VyprVPN is transitory digital network communications under 17 U.S.C. § 512(a) of the Copyright Act.  In order to protect the privacy of our users, we do not log the IP address used by any user. If the copyright holder only provides an IP address as identifying information then it is impossible for us to associate a DMCA notice with any of their users.
Q: Are credit card payments less anonymous than other methods?
A: Yes. Credit card payments are easy to trace back to the purchaser. This is why many people prefer Bitcoin as a payment method for services such as USENET and VPN access. If you're concerned about having to use your credit card for a payment method, check out our recommended USENET providers. Many of them take Bitcoin, which is a solid option where privacy is concerned.
Q: I got a free trial, but I cannot post.
A: Like all USENET providers, Giganews tries to control spam on its system. To help with this, trial users are not allowed to post to USENET newsgroups. You can post once you purchase a full subscription, however.
Support
You can contact Giganews via various forms on their site or by emailing support@giganews.com.
Contact Information
Giganews
1044 Liberty Park Drive
Austin, TX 78746
512-225-5010
support@giganews.com
Security /Company Privacy Policy
Giganews does cooperate with law enforcement if law enforcement is legitimately investigating suspicious activity and the company is presented with a court order. Otherwise, they keep their members information private and do not monitor what's downloaded on any account, though they do monitor how much is downloaded. Giganews will not rent or sell user information to third parties.
Payment Options
Major credit cards only, including Visa, MasterCard, American Express and credit cards through PayPal. Giganews does not accept wire transfers or Bitcoin payments.
Our Opinion
Starting with what's good about Giganews, it's not hard to find upsides to what this company offers. They've been in business for a very long time, which is always a good thing when you're considering handing your money over to a company. Giganews runs its own servers and they're very fast; there's no denying that.
These are good reasons to consider Giganews but, unfortunately, they don't really put the service above and beyond in terms of what it offers versus what other providers offer.
Giganews is very expensive; much more so than many of its competitors. Some of our best USENET service providers, including Newshosting and Tweaknews, offer comparable services with more payment options at a far lower price point than does Giganews. XLNed offers more at a better price and has servers located in the Netherlands, providing a layer of privacy protection for some users. Notably, many USENET providers offer a newsreader these days and most of them are a bit more advanced and more recently and frequently updated than is Mimo. Mimo is good, but it does show its age.
Giganews is a good performer and while we can certainly recommend this provider on reliability and speed, there are far better options where price is concerned and those services don't necessarily perform worse, and some perform just as well or better, than Giganews. Additionally, if you want to pay via some means other than credit cards, this provider is not for you.
Visit Giganews