BinTube Newsreader Review
Last Updated: Jan 31, 2022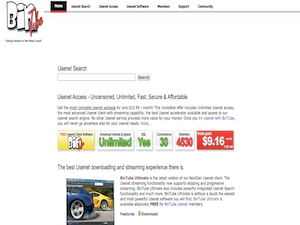 Rating
Price
free with provider plan
Retention
4710 Days
Free Trial
None
Features
Pro and Ultimate Versions
Full NZB FIle Support
Media Streaming Function
BinTube Usenet Reader is a great tool for downloading different kinds of content from Usenet, including audio and video files. It allows you to download and stream video, audio and image files and basically handles all file formats, encodings and packing methods that can be found on Usenet. The BinTube Usenet Reader comes in two versions which are BinTube Ultimate and BinTube Pro.
BinTube Ultimate comes free when you subscribe to Usenet service provider, BinTube.
BinTube Ultimate has a progressive streaming feature that enables users to limit the download speed according to the bandwidth necessary for the stream. BinTube Ultimate can also support multiple servers and third-party Usenet providers.
Highlighted Features
BinTube Ultimate have the following features:
Built-in Usenet Search with a high search retention
Media Streaming – start streaming your files as soon as downloading starts
Advanced Streaming - Skip to any section of a video or DVD image before all the preceding parts are downloaded. This works with the internal player, external media players, and most uncompressed and unencrypted files.
Progressive Streaming (only for BinTube Ultimate) – limits download speed to the bandwidth necessary for streaming
Image Gallery – image viewing in thumbnail or gallery mode
Full NZB file support
NZB Verification – verifies nzb files before downloading begins
SSL Encryption
Smart repair file downloading – PARs are only downloaded if needed
Smart Part prioritization – automatically organizes parts and downloads them in the order they are needed first
ASCII art rendering – displays text files containing ASCII art correctly
Automatic folders – multiple files are automatically stored in separate folders
YEnc, UU, Base64 decoding
RAR, Zip and 7z extraction
Split file merging
Download manager
Built-in open search – search your favorite Usenet search engine from BinTube
NZB watch/drop folder
Bandwidth limiter
Minimize to system tray
Adware & Spyware free
Supports multiple servers and third-party Usenet providers
Bintube has improved support for high DPI monitors and a brand-new search engine with full retention and new functionality not found anywhere.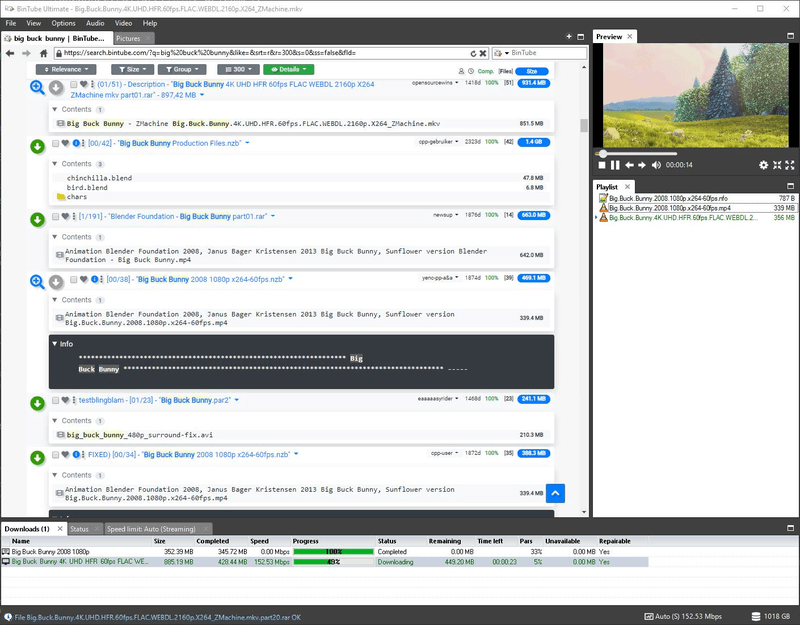 Plans & Pricing
BinTube Ultimate comes free with a subscription to a BinTube Usenet access account. A Usenet access account with BinTube cost $9.16 per month. This newsreader version also supports multiple servers and can be used with third-party Usenet providers.
Payments can be made through Bitcoin.
Free Trial Information
BinTube does not have any free trial offering
Usage Overview
BinTube Usenet reader works on several Windows versions.
Installation
To be able to install and use both versions of BinTube Usenet reader, you would need to have a BinTube Usenet account since BinTube Ultimate comes free with a account.
To install this newsreaders, simply download the .exe file from their website. Open the downloaded file and follow the process shown on your set-up wizard.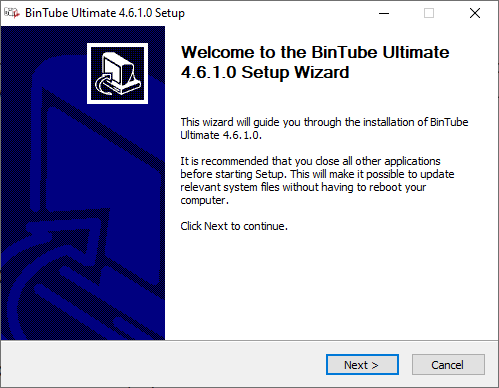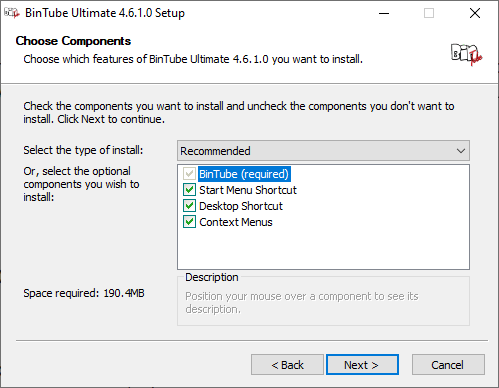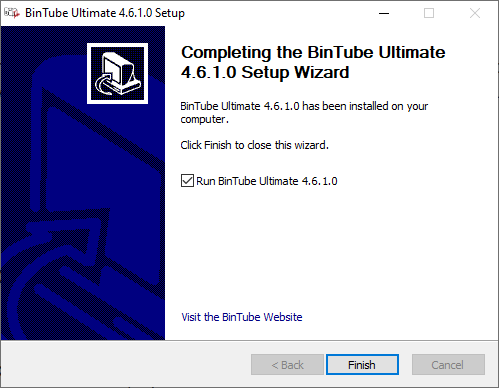 Configuration
Configure your server information by going to the options section and looking for connections. There you would have to enter your BinTube Usenet username and password, select your location, and add Usenet servers. For BinTube Ultimate, this is also where you can type in multiple servers that can come from other Usenet providers.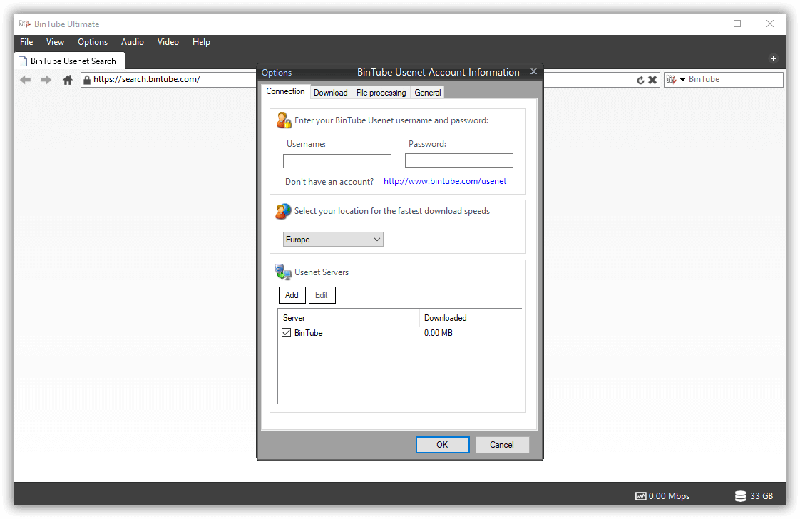 Scheduling & Automation
BinTube has a download scheduler that you can configure through the options section. This feature allows users to set a particular time for downloading files. BinTube also has a bandwidth limiter that can control how much of your available internet bandwidth can be consumed when you're downloading.
BinTube Ultimate also has features that could suspend/ shutdown your computer when downloads are complete.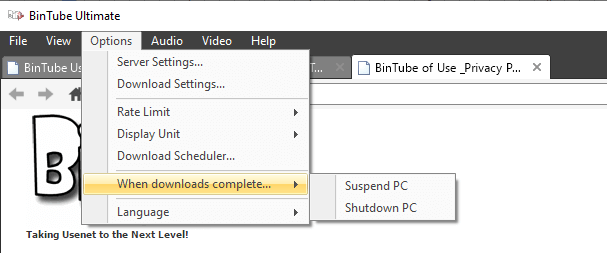 Usability
The Bintube Usenet Reader pretty much has the same features as other well-known and reliable newsreaders and NZB downloaders. While there may be nothing exceptional with this program, it is still definitely easy to install and use, has a clean and simple interface, and has a function that provides convenience and efficiency to users.
Its developers also provide good customer support by having a lot of contact points for users from their email address to feature requests. They also have dedicated pages for FAQs and community topics.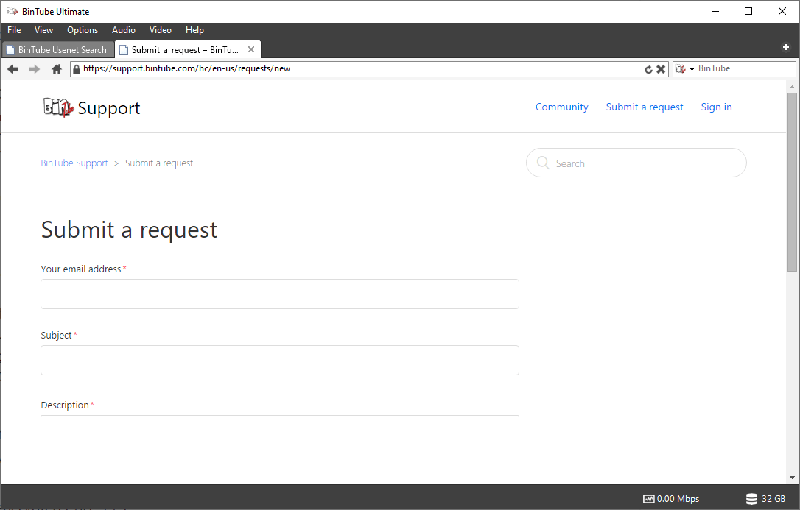 Conclusion
The BinTube Usenet reader is a great addition to the current features BinTube has on its roster. And while BinTube Ultimate comes free when you subscribe to a BinTube Usenet access, you are not limited to just using their Usenet access. This newsreader supports multiple servers and can also be used along with other Usenet providers. With its impressive functions, it can compete head on with the most reliable Usenet clients in the market today. And while its features may be a lot similar with most newsreaders and NZB downloaders, it's not to say that it performs less than the others.
Best Usenet Newsreaders