Bintube Review
Last Updated: Jan 18, 2022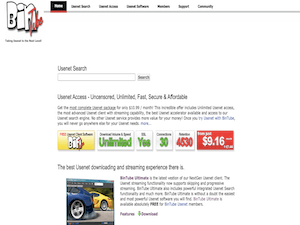 Rating
Price
$9.16 / Month
Retention
4710 Days
Free Trial
None
Features
Newsreader Builtin
No NNTP Only Connections
Only One Plan
BinTube is a Usenet service provider that offers a very simple USENET access package with only one plan. The company takes Bitcoin, which might make it tempting for privacy-centered users.
Aside from Usenet access, BinTube also has a free Usenet client software and its own Usenet search engine.
Quick Facts
One Package
Unlimited Speed and Downloads
One stop Usenet shop - for access, usenet client and search engine
Accepts Bitcoin
SSL (Privacy Protection)
Software Included
Binary Retention
BinTube says it currently has 4710 days of binary retention on its servers.
Pricing
BinTube only has one plan, on a subscription basis at $9.16 per month. It includes the following:
Free Usenet Client Software
Unlimited Download Volume
Unlimited Speed
SSL Encryptions
30 connections
4710 days of retention
Free Trial info
There's currently no free trial offered from this provider.
Special Offers / Coupons
There are currently no specials on offer from this provider.
Speed Test
BinTube did very well in speed testing, which is common with USENET service providers, most of which can easily max out most broadband connections.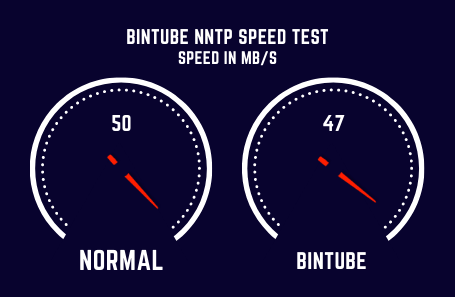 Connections
Bintube allows you to use 30 connections with their service.
News Servers / Ports / Configuration
Server address: us.bintube.com
Encrypted Port: 443
Unencrypted Port: 119
Frequently Asked Questions
Q: I have my own newsreader, can I use it with this service?

A: Yes, BinTube offers a free and paid version of its own software, but you're free to use your choice of newsreader on their system, as well. Their software comes pre configured for their service, but it does allow you to add other USENET servers, as well.

Q: Why is Bitcoin important for USENET services?

A: USENET isn't smiled upon in all nations and, therefore, some people who subscribe want to keep their subscription private. Bitcoin offers a great option for this, as its better for privacy than using credit cards or other popular payment methods. For users who aren't concerned about payment provider security, however, one of the other payment methods might be preferable and simpler.

Q: Why do they offer only one subscription?

A: BinTube does a good job in this regard, as most providers offer some type of limited access that's priced slightly less than unlimited access, but price their unlimited access higher than BinTube's. BinTube's package and price are good, so it's worth considering, though we prefer our recommended best Usenet service providers, such as Newshosting, Eweka, and Tweaknews.

Q: Do I have to bother with SSL?

A: SSL Is pretty much all good with no bad points. It protects your privacy, which is really necessary these days, due to more intrusive ISPs and governments. It won't slow your connection down and, in most cases, any USENET service should be able to utilize all of your connection speed for downloading.

Q: Is there a VPN option with this provider?

A: No. You have two options as far as VPNs go. You could either add a VPN account separately from a VPN provider or you could go with a different USENET service provider that offers VPN along with their news server access. Newshosting, UsenetServer, Tweaknews and other providers all offer VPN access as part of their packages or at a discounted rate to their subscribers. If you want to bundle, we suggest those providers.

Q: Why would I care about a VPN if the USENET provider offers SSL?

A: The SSL your USENET provider offers only protects you when you're accessing their news servers. When you're accessing any other network resource—including the Internet—USENET service provider SSL doesn't protect you. VPNs encrypt all your network traffic, so everything is protected when you're online.

Q: Do I need to use the VPN with my USENET access?

A: No. Your USENET traffic, provided you're using an SSL port, is protected. You don't need to use the VPN if you're only downloading off of USENET.

Q: I keep hearing "bin": What does that mean?

A: "Bin" is short for "binary." If you haven't heard this term before, you're probably new to USENET. Binaries are files that are uploaded to the USENET system. Because USENET has very fast transfer speeds, it's used quite a bit for large files, such as operating systems and so forth. When people say "bin," they mean "binary" and a binary can be many different types of files, from video to audio to programs.
Support
Bintube has a detailed FAQ section and a ticketing system. You can submit a support ticket via their website
Contact Information
BinTube, LLC.
1680 Michigan Ave.
Suite 700
Miami Beach, FL 33139
Security /Company Privacy Policy
BinTube says that it does not log any user activity. They will have to share your payment information with payment processors, of course but, beyond that, they claim not to share your information with third parties unless presented with a warrant from a law enforcement agency.
Payment Options
BinTube accepts major credit cards, PayPal and Bitcoin for payment.
Our Opinion
BinTube isn't bad at all, but it doesn't stand out above and beyond our recommended best usenet service providers. The one plan feature is actually a relief, however, from some providers that offer so many different plans that it becomes almost too many options. BinTube is straightforward in this regard: just get the plan and you're good to go. Their included newsgroup software makes things easier still, so there are definitely some upsides to this company.
Our preferred providers, however, generally do offer options in a way that allows users to pick something even less expensive than what BinTube offers and to get other features, to boot. Block access, for instance, is the least expensive option for infrequent USENET users; far better than a subscription. Where subscriptions are concerned, throwing in discounted or even outright included VPN takes some of our recommended providers way above and beyond what BinTube is offering.
If you want something simple, easy to get going with and that requires minimal attention to details,BinTube is certainly an option. For our money, however, people looking to pay the least possible amount for their USENET access will do better with a provider that offers bock accounts, such as Tweaknews. Those who want the maximum value for their dollar will do better going with one of our preferred USENET companies that include VPN with their service. BinTube might be a good deal and easy to use, but it's still going to be more expensive for some users than other options.
Altenatives To Bintube
| Name | Price | Info |
| --- | --- | --- |
| Newshosting | $8.33 | Best Price / Free Newsreader |
| UsenetServer | $7.95 | NZB Search / Fast Speeds |
| Eweka | €7,00 | Best EU Provider / Lifetime Discount |
| Easynews | $9.98 | Easy Web App / File Previews |
| TweakNews | €7,50 | Free Newsreader / Free VPN |
| PureUSENET | €5.97 | Good EU Provider / Free SSL |
| XLned | €7.49 | Fast Speeds / EU Servers |