Xsnews Review
Last Updated: Apr 02, 2019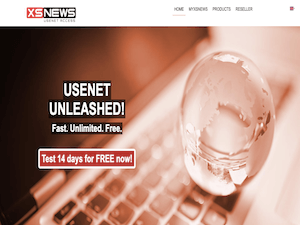 Rating
Price
€8,20 / Month
Retention
1250 Days
Free Trial
5 Days Unlimited
Features
Netherlands Based
Unlimited Speeds
Block Accounts
XSNews XSnews is headquartered in the Netherlands. They offer several levels of USENET access, with the maximum allowable speed varying by package. With XSNews you will have access to over 30,000 Terrabytes of high quality user generated content.
Quick Facts
Netherlands-Based
Unlimited Speed Option Available
Block Accounts Available
+31 20 820 30 21 Call for help
Accepts Paypal
Binary Retention
XSNews currently has 1250 days of binary retention.
Pricing
| Name | Price | Speeds | Connections |
| --- | --- | --- | --- |
| Basic | € 4,45/mo | 8 Mbit | 8 |
| Pro | € 5,60/mo | 20 Mbit | 20 |
| Elite | € 8,20/mo | Unlimited | 30 |
| Small 20 GB | € 9,95 | Unlimited | 20 |
| Medium 100 GB | € 34,95 | Unlimited | 20 |
| XL 1,000 GB | € 124,95 | Unlimited | 20 |
Free Trial info
There is a 14-day free trial available with all accounts, except for block access. Cancel before the trial ends to avoid being billed.
Special Offers / Coupons
There are currently no special offers or coupons available from this provider.
Speed Test
XSNews did well in speed testing. Remember that you'll usually get faster service from a server located close to you geographically. XSNews is located in the EU, so users outside of that area may get somewhat slower service.
Connections
The Unlimited account offers 30 connections, with lower subscription levels offering fewer connections. Block accounts offer up to 20 connections.
News Servers / Ports / Configuration
Reader.xsnews.nl Encrypted Ports (SSL): 563, 443 Unencrypted Ports: 80, 119
Frequently Asked Questions
Q: **Why would I want to use an EU-based USENET provider?**A: Most users who choose to get their USENET service from one particular region of the planet are doing so for one of two reasons: speed or privacy. Where speed is concerned, the closer the server is the better, but USENET is so fast these days that you might be able to max out your broadband connection with just about any provider. The EU has stricter privacy protection than the US, which is why some users choose to get their service there.
Q: Are limited speed accounts worth the money? A: This depends upon your service. If your Internet connection doesn't go any faster than 2.5 MB/s, then you're not really losing anything by going with the "Pro" account from this provider or a similarly limited option from another provider. However, if you're confident that your Internet connection can handle much higher speeds than that, you might want to get a subscription that lets you download at a faster rate.
Q: Why are there unencrypted ports? A: Unencrypted ports are among the options you have for connecting to XSNews and most other USENET services. For some special circumstances, they may be appropriate, but we highly recommend using encrypted ports to all of our users. With security available, there's just no reason to not take advantage of it.
Q: Do I have to use a specific newsreader with this service? A: No. Most USENET providers let you use any newsreader you want and some, such as Newshosting, even include a newsreader with your subscription. There are paid and free newsreaders out there. We suggest trying the free ones first and, if you need something more robust, move up to a paid option, like Newshosting.
Q: Is there an advantage to block access? A: There are many advantages to block access, particularly if you're trying out a new company. Block access nets you a specific quantity of download data that doesn't expire until you use it up. If you buy, for instance, 20GB of block access, you'll have as much time as you need to use up the allotment. Versus a subscription, this is a much better option for users who only occasionally check out newsgroups.
Q: Isn't 1100 days of retention low? A: Compared to some other providers, yes, XSNews has lower retention times. This might not matter to people who are looking for binaries that were only recently updated, but it's likely to be a problem for people who want to download content that's older and that may have disappeared from the indexes on XSNews's servers. If you're looking for more retention, Newshosting and our other recommended providers offer much higher figures.
Support
XSNews has several different contact options. There's a live chat on the site, a knowledge base and a support ticket system you can use. There are numerous articles on the site you can use to answer most common user questions. All support options are available at: https://www.xsnews.nl/en/helpdesk.html or you can email to support@xsnews .com
Contact Information
XS News B.V. New Yorkstraat 10-16 1175 RD Lijnden Nederland. KVK 08145640 BTW NL8158.36.946.B01 +31 20 820 30 21
Security /Company Privacy Policy
XSNews says it will not log your activity unless required to do so under the law. The company does keep your IP address when you log in and your user credentials so that they can prevent spam on their system.
Payment Options
XSNews accepts the following payment methods: SEPA Direct Debit, iDEAL, Visa, MasterCard, Mister Cash, SOFORT Banking, Bank Transfer, Bitcoin, Paysafecard, KBC, and Belfius.
Our Opinion
XSNews has its advantages. They have both block and subscription accounts, which we always like to see. They also accept Bitcoin and that can make a big different for users who are most concerned about protecting their privacy. They also have live chat on their site, which is good, though it might not be as useful to users outside of the EU as it is to those within the EU, due to time zone differences. Overall, XSNews is a good service, but we still stand by our recommended providers as the best options out there. The speed limited accounts for XSNews are a bit more expensive than they should be and, in fact, you can get unlimited accounts from some of our preferred providers for less money than a limited account from XSNews costs. The block accounts are good, but the prices are a bit high, as well.
One area where you might want to consider XSNews is as a backup provider. Block accounts are great for this, as you can buy as much access as you think you'll need and no more. If you're trying to grab a binary that your main provider doesn't have available on its servers, having the backup can be nice. Most newsreaders can handle two different server setups, so this shouldn't be a problem. Overall, XSNews certainly seems like a well-run company, but their prices are higher than we'd like to see and, for those looking for access outside the US, it could be obtained for a lower price
Visit Xsnews