WonderFox DVD Ripper Review
Last Updated: Aug 25, 2019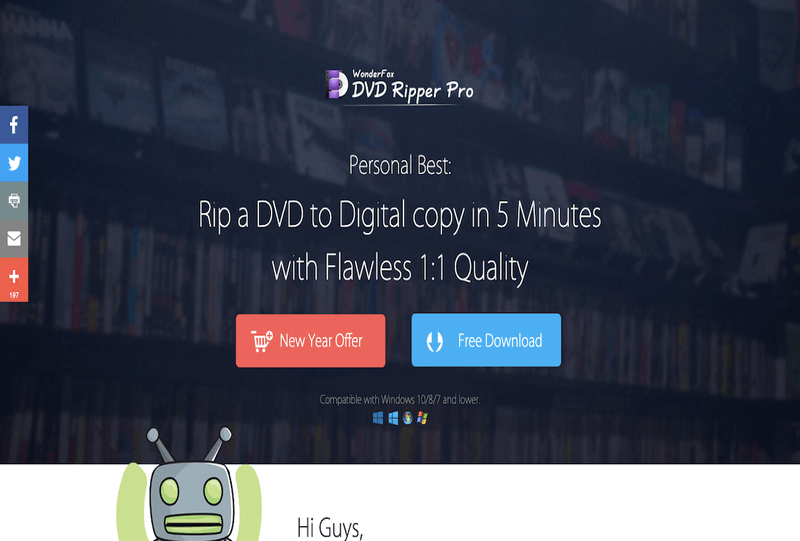 Rating
Price
Free
Features
DVD Ripper Software
Easy to Use
Active Development
InExpensive
DVD Ripper Pro by WonderFox software makes DVD ripping easy as pie for the windows platform. WonderFox DVD Ripper handled the DVD decryption and automatically selects the correct video files for a quick and easy DVD ripping.
After installing and running the program you will first see the first screen. Here we have to choose between the DVD, an iso image or a DVD folder.
WonderFox DVD Ripper on Launch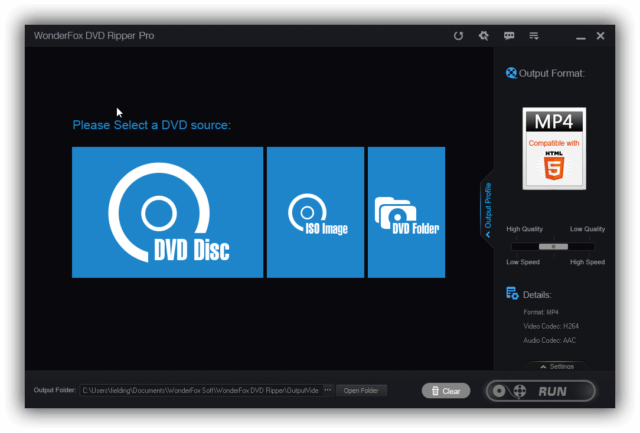 In our tests, we selected a real encrypted and copy protected DVD because defeating the encryption process is very important feature of whate DVD ripper pro offers.   If you have experience with DVD decryption, you will be impress with this program as DVD decryption hasn't always been as easy.   10 years ago the most popular DVD decryption program which may have been illegal under the DMCA.
Here is some more about the history of DVD decryption.
Fast forward 10 years and DVD decryption is now super simple thanks to both the new technology and the overall change in the marketplace as content moves towards the cloud.
Here is what WonderFox says "DVD Ripper Pro can not only bypass DVD content scramble system (CSS) and region coding, but also remove a variety of protection techniques". What you chose to do with the software is up to you. Just keep in mind the law that governs your activities where you are in the world.
Wonderfox DVD Decrypter Usage
In summary, to decrypt your DVD you just click the RUN button in the bottom right and your DVD is decrypted and ripped to your local computer.   But before you do that you might want to choose the a video format.  WonderFox DVD ripper makes it super easy and intuitive. Choose between HD, SD or small file sizes for portable devices.  In our test we choose a standard .mp4 video output.  Notice the slider above the run button. There you choose tradeoff between High Quality/Low Speed and Low Quality/High Speed.
Video formats for WonderFox DVD Ripper Pro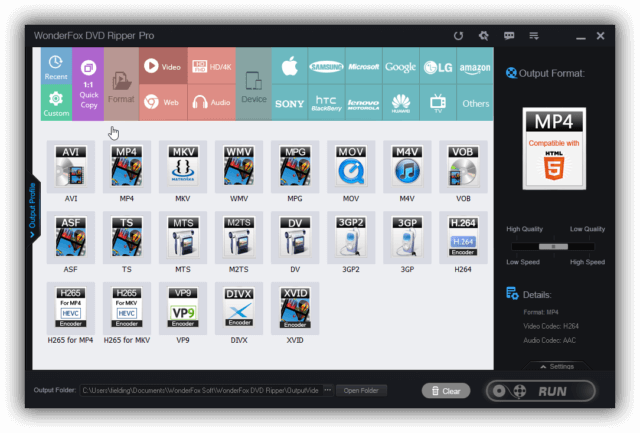 It is very intuitive, select your DVD to rip, choose your video format, adjust the quality (or just go with the default) and click the run button in the bottom left. Here you can see our DVD Ripper Pro in action.
WonderFox DVD Ripper Pro in action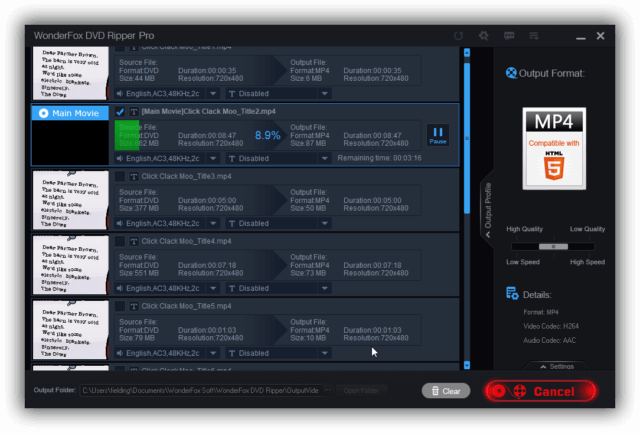 Ripping a DVD takes about 20 minutes plus or minus 10 minutes depending on how fast your DVD reader is and the level of compression involved but generally you can rip 2⁄3 DVDs per hour.   DVD Ripper Pro supports an incredible range of formats, including AVI, MP4, MKV, MPG, WMV, MOV, MTS, M4V, ASF, DVC, MTS, M2TS, WEBM, FLV, SWF, VOB, F4V, 3GP and 3GP2 and 3GP, And they can help you choose easily and intuitive among video formats.
UsenetReviewz.com conclusion
We like WonderFox DVD Ripper, it really couldn't get any easier to use. Just put your DVD in your DVD Drive, select your DVD Drive, choose the output quality press run and there you have your file.
Pros
Quick and easy installation
Intuitive User Inteface
Decrypts and breaks various copy protection schemes
Additionally can use ISO files / DVD folders
Over 200 video formats supported formats
Cons
Visit WonderFox DVD Ripper