UseNight Review
Last Updated: Jan 21, 2022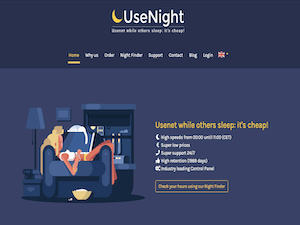 Rating
Price
€1.99 / Month
Retention
2349 Days
Free Trial
None
Features
2298 Days Retention
SSL Included
Optimal Speed at Night
UseNight is a relatively fresh Usenet service provider in the market. Launched July of 2020, UseNight is changing the game by introducing a brand new connection concept that allows for speedier downloads at significantly lower pricing. This is made possible through the platform's Night Finder that allows users to download at an optimum speed every night. As it zones in on speedy connections at night, the platform can only offer low speed for users that download in the morning.
Quick Facts Section
Fast connection at night
2349 retention days
Maximum speed at night
Low speed in the morning
No free trial offered.
Based in Arnhem, The Netherlands
Retention
UseNight offers 2349 retention days.
Pricing
UseNight pricing is based on one's subscription duration. There are no recurring monthly and annual fees. All plans offer unlimited speed with 50 connections every 00:00 (CET) and 11:00 (CET). UseNight's Night Finder can determine one's window for maximum speed as nighttime differs, depending on one's location and time zone.
| Name | Price | Download Limits | Connections | SSL |
| --- | --- | --- | --- | --- |
| 30 Days | €1.99 | Unlimited | 50 | Yes, with TSL |
| 180 Days | €10.95 | Unlimited | 50 | Yes, with TSL |
| 365 Days | €19.95 | Unlimited | 50 | Yes, with TSL |
Free Trial Info
UseNight does not offer users a free trial period.
Special Offers
There are no active special offers or coupons from the provider.
SpeedTest
UseNight is a unique Usenet service provider because it only promises maximum download speed at night. This is the very reason that allows the provider to offer their service at very low rates. This goes to say that morning downloads will be very slow. This makes UseNight ideal for users that enjoy working and downloading files at night. The unlimited speed that can max out your allotted internet bandwidth is possible every 00:00 and 11:00 CET. Periods differ depending on one's location and time zone. To help users, UseNight comes with a Night Finder that specifically guides and informs users when they could download at maximum speed.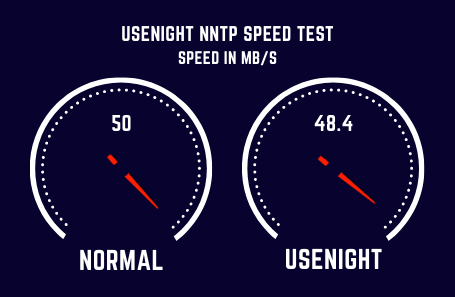 NNTP Configuration
UseNight's lone server is reader.usenight.com. UseNight recommends 563 and 443 for SSL ports. Ports 80 and 119 may be used as well. We highly recommend SSL port configuration as it secures solid user privacy. Setting SSL ports will not affect download speed. In UseNight's case, though, download speed is significantly slower in the morning, regardless if an SSL port is active or not. Configured SSL ports do not affect unlimited nightly speed.
FAQ for UseNight
Q:How does UseNight work?
A: UseNight delivers high-speed downloads at very low prices by offering access during non-peak hours.
Q:How long can I enjoy unlimited internet access at night?
A: UseNight users can enjoy unlimited speed every 00:00 up to 11:00 (CET).
Q:I am not from Europe, how do I know if I can already access unlimited speed?
A: UseNight provides a Night Finder. Understanding that users are from different time zones and locations, Night Finder can conveniently guide and cue users when their access to unlimited speed begins.
Q:Can users still connect in the morning?
A: Yes, users can still connect in the morning but at very slow speeds. Slow morning speeds made low pricing possible.
Q:Is there a recommended Usenet client?
A: UseNight recommends SABnzbd. SABnzbd is a free user-friendly client. However, it does not have advanced settings for experienced users.
Q:What is the address of UseNight's reader?
A: UseNight's reader is reader.usenight.com
Q:Do you sell data to third-parties?
A: UseNight does not sell data to third-parties. They have strict privacy policies that strongly adhere to international standards. No third-party can access user information without approval from the Dutch court.
Q: Will UseNIght collect my data?
A: Yes, UseNight will collect users' data, but only in so far as servicing and maintenance matters. No personal monitoring of user activities and downloads will take place.
Q:Will UseNight store cookies on my computer?
A: Yes, UseNight will store cookies on your computer. But such cookies will only gather general information. No personal information will be gathered by UseNight.
Q:Can I use my account instantly after downloading it?
A: Yes, you may use UseNight instantly after payment. It sends login details to users in just five minutes after the payment verification.
Q:Will UseNight store my credit card details?
A: No, UseNight will not store users' credit card details.
Security and Privacy Policy
UseNight follows a strict security policy. They only store data relative to service maintenance. Only order from the court can compel UseNight to release user information. UseNight also uses cookies, but only for general site visit information. UseNight cookies do not collect user-specific information.
Customer Service / Contact Info
UseNight offers an accessible and extensive guide to users on their website. For particular customer concerns, UseNight administrators can be reached through a dedicated website portal:https://usenight.com/en/contact/. It will require users with concerns to leave their email address. UseNight is based in The Netherlands and its address is:
NectoFarm B.V.
Prümelaan 47
6824 HR Arnhem
The Netherlands
Payment Options
UseNight accepts payments via credit cards and through the following platforms: AliPay, iDeal, MisterCash, Bancontact, Giropay, Sofortüberweisung, EPS, Przelewy24, and Multibanco. They also accept payments in Bitcoin or BitcoinCash.
Opinion
UseNight is a suitable alternative for Usenet fans that want to avail of unlimited download speed at very low prices. It is new in the market, and its concept of utilizing non-peak hours is ideal for users that are looking to save. Availing of its year-long plan is quite a steal, as users will have access to Usenet for an entire year for only €1.66. However, such a pricing plan is not ideal for heavy daily users that need unlimited speed 24/7. For a newcomer in the industry, UseNight's retention rate of 2349 days is not bad. Users should take note that UseNight is not ideal for individuals that prefer maximum speed 24/7. It does not provide unlimited speed to users that work in the morning. Individuals can maximize UseNight's unique offer by using its provided Night Finder tool. If you're looking for a provider that offers all day Usenet access, you can go for the best Usenet service providers on our list.
Visit UseNight