UsenetServer Search Review
Last Updated: Feb 09, 2022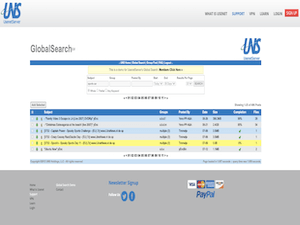 Rating
Price
Free
Retention

5525

Days
Free Trial
None
Features
Search USENET Quickly
Scan & See Content Available
NZB and Zip Files Returned
UsenetServer has significantly improved their Global Search with version 2.0. The new release allows you to search their entire retention range and may be a bit more convenient than some of the other common ways that people find content on USENET. It gives you an NZB of whatever you find that you want to download, which makes it very easy to work this system and to get the content that you're interested in. It comes with their service and there's no extra charge for using it. UsenetServer indexes over 110,000 discussion groups which includes text and binary files.
This article provides instructions for the UsenetServer (UNS) Global Search feature, access to which is included with subscriptions to UsenetServer's various packages. The UsenetServer Global Search allows you to:
Search UsenetServer's entire retention range, which is currently set at

5525

days
Create NZB files for your results
Download the NZB files and open them in the newsreader/downloader of your choice
Detailed instructions follow. If you don't need a great deal of detail and want a simple step by step list, see the "TL;DR Version" heading below the longer instructions
How to Use the USENET Global Search
Login at https://globalsearch.usenetserver.com/ using your username and password from UsenetServer. Note: You'll have to type your credentials in manually; cutting and pasting may not work.

The Global Search has few fields, but it provides all the variables you need. The Subject field is where you'll provide the title of the binary you're looking for. You can see that we're searching for Night of the Living Dead, a film that's in the public domain and that's legal to download. Note that the To field has been set to "2 Years Ago." Because this is an older film, some of the binaries might have been uploaded a long time ago. By setting the To field to "Max," you can search UsenetServer's entire retention time, which is currently 5525 days. To cut down on the number of listings returned, we'll set our sample search to "2 Years Ago," however.
Next Step - Type in a search term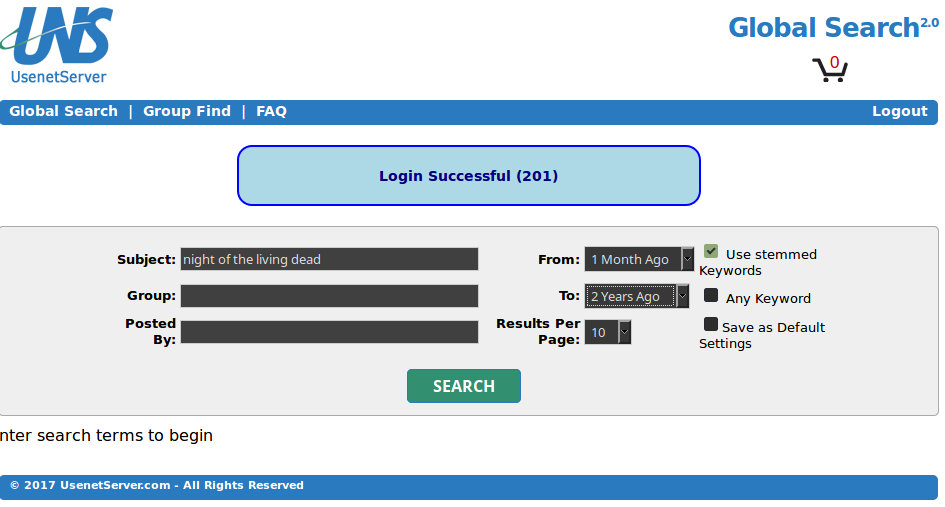 The next image shows the results of our search. Note that the results show not only the available binaries, but the groups in which they were posted under "Groups"; the poster, listed under "Poster"; the age of the file under "Age"; the size of the file under "Size"; and the number of files included in the binary, listed under the "Files" heading.
Select associated checkboxes
We're going to download the German version of Night of the Living Dead, so we select the checkbox to the left of the listing we want. After selecting that listing, we click on the Add Selected button, just above the listings.

In the screenshot below, you can see that the interface has changed a bit. The buttons at the top of the search results now read: Add Selected, Empty Cart, Edit Cart, Filename, and Generate NZB. You can perform more searches and add binaries to your cart, which allows you to create a single NZB that has information for downloading each of the binaries you selected. This is a great timesaver. In the screenshot below, you can see that we've already added another binary to our cart of NZBs.

Download NZB Files
Now, we're going to download the NZB file, which we can then open in any NZB downloading program. To do so, click on Generate NZB. We have a list of newsreaders and NZB downloaders you can use if you haven't selected one yet. We're opting to save the NZB so we can open it later.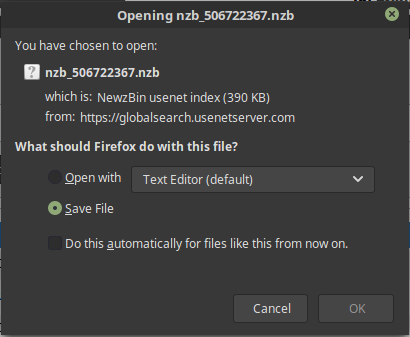 That's it! This Global USENET Search is available to anyone who subscribes to UsenetServer , one of our preferred USENET access providers. UsenetServer's Global Search is one of the best options out there. If you want to learn more about searching USENET on this page.
TL; DR Version
Login with your UsenetServer credentials; if you have trouble, try typing them in manually rather than copying and pasting.
Fill in whatever keywords fit your desired binary in the Subject field. For example, "Night of the Living Dead," "Plan 9 from Outer Space," or the name of whatever other binary you're looking for. Note that "binary" refers to whatever files you download, video, audio, or otherwise
You can specify which groups you want to search in the Group field or specify a poster in the Poster field. Set From as far back as you want to go. Setting From to "Max" searches all the way back to the beginning of UsenetServer's retention time.
Set To to the cutoff date you want for your binaries, or just leave it set at "Now."
Select any checkboxes that apply to your search
Click the Search button
Tick the checkbox next to the listing for the binary(s) you want
Click Add Selected to put the binary in your cart. You can perform multiple searches and add the selected NZBs to your cart where they'll be saved until you're ready to download When you're ready, use the Filename field to rename your file, if desired
Select Generate NZB to create and either open or download the NZB file
Open the NZB in your newsreader to download the binary
FAQ About Searching USENET
Q: How do I avoid spam listings?
A: We have an entire page available about searching USENET, but here's the short answer. First, remember uploaders who provide good files and stick with them, if they have a listing for the binary you want. Second, avoid RAR and password-protected files. Third, make sure the group where the posting appears makes sense given what you're looking for. Don't download video binaries from a Warez group, for instance.
Q: Does the NZB contain my binary?
A: No. The NZB file you download contains pointers to the binary you want, which allows your downloader to complete the download for you. Just open the NZB in your newsgroup client and it'll take care of the rest.
Q: Can anyone tell what I'm downloading?
A: If you want to protect your privacy, use SSL encryption on your newsgroup client, and we recommend that you always do so. You'll have to configure your newsreader to connect to your newsserver through a specific port and turn on SSL. The process varies depending upon which newsreader you use, but it's very easy in all cases.
Q: Should I scan the files I download for viruses?
A: Yes. You should do this with any files you download, whether they're binaries from USENET, torrents, or from any other source.
Q: I have a VPN. Do I need to use it with USENET?
A: If you're using SSL encryption when you connect to your newsserver to download binaries, you don't need to use a VPN. The secure news server provided by your USENET company will protect your privacy. If you're searching for NZBs on the Internet, however–we have a list of sites where you can search for NZBs here–make sure that the URL bar says "HTTPS" and not "HTTP" or, if you have one, turn on your VPN when you're searching and downloading off the Internet to enhance your privacy. Many of our top USENET companies offer VPNs as part of their subscriptions or as an add-on service.
Q: Where do I get a subscription to UsenetServer?
A: UsenetServer has several different subscription options, and they're priced competitively across the board.
Why We Like the UNS Search Feature
USENET has an enormous amount of content available, but finding a good search tool to sort through it all can be an ordeal. UsenetServer's Global Search is fast and easy to use. The Global Search from UNS allows you to search the entire retention range offered by UsenetServer and, given that they have among the longest retention times of all USENET providers, that ensures that you have the best possible chance of finding binaries that might have been posted long ago.
Low resource demand, fast searches, convenient NZB downloads of your results: there's a lot to like in UsenetServer's Search tool.
For more information you can read the detailed review of UsenetServer here. They offer great pricing on their service and, now, they have a vastly improved search function, as well.