UsenetAgency Review
Last Updated: Jan 21, 2022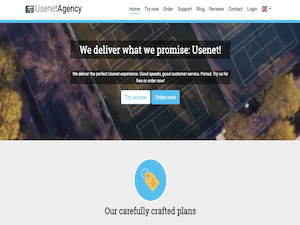 Rating
Price
€6.95 / Month
Retention
2349 Days
Free Trial
7 Days / Unlimited Speed
Features
2298 Days Retention
SSL Included
Unlimited Speed
UsenetAgency is a new player in the game. This Usenet service provider was introduced in the market in 2018 and it promises a solid Usenet experience for its users. On top of good speed and a decent retention period, it boasts of a reliable support team. It offers sound pricing plans to users and has remarkable privacy policies.
Quick Facts Section
User-friendly Control Panel
SSL tools across all plans
Highly compatible and fast on XS News
A highly secured payment platform
Limitless traffic
No automatic charging
2349 retention days
Based in Arnhem, The Netherlands
Retention
UsenetAgency's retention increases by the day. To date, it can retain files for as long as 2349 days.
Pricing
UsenetAgency offers three plans: Junior plan, Medior plan, and Senior plan. All paid plans allow for 2349 retention days. Both Junior and Medior plans allow for 25 connections. Its Senior plan offers unlimited speed and 50 connections.
| Name | 1-month fee | 3-month fee | 1-year fee | Speed | Connections |
| --- | --- | --- | --- | --- | --- |
| Junior | €2.95 | €7.95 | €29.95 | 40 Mbit | 25 |
| Medior | €3.95 | €11.50 | €44.95 | 80 Mbit | 25 |
| Senior | €6.95 | €19.95 | €69.95 | Unlimited | 50 |
Free Trial Info
Users can avail of a 7-day free trial that allows for 50 connections and unlimited speed.
Special Offers
There are no active special offers of coupons available for this provider.
SpeedTest
UsenetAgency allows for unlimited speed. Users need to be cautious as downloading can exceed one's bandwidth limit depending on one's internet service provider. It's lower-priced plans allow for lesser speed at 40mbit and 80mbit.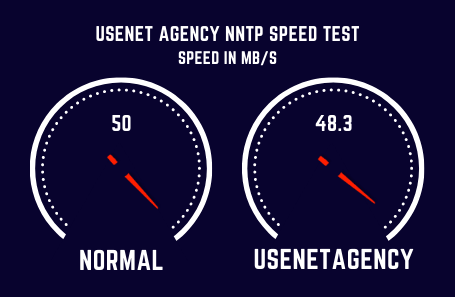 NNTP Configuration
UsenetAgency has one server: reader.usenet.agency. SSL configuration is through ports 564 and 443. We highly recommend SSL port use for protecting your privacy. SSL port configuration will not affect your download speed. Steps on configuring your settings may vary depending on the platform you use and the third-party apps you integrate with.
FAQ for UsenetAgency
Q: Does UsenetAgency allow access to SSL tools?
Yes. All UsenetAgency plans allow for SSL port access and configuration.
Q: What reader does UsenetAgency use?
A: UsenetAgency's address is reader.usenet.agency.
Q: What ports are allowable for SSL?
A: For SSL, we recommend the following ports: 563, 443. Users may also use 80 and 119.
Q: Will UsenetAgency share my data with other parties?
A: Usenet does not have tools for the monitoring and recording of data. However, they can share the information if required by the Dutch court.
Q: How does UsenetAgency handle data?
A: UsenetAgency stores user data in so far as it connects to the provision of outstanding service. UsenetAgency does not and will not sell collected data to any third-party.
Q: Does UsenetAgency use cookies?
A: Yes, but only for the storing of general information and not personal information.
Q: Can I use my account upon payment?
A: Yes, you may use your account in just 5 minutes right after payment. Delays usually take place on the endpoint of payment platforms. Users should immediately report a delay of one hour.
Q: Will UsenetAgency store my credit card data?
A: Never. UsenetAgency uses credit card data only once. UsenetAgency does not keep it attached and stored to users' accounts.
Q: Is there a free trial?
A: Yes, UsenetAgency allows for a seven-day free trial that allows for 50 connections and unlimited speed.
Q: What is the best Usenet Agency plan?
A: All plans cater to different needs but the best and most popular plan from UseneAgecy is its Senior plan that allows for unlimited speed and 50 connections.
Q: Does UsenetAgency charge automatically?
A: No. UsenetAgency has a strict no auto-charge policy so users can freely cancel and extend subscription with unwanted charges.
Q: Can I freeze my subscription?
A: No, UsenetAgency does not allow the pausing of subscriptions. However, no extra charges will apply upon the expiration of your subscription.
Q: Will I automatically be a subscriber if I chose a 7-day free trial?
A: No. UsenetAgency does not auto-charge its clients.
Q: How fast will I receive my login data?
A: UsenetAgency will send login data upon payment in as fast as five minutes.
Q: Can I change my email address?
A: Yes. Users can change their email address anytime via UsenetAgency's Control Panel.
Security and Privacy Policies
UsernetAgency's privacy is topnotch. It does not require users to disclose extensive personal information. The provider just asks for the user's name and county of origin for tax purposes. The platform does not keep logs and records of user activities. Absolute privacy is possible because UsenetAgency does not use monitoring tools.
Customer Service
This Usenet service provider is proud of its support team. They offer a direct knowledge base system that is openly accessible to all users. Access to information on the customization of accounts, privacy, and payments is easy and instant. UsenetAgency also provides a definitive list of error messages and their meanings to users. Email support is available across all pricing plans. UsenetAgency's support policy is direct and proactive. Real people address all customer concerns in an instant.
Payment Options
UsenetAgency allows for payment via credit card and the following platforms: iDeal, AliPay, MisterCash/Bancontact, Sofortüberweisung, Multibanco, Przelewy24, EPS, and Giropay. They also accept payments in Bitcoin or BitcoinCash.UsenetAgency does not have an auto-charge policy, so users are free to choose whether they want to extend their subscription.
Opinion
UsenetAgency is a promising Usenet service provider. Although it's new in the field, it can stand toe to toe with senior service providers with its capacity for unlimited speed and 2349 days of retention. Users that put prime in privacy will highly enjoy its security protocols that require almost zero personal information from clients. It's pricing is reasonable and cheaper than most service providers. Its SSL port provision across all paid plans is commendable. It's a good alternative option for users that prefer topnotch security without the steep pricing. UsenetAgency offers seven-day free access with no auto-charge policy, making it ideal for users who want to check out and explore Usenet. If UsenetAgency is not for you, you can check out our list of the best Usenet service providers.
Visit UsenetAgency