Usenet vs Torrents
Last Updated: Apr 20, 2021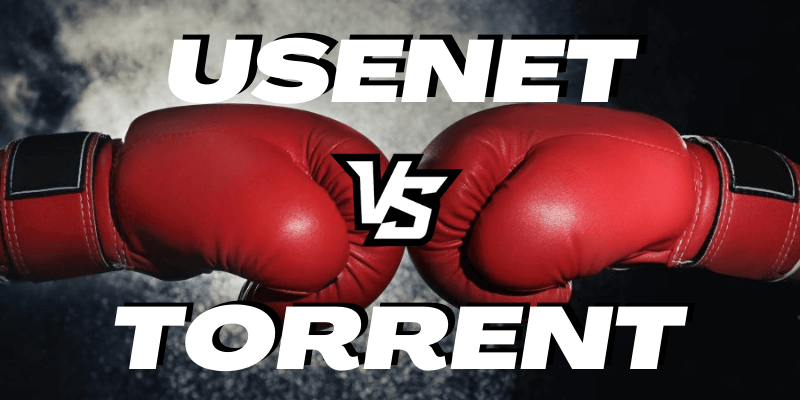 Usenet and Torrent are both useful tools to download content and media files from the Internet. And while Torrent seems to be the more popular and familiar option, Usenet offers benefits that Torrent does not provide.
There are several differences between the two in terms of speed, security, reliability and ease of use. Pricing is also a factor for users in deciding which platform is better to use. But before we dive into that, we first need to briefly discuss how Usenet and Torrent works.
How Usenet and Torrent Works
Usenet is defined as a worldwide distributed discussion system available on computers. Usenet works like a combination of Reddit and Torrent where you can both view content and posts similar to a forum and also download media files from the internet just like torrent.
BitTorrent (or Torrent), on the other hand, is a communication protocol for file sharing that enables users to distribute files and data over the Internet in a decentralized manner.
And while both Usenet and Torrent have certain requirements like software and sites in order to access and use them, probably the main difference of the two is how the file sharing works.
BitTorrent uses a peer-to-peer (P2P) protocol that downloads small pieces of the file you want from many different sources. You can download multiple pieces of files from multiple peers. This relies heavily on the number of seeds available on the network. Software on your computer then assembles the pieces into the complete file. It's an efficient way to transfer large files. Trackers provide a way to locate data, which users typically download by clicking a link on a search page.
On the other hand, Usenet connects you directly to the server to access available files. You do not have to rely on availability of seeds. And since Usenet connections are between you and the server. You're not sharing your IP address with anyone but the Usenet provider.
The Pros and Cons
Quick Facts
| FACTORS | USENET | TORRENT |
| --- | --- | --- |
| Cost | Paid | Free |
| Security | SSL Encryption included FREE with Usenet Providers | Requires a paid VPN Service to download files securely |
| Protocol | Direct to server connection | Peer-to-peer Protocol |
| Speed | Faster download speed | Low download speed |
| File Processing | Compressed files can be extracted via Usenet clients | Can be downloaded directly |
| File Availability | Limited to Server Storage | Limited to Seeding and User's Space Availability |
| Usage | Requires time investment to learn but easy to use once you know the process | Requires minimal time and knowledge to use |
Free Access vs Paid Subscription
Probably one the main reasons why Torrents are more well-known to most users is because you would not need to pay for the service. It is free for the most part, but you would likely need to purchase a VPN service to keep your download activity secure. In the end, there is still money required to use Torrent. Not unless you want to risk having your activity exposed by not using a VPN service.
To be able to connect to a Usenet server, you will be required to subscribe to a Usenet service provider. This would give you access to the Usenet network and this usually comes with a monthly or annual fee. This gives you security since most Usenet providers also include SSL encryption within their subscription plans. However, free alternatives for Usenet access also exist. But it is not recommended since these free services also have certain limits especially in terms of available files.
Security
As mentioned, security is a big factor when downloading files from the internet. This is where Usenet really shines. Most of the good Usenet providers – check any of our preferred providers, they all offer this – offer SSL encryption. This means that your downloads are anonymous, whether or not you are using a VPN when you are downloading. In fact, you get full anonymity without using a VPN at all with the Usenet system. This means your internet service provider will not be able to detect the files you are downloading which protects you from speed throttling and notices.
However, one of the complaints about Usenet versus BitTorrent among users is oftentimes the fact that BitTorrent is free, and Usenet does cost a monthly subscription price. But, as previously mentioned, a VPN service is recommended for you to utilize BitTorrent securely and that comes with a monthly subscription fee, anyway.
You can actually opt not to use a VPN service while using BitTorrent. However, of course, that is not advisable. Without that security add-on your activity will be prone to exposure and thus, your Internet service provider will detect your download activity as being peer-to-peer connection and your speed will most likely be throttled, or worse – your activity might be shared with intellectual property owners or law enforcement receive notices from them. This is also likely if your VPN suddenly fails for some reason while you're downloading, and your IP becomes visible.
Download Protocol
Usenet allows you to connect directly to a server to be able to access and download files. Usenet servers have an uptime or completion rate of almost 100%. This means that the files you get from news servers are complete and have no missing posts.
With Torrent, downloading of files rely on seeders. Seeders use a seedbox which is a service that allows you to download, store and access data you receive via BitTorrent. The advantage of these services is that they're typically very fast, allowing users to get complete files in much shorter amounts of time than they would by downloading them directly to their computers. However, there is also a limitation. Since Torrent uses a peer-to-peer protocol, some seeds may not be active or are unavailable and if this is the case, you will not be able to download these files.
Speed
One of Usenet's primary advantages over bittorrent is speed. Bittorrent requires that there be a good ratio of seeders to leechers to achieve fast download speeds. For new releases, this can take a long time. In fact, most of the time, new releases are only available at very low download speeds, as most people will be leaching the torrent and won't be seeding it yet.
Usenet, conversely, can generally max out most people's bandwidth. Once you begin the download process, you are downloading at a speed that is determined by the number of connections your computer can maintain, the speed of your connection and your computer's ability to save the downloaded data to the disk. On bit torrent, there are many different variables involved.
File Processing
Files downloaded from Usenet are usually compressed into an archive or a .nzb file. This improves the download speed. Torrent files, on the other hand, are not in archive form and can be downloaded and used directly. However, with Usenet, this is not really a hindrance since once you download the archive, a Usenet client (newsreader) automatically extracts the file and prepares it for use.
File Availability
Torrents may have the advantage with regards to file availability since files are distributed on multiple servers and computers due to its peer-to-peer protocol. However, files available as torrents can also be limited by the space available to the users and the user's willingness to seed files. Usenet, on the other hand, stores files in a central location or server and while having a single location helps in providing greater speed, this also means there is limited availability of files due to limited storage. This refers to "retention" in Usenet lingo. Retention refers to the period of which files are stored in a Usenet server. To assure you that you can find files from several years back, make sure you choose a Usenet provider that offers a high number of retention days. Top Usenet providers usually offer retention days of 3000 days and above. That's more or less 8 years of retention.
Usage
When compared to Torrent, Usenet does require a bit more of a time investment to learn how to use it. The setup is also a bit more complex, requiring the user to correctly configure their download client to work over SSL and requiring the user to learn how to find what they are interested in on the USENET system. With a bit of time, however, learning these things is not particularly difficult.
Conclusion
Both Usenet and Torrent have solid pros and cons. However, if you analyze it closely, the cons of Usenet are balanced out with certain service offerings, available information and other Usenet components which make it a more convenient and efficient tool for file downloading. For example, while there is limited storage on Usenet servers, a lot of Usenet providers have a very good amount of retention as part of their service. And although there is a bit of a learning curve involved when using Usenet, there are a lot of tutorials online on how to use Usenet. Once you get the hang of it, Usenet is pretty much easy to use. File processing is also addressed with the use of a major Usenet component, newsreaders, which automatically extracts compressed files.
To summarize, while a lot of factors that may be considered by some as cons of Usenet, they are addressed with solutions and available information. And while it may cost you a few bucks monthly to access it, USENET can be a better option ultimately because of its speed, increased safety and security.