Usenet Resource Downloader Review
Last Updated: Jan 12, 2022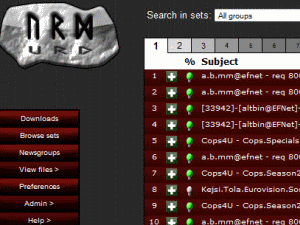 Rating
Price
Free
Features
Download Software
PHP Script
Discontinued in 2011
Like Spotweb
EDITOR'S NOTE: Usenet Resource Downloader has beeb discontinued since 2011.
Usenet Resource Downloader was an web-based application for downloading usenet binaries. It was written entirely in PHP and stored all the information it needed in a generic database. Downloading files required only a few mouse clicks, and when the download is finished it can automatically be verified and extracted.
URD was developed by  Gavin Spearhead and the main selling point of URD is that downloading from Usenet can be as easy as using p2p software!
Also you dont need to rely on an external websites like NZB indexing websites and it should simply the whole process of Usenet. If this sounds a bit complicated it does look a bit that way but also think of how complicated bit torrent is getting with seed box and protocol encryption, etc.  Also with URD it is possible to create and download an NZB file from specified articles as well.
Here is a picture of URD in action.