USENET Crawler Throws in the Towel
Last Updated: Nov 04, 2019
Is USENET Crawler currently up? [see our uptime chart for USENET Crawler][1].
April 2020 – Usenet Crawler is back in business
November 2019 – Newsflash Usenet-Crawler has been down for a few weeks and may or may not come back up again. We love Usenet Crawler but the site goes down often.
USENET Crawler, a relatively new indexer, has thrown in the towel following pressure from BREIN. Reposed on Reddit, a complaint from BREIN cites alleged copyright infringement as the reason that the agency demanded that the site be taken offline.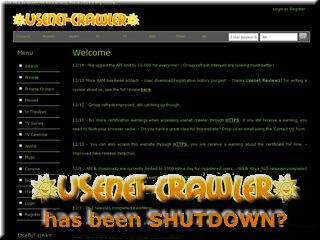 The site owners apparently ignored requests from the agency but, after a time, BREIN contacted the webhost for the site. Within 24 hours of BREIN contacting USENET Crawler's webhost, the site was taken down.
The site may not have officially given up as of yet, however. In talking with the site developers, they said that they may be setting up a site on another host and getting back online soon. The BREIN organization is known for attacking the owners of the sites that they take down, including seizing bank accounts, and the site developers are considering whether to start up again very carefully. The people behind USENET Crawler do still have possession of their domain and may move it over to another registrar outside of the Netherlands. - Also worth a look would be our [list of Best NZB Sites][2].
Other Offers
There are always other places to host. While USENET Crawler may have received such notices, they're considering carefully whether or not to have another go at providing NZB indexing services, nothing is officially set as of yet.
The Netherlands is among the nations that have cut access to certain sites based on copyright infringement claims. The Pirate Bay, for instance, is blocked in the nation, though many users just connect to that site through a proxy service. Even one of the proxy owners, however, has been targeted by BREIN over offering clients unfettered access to the Internet.
BREIN
BREIN is the Bescherming Rechten Entertainment Industrie Nederland, roughly the equivalent of the RIAA in the United States. The organization has already shut down several popular sites, including the Dutch version of eDonkey. The organization has been the target of controversy itself. The agency has seized servers and bank accounts in the past, though it has no legal authority to do so. Members of the agency have also been accused of taking equipment from alleged pirates for their own use and of faking some of the evidence used in their cases against alleged pirates.
The last few months have seen a [large number of USENET indexers go online, many of which have been profiled here][2]. For every one that goes away or is taken down, it seems as if more of them pop up to fill the vacuum.
Important Links
[Usenet Crawler Uptime Chart][1]
[Best NZB Sites of 2022][2] [1]: /usenetcrawler-review/ [2]: /nzb-sites/