Usenapp Review
Last Updated: Jan 28, 2022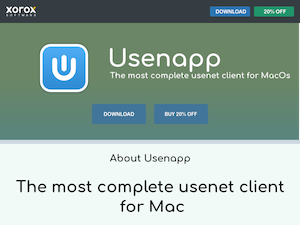 Rating
Price
€29.98
Retention
4936 Days
Free Trial
None
Features
Advanced Newsreader
Searches, Imports and Exports NZB Files
Auto Repair and Extract
Usenapp is a relatively new client that has multiple features that include a newsreader function, NZB search and downloader, SuperSearch and MegaSearch. It is a 64-bit Usenet client for MacOSX that also provides Newznab and Spotweb support. It requires a MacOS version of v10.11 or higher and it works perfectly with macOS Monterey 12.
Usenapp was developed by Xorox Software. While it is relatively fresh in the Usenet industry, it can compete well with other top newsreaders in the market. Aside from the above mentioned features, this Usenet client has a lot more to offer in terms of functions that provide an efficient and convenient Usenet experience.
Highlighted Features
As a complete and full-featured Usenet client, Usenapp has a lot of good functions that appeal to most users and downloaders.
Newsreader function
browse newsgroups and join threaded discussions
downloads headers quickly and efficiently
powerful filtering for unwanted content
articles grouped by thread and files are joined as archives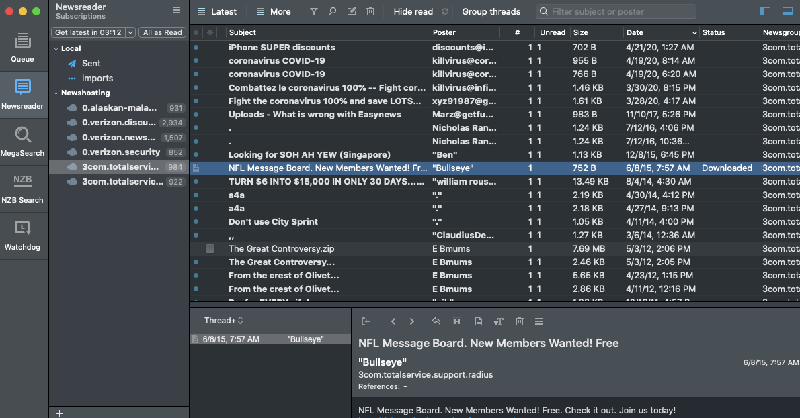 NZB Search
Supports a large number of NZB indexers
Includes Spotweb and Newznab sites and SuperSearch
Option to upgrade to MegaSearch at €1.99 (MegaSearch searches Usenet up to 11+ years back)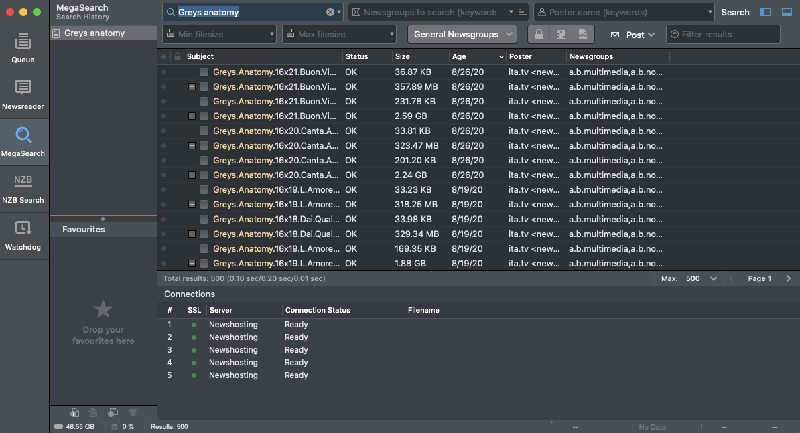 NZB Support
Import and Export NZB files
Drag & Drop option or NZB Watch Folder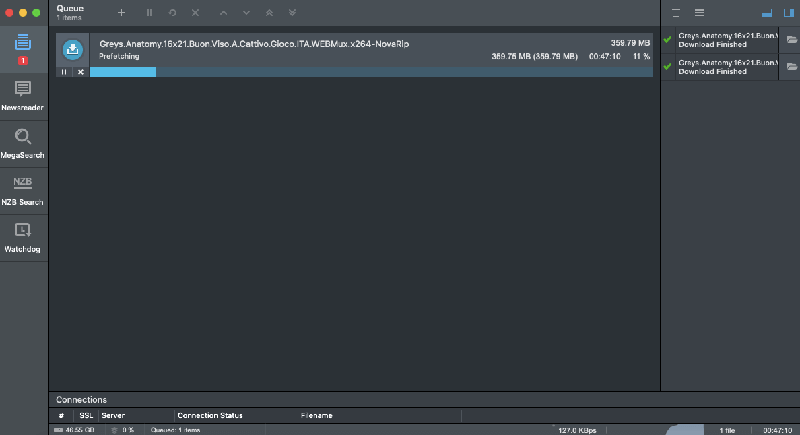 Fast Download Speed
Built to download binaries at full speed
Has a built-in speed limiter to reduce download speed at a specific time of the day
Multiple servers and back-up server supported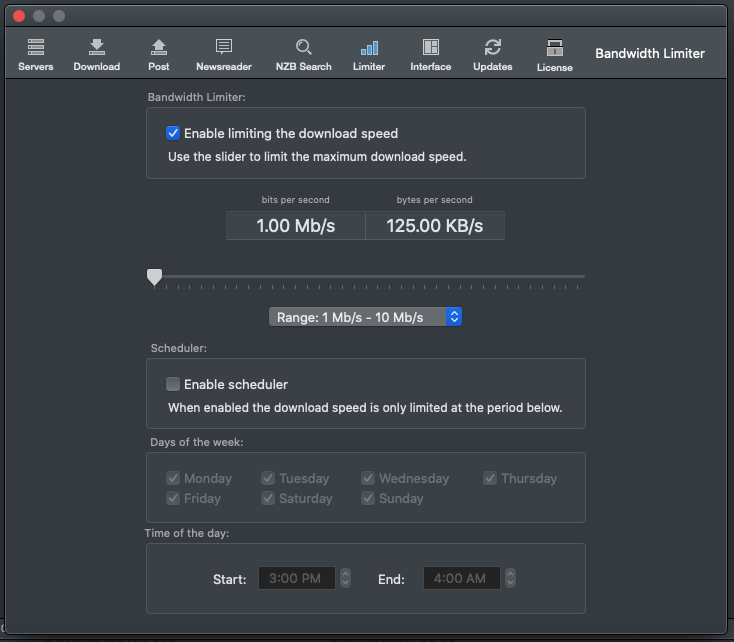 Auto Repair and Extract
Automatically repairs, merges and extracts downloaded files
Keyword Setup to delete unwanted extracted files
Moves remaining files to a final destination disk
Watchdog Auto Download
Checks indexers for content and downloads files right after they are posted
Multiple search entries allowed on Watchdog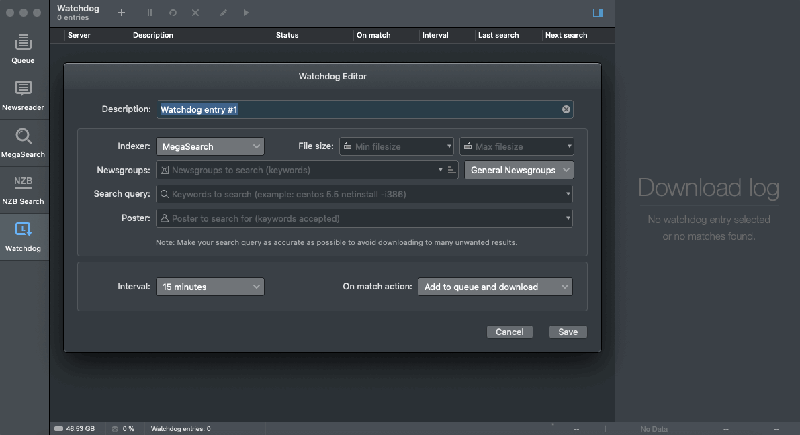 Plans & Pricing
Usenapp costs €29.98 and includes a Usenapp license, a free SuperSearch license, and access to its MegaSearch feature for the first 3 months. The license can be installed on a maximum of 3 devices. Also, MegaSearch would cost an additional €1.99 after 3 months of free use.

Usenapp currently has a 20% discount for users who visit their website. Instead of the usual €29.98 fee, you can purchase this newsreader for €23.98.
Also, if you have previously purchased a Usenetic license, you can buy Usenapp with a discount.
Payments can be made via Mastercard, Visa, PayPal or iDeal.
Free Trial Information
You can download a trial version of Usenapp from their website. You can have full access to Usenapp for 7 days by downloading and using this trial version.
Usage Overview
Specifically developed for Mac users, Usenapp was designed with ease of use and convenience in mind. It makes Usenet search and downloading easy for a lot of users by providing useful features and efficient ways to improve the whole Usenet experience.
Like any other newsreader in the market, configuring and using this program requires a bit of learning and getting used to. But once you've properly configured your settings and you've figured out the whole interface and its multiple functions, you can fully enjoy all the functionalities of this Usenet client.
Usenapp requires macOS v10.11 or higher and works perfectly with macOS Monterey 12. Usenapp runs natively on both Apple silicon and Intel-based Mac computers.
Installation
You can get a .dmg file or mac installer from the Usenapp website by looking for the download button. After downloading the said file, simply open it and move your Usenapp icon to your Applications folder. Once you open the Usenapp software, it will launch a Usenapp agreement prompt. Just agree to the terms and then proceed with configuring your settings according to your preference.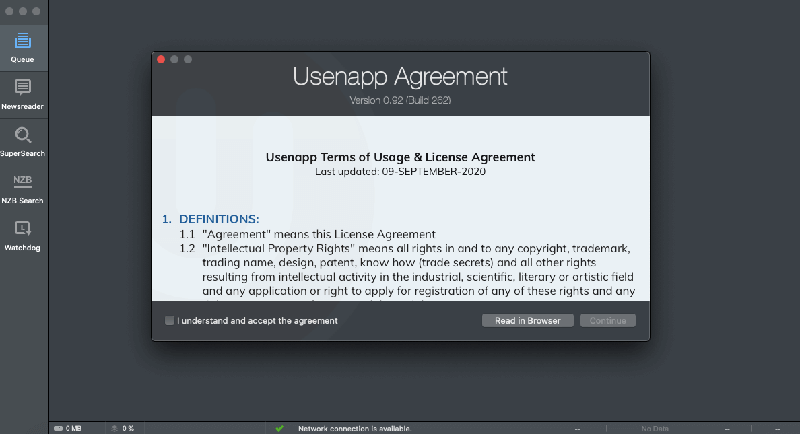 Configuration
To use Usenapp, you would first need to configure your server settings based on details from a reliable Usenet service provider which included the server address, port and required username and password. You can also select what to you the server for: downloading or posting or both.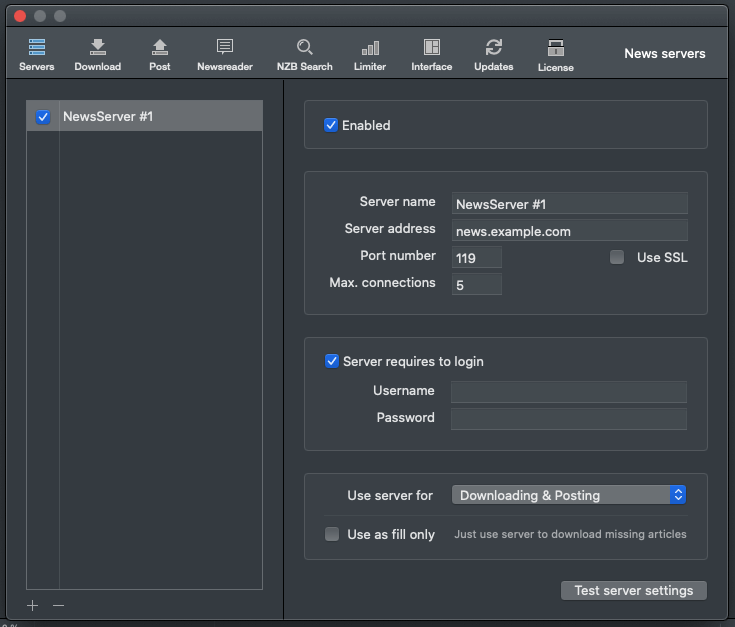 After you've configured your server settings, you can test if it works by clicking on the test server settings button. The software would gauge if the setting you entered works well or not.

Usenapp also allows users to customize the interface of the program from font sizes, keyword highlighting to color theme. You can also select if you want to enable colorful rows or queue in the dock.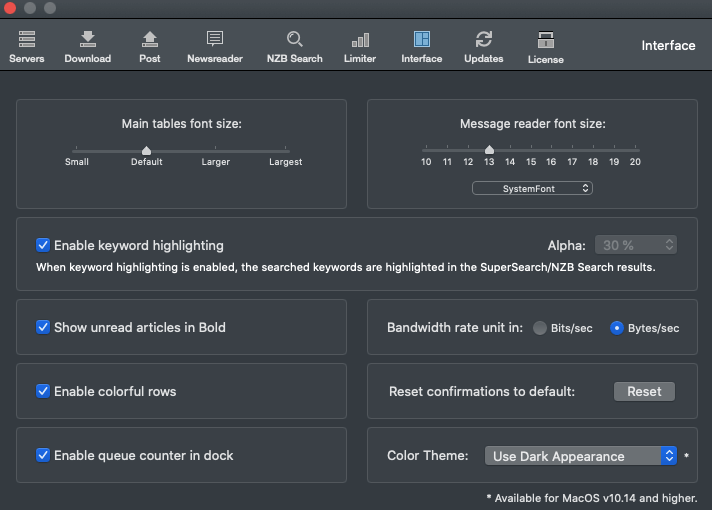 To search for NZBs on Usenapp, you would also need to add indexing sites by selecting the type of indexing site, either Newznab or Spotweb, and then entering the server URL and API key if required.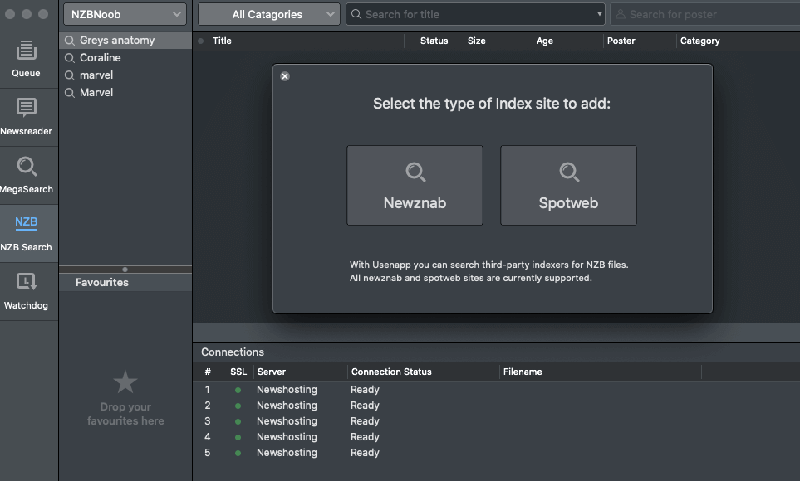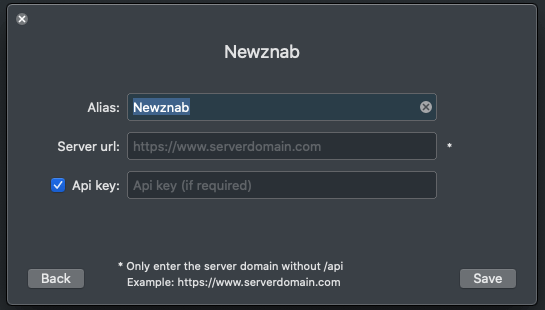 Scheduling & Automation
One of the main features of Usenapp is that it automatically repairs, merges and extracts downloaded files. Aside from this, Usenapp also has a "Watchdog" feature that monitors and checks your loaded indexers. Simply set up as many Watchdog entries as you want, and this downloads the files you are looking for as soon as they are posted and are available.
Usability
While configuring and initially using Usenapp requires a bit of a learning curve, you can eventually enjoy all the perks of this Usenet client once you get used to all its technicalities. For veteran users, setting up and using Usenapp will be as easy to use as other convenient and top newsreaders in the market.
Searching from newsgroups and downloading NZB files can be a breeze if you have properly configured your settings and have provided all the necessary information correctly. To download files, simply click on your desired search result and this will automatically put the file on queue. And with its other advanced features like MegaSearch and Watchdog, Usenapp improves a user's Usenet experience even more.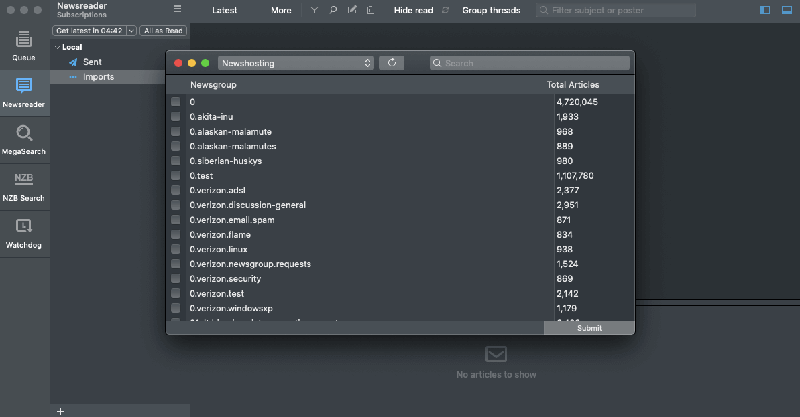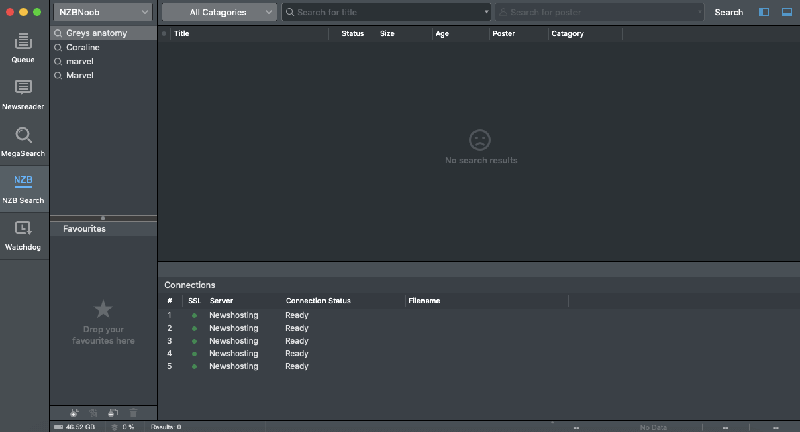 Conclusion
Usenapp is a good choice as far as Mac-compatible newsreaders are concerned. And while this software is relatively news and is not as well-known as our best Usenet newsreaders, Usenapp still has impressive features that allow it to be as competitive as other Usenet clients out there. However, using Usenapp comes with a price. And while there are other capable Usenet clients in the market that are free to download and use, we think that you get what you pay for with Usenapp. It has some offerings like its MegaSearch and Watchdog function, which is not a common feature for all Usenet clients. At the end of the day, it all boils down to the decision if you are willing to pay for a decent newsreader or not. So to make sure if Usenapp suits your needs, you can freely test out the software for 7 days.
Visit Usenapp
Best Usenet Newsreaders