TheCubeNet Review
Last Updated: Jan 18, 2022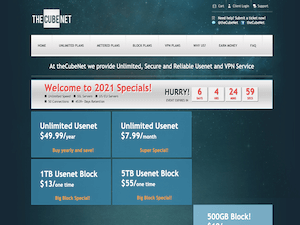 Rating
Price
$9.99 / Month
Retention

5525

Days
Free Trial
None
Features
Many Plans
Block Plans
Cryptocoins Accepted
TheCubeNet offers a variety of different plans, including block and subscription access. The Usenet service provider also includes VPN plans for all-around privacy protection.
Quick Facts
3000 Days Retention
Block Access
SSL (Privacy Protection)
US & EU Servers
Accepts Bitcoin, LiteCoin and Ether.
Binary Retention
TheCubeNet currently offers more than 3000 days of binary retention on all their plans.
Pricing
You can add VPN to any plan for $3.99 per month or $27.99 per year. For Usenet accounts, please see below
Unlimited Plans
| Plan | Price | Connections |
| --- | --- | --- |
| Unlimited 10 | $11.99 | 10 |
| Unlimited 30 | $12.99 | 30 |
| Unlimited 50 | $9.99 | 50 |
| 12Mbps Unlimited | $10.99 | 20 |
Metered Plans
| Plan | Price | Connections |
| --- | --- | --- |
| Metered 30 GB | $4.99 | 50 |
| Metered 60 GB | $5.99 | 50 |
| Metered 125 GB | $7.99 | 50 |
| Metered 250 GB | $9.99 | 50 |
Block Plans
| Plan | One-Time Fee | Connections |
| --- | --- | --- |
| 5 GB | $2.99 | 50 |
| 25 | $6.99 | 50 |
| 50 | $10.99 | 50 |
| 75 | $12.99 | 50 |
| 100 | $14.99 | 50 |
| 200 | $19.99 | 50 |
| 500 | $39.99 | 50 |
| 750 | $59.99 | 50 |
Block plans have no expiration date and is shareable to up to 3 users.
Free Trial Info
There's no free trial with this provider, but they will give a full refund on any metered or unmetered plan within seven days of your purchase if you're not happy.
Special Offers / Coupons
If you buy a longer term of service, it equates to a discounted price. TheCubeNet also offers occassional discounts during special seasons like holidays and black friday, to name a few.
Speed Test
TheCubeNet tested well in our speed tests. Remember that you can generally expect USENET service providers to max out your bandwidth. If your speed is not as fast as advertised, adjust the number of connections you have to your provider's servers.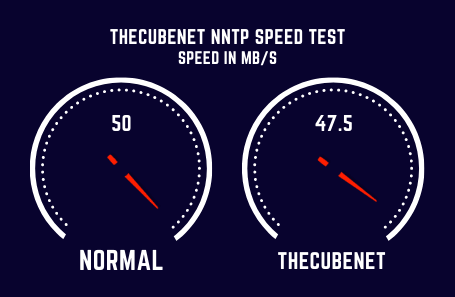 Connections
Depending upon your plan, you'll get anywhere from ten to fifty connections to this provider's servers.
News Servers / Ports / Configuration
US Server: news.thecubenet.com
US Secure: secure.news.thecubenet.com
Europe Server: europe.thecubenet.com
Europe Secure: secure.europe.thecubenet.com
Normal Ports 119, 23, 443, 3128, 7000, 8000, 8080, 9000
Secure (SSL) Ports 563, 80, 81
Frequently Asked Questions
Q: What are LiteCoin and Ether? 

A: LiteCoin and Ether are both cryptocurrencies, similar to Bitcoin. This provider accepts all three types of cryptocurrency, which some people prefer to use due to privacy concerns.

Q: Why would anyone want a metered plan?

A: Metered plans are sort of a compromise between block access and subscription access. You'll pay a monthly fee for your subscription, but be limited to a given amount of data download per month. This works best for some users, though most will likely do better with either block access or a subscription, depending upon their usage patterns.

Q: What's the VPN add-on?

A: VPNs provide you with privacy protection for all your online activities. The SSL encryption this provider offers only protects your USENET traffic from being spied upon. If you want more privacy protection than that, a VPN is a fine solution. Several of our best providers also offer VPN add-ons.

Q: Are the unlimited plans from this provider competitive?

A: This really depends. The Unlimited 10 plan is comparable in price with other providers, but offers fewer connections than our preferred providers do for the same money. While some users might be able to get away with ten or fewer connections and still max out their bandwidth, most will likely require a few more than ten connections. Going up to thirty connections maximum—which is closer to what our best providers offer—should alleviate such problems, but the prices at that level are higher than our preferred providers offer.

Q: Is live support really an advantage?

A: Yes, it can be, particularly for users who are just getting started with USENET. Many providers offer live support, either over the phone or via chat. Like most other USENET service providers, TheCubeNet has a detailed FAQ on its site that provides information that should answer most questions without having to use live support.

Q: Who might want block access?

A: Block access is a great deal for many users, particularly those who haven't used USENET before and who just want to try it out. This provider offers very cheap block access, as do our preferred providers. If you're on the fence about getting USENET access, go ahead and try block access. It never expires and there's no monthly bill, so it can be a great deal.

Q: How do I turn on SSL?

A: SSL is provided over specific ports. In order to use it, you'll have to set your USENET client to use the appropriate port. On most clients—not all—there will be a checkbox that indicates to use SSL over the connection. Use the right port and select the correct option and you can access your USENET service with solid privacy protection.
Support
TheCubeNet has plenty of support options. You can send an email to support@thecubenet.com or use their online ticketing system. Failing that, you can use the following phone number: 800.646.3961
Contact Information
General questions about this provider and their services may be emailed to info@thecubenet.com.
Security /Company Privacy Policy
TheCubeNet says the company only collects information related to payment. Your USENET usage will not be disclosed unless the company is presented with a warrant.
Payment Options
TheCubeNet accepts credit cards, PayPal, Bitcoin, LiteCoin and Ether.
Our Opinion
TheCubeNet has some good offers and we do like some things about this company. They take three separate forms of cryptocurrency and offer an add-on VPN, which are both great features for people who are worried about maintaining their privacy. It's also flexible, since some people who cannot use online payment methods for one reason or another can use cryptocurrency instead. TheCubeNet also offers SSL on its connections, something we recommend you never go without.
The unlimited and metered plans are priced competitively, but still get edged out by our best providers. Along with the fact that some of our preferred providers allow you to get a VPN subscription with your USENET for a very low price, this pushes TheCubeNet out of the running a bit in terms of price.
While this provider is definitely doing things right, they're not quite at the level of Tweaknews, Newshosting and our other top providers who have really excelled at making affordable, flexible USENET access packages available. We like TheCubeNet, but still have to recommend our top providers over them. In the future, however, this is a company to keep an eye on. If their prices go down a bit, they'll be competitive with just about anyone out there and they seem to have a good support system going, on top of it.
For block access, however, we still recommend any of our preferred providers. For subscription access, the best Usenet service providers offer more bang for the buck, so we recommend them there, as well.
Visit TheCubeNet