Text Only Usenet Newsreaders for Linux
Last Updated: Aug 22, 2022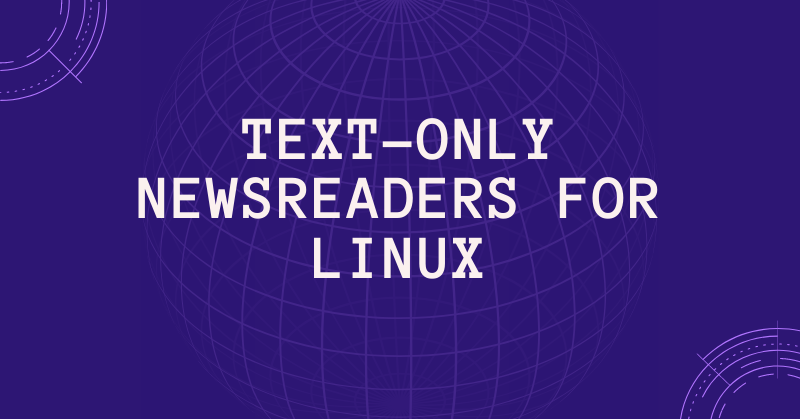 Usenet is a large-scale decentralized information distribution system. First developed in the early 1980s, it has grown over the years into one of the world's largest messaging networks. In its heyday, Usenet allowed over 100,000 newsgroups to discuss just about anything.
Due to the distributed nature of Usenet, there are multiple ways to access the network. One such method is to use Google Groups. While this may appeal to some, accessing his Usenet via Google is not always the best solution. In this article, we list down great alternatives for browsing Usenet text files on Linux.
The Problem with Google Groups
When Google bought Deja.com's USENET archive, it created Google Groups, a Web-based discussion forum for newsgroups. Google Groups first went live in 2001. Its accessibility from a web browser and simplicity of participation, which simply takes a Google account, are two of its selling features.
The Google Groups interface, however, has a number of problems that make it difficult to use for discussions.
Discussions cannot be threaded in Google Groups. This makes it difficult, if not impossible, to follow a significant Usenet conversation in Google Groups.
The communications in Google Groups are formatted on a web page. Even if our post appeared fine when we uploaded it, it might not be visible to anyone who are not Google Groups users. There are also no filters in Google Groups. We have no method of getting rid of spammers and other bad guys from our mailbox.
Finally, Google Groups is used by spammers and other bad guys. As a result, the majority of Usenet users frequently filter out Google accounts. This makes it more difficult for Google users to participate in debates.
Usenet Text Newsreaders Today
Previously, a Usenet account from an internet service provider was necessary to connect to Usenet outside of Google (ISP). A subscription to an internet package was frequently included with this account. However, the majority of ISPs no longer provide Usenet services.
Fortunately, there are a few websites that provide text-only Usenet access for free or at a low cost.
AIOE
AIOE provides free text-only Usenet access. The Big 8 hierarchy and a sizable number of regional and local organizations are also included. The key distinction is that it doesn't require account registration in order for users to access the servers.
This implies that there are severe restrictions on how frequently you may use the AIOE network in a single day. There are time restrictions, for instance, when reading online posts. Additionally, AIOE has a minimal preservation period for Usenet posts.
Mozilla Thunderbird
An excellent Usenet client is Mozilla Thunderbird. Using the application, you can access Usenet servers to download news posts in addition to reading your email and RSS feeds offline.
Additionally, practically all Linux distributions include Thunderbird. In Debian and Ubuntu, use apt to install Thunderbird: sudo apt install thunderbird
After installation, adding a Usenet account is a simple process. You can accomplish this by selecting "Account Settings" from the Options menu.
Thunderbird will launch a new window and ask you what kind of account you want to add once you click the "Account Actions" and "Add Other Account" buttons there. Decide on "Newsgroup Account."
You must enter some details in the following window, including your name and the email address you want others to use to contact you.
The address of the Usenet server you want to connect to will be requested in the following dialog.
Once finished, click "Next" to complete the process. In addition to giving you access to a landing page where you can manage your newsgroup subscriptions, this will add the entry to Thunderbird's server list.
Eternal September
Private Usenet provider Eternal September offers free access to text-only newsgroups. It contains all eight of the Big 8 hierarchies in addition to several local and regional organizations.
Additionally, creating an account is really simple. Just visit the website and select "User registration," and the website will ask you for some personal data.
Following completion of the form, you can access Usenet using the connection details.
Individual.NET
Individual.NET is a premium Usenet service for text-only newsgroups, in contrast to the other two on this list. For 10 Euros a year, it now offers limitless Usenet access.
One of the key benefits of Individual is that spam is automatically screened at the server level, requiring less filtering than with Eternal September and AIOE.
Additionally, Individual.NET provides a retention time of 1175 days, which is remarkably long. Users who want to archive a newsgroup they are following will find this handy.
In addition, setting up an account on Individual.NET is simple. The "Registration" link is located in the right sidebar. Your desired payment method and the account information you want to use will then be requested by the website.
You can log into Individual.NET after completing the registration process to start a payment that will activate your Usenet account.
The Linux Usenet readers on the list below are preferable than using Google to browse Usenet.
Claws Mail
Claws Mail is a graphical email client that can read newsgroups, much like Mozilla Thunderbird. Claws has one benefit over Thunderbird in that it is incredibly lightweight, allowing you to use it on any machine that can display graphics.
Claws Mail is a graphical email client that can read newsgroups, much like Mozilla Thunderbird. Claws has one benefit over Thunderbird in that it is incredibly lightweight, allowing you to use it on any machine that can display graphics.
Nearly all Linux distributions are compatible with Claws Mail. As an illustration, you may use apt to install Claws Mail on Debian and Ubuntu: sudo apt install claws-mail.
After the installation is complete, add your Usenet server to Claws Mail. Click "Configuration" in the menu bar, followed by "Create New Account," to accomplish that.
To ensure that the account you are creating will be able to connect to a USENET server, click the "Protocol" drop-down list and choose "News (NNTP)" from the options.
In my instance, Eternal September is how I'm connecting. I have to give the server's address in order to do it.
Furthermore, reading and posting on Eternal September both require accounts. I must select the "This server requires authentication" button and provide my Usenet username and password in order to access my account with Claws.
By selecting "Subscribe to Newsgroup" from the context menu when you right-click the "news (nntp)" folder in the Server List after providing that information, you can search for newsgroups to subscribe to.
PAN
Pan is a dedicated graphical newsreader for Linux, in contrast to Thunderbird and Claws Mail. Pan has USENET-specific capabilities like post queuing, article header caching, and scorefiles as a result.
Pan is now a more alluring choice for someone looking for a flexible yet simple newsreader.
Pan is available from the majority of Linux repositories. Utilizing apt, install Pan in Debian and Ubuntu: sudo apt install pan
It is very easy to add your USENET server to Pan after that is installed. Pan will prompt you to create an account when you launch it for the first time.
From there, all that is required is the server address and any further account information that might be required.
When you're done entering this data, Pan will begin downloading each newsgroup the server hosts. If your Internet connection is particularly sluggish, it might take some time.
Then, you can join newsgroups by selecting "Subscribe" from the context menu when you right-click a group.