Supernews Review
Last Updated: Apr 21, 2019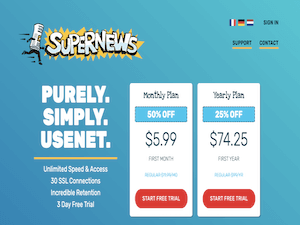 Rating
Price
$11.99 / Month
Retention
2357 Days
Free Trial
None
Features
US Servers
No EU Servers
SSL Included Free
Supernews is a well-known name among Usenet providers. They offer a reliable but basic service, good privacy protection and prices that are competitive, but not outstanding in terms of what you get for a subscription
Quick Facts
Three-day free trial
Unlimited Speed
Unlimited Downloads
In Business for Twenty Years
2,000+ Days of Binary Retention
Simple pricing
SSL Server Ports
Works with Most Usenet Downloading Apps
Binary Retention
Supernews offers 2357 days of binary retention and 2357 days of text retention.
Pricing
Supernews makes the pricing element easy: they only have one plan. Their single plan offers unlimited downloads and download speeds, so there's really nothing to weigh here. You can compare their pricing to any other company's unlimited plan to get an idea of how competitive their prices are. Keep in mind that a limited plan from another provider might be enough USENET access for some users and buying unlimited might be overkill.
| Name | Price | Download Limits | Connections | Free Trial | SSL |
| --- | --- | --- | --- | --- | --- |
| One Plan | $11/month | None | 30 | Yes | Yes, Included |
Free Trial info
Supernews offers a free three-day trial on your first signup only. If you're not interested in the service after trying it out, cancel before the three days have passed and you won't be billed.
Special Offers / Coupons
There are no special offers or coupons available for this provider at this time.
Speed Test
Supernews does well in terms of speed. For most users, however, the download speeds over Usenet will be in excess of their broadband connection's capacity, so keep in mind that your ISP might actually not be capable of providing as much bandwidth as a USENET provider offers.
Connections
Supernews offers thirty connections, which is more than most users will need. If you're trying to increase your speed by adding connections, add one at a time until your speed starts slowing, and then reduce your number to the amount of connections that gave you the highest speed. Remember: More connections do not always mean faster download speeds.
News Servers / Ports / Configuration
Supernews only has one server: news.supernews.com. You can configure SSL by using a port other than 119. We highly recommend that you use an SSL port to protect your privacy. Doing so will not affect your download times. Configuration procedures will vary depending upon the newsreader and other apps you're using to access the service.
Hostname
news.supernews.com ports 119, 23 and 80
Frequently Asked Questions
Q: Do I need SSL?
A: It's a good idea to use an SSL-enabled port, as SSL protects your privacy. If you're having trouble configuring it with Supernews or any other provider, go ahead and contact their support department to get guidance. It's not technically difficult to set up.
Q: Will this service work with SANnzbd, Sonaar and other downloading apps?
A: Yes, Supernews is compatible with these and most other USENET apps.
Q: Is this service safer than bittorrent?
A: Generally, USENET services—Supernews included—offer SSL and have good privacy policies, making them a bit safer for downloading than bittorrent, at least where being monitored is concerned. Remember, however, that you can use bittorrent with a VPN to protect your privacy.
Q: Is USENET faster that bittorrent?
A: In almost all cases, yes, Usenet offers faster download speeds than bittorrent.
Q: Is USENET from a US company riskier than it is from other jurisdictions?
A: Where privacy is concerned, Supernews says in its policies that it will not turn over your information to any law enforcement agency without a court order. If you're truly worried about a US company, however, you might want to try an EU provider.
Q: I'm brand-new to USENET , is this the right provider for me?
A: Supernews offers a bare-bones service. For experienced users, this might be perfect. Those just starting out, however, may want to go with a provider that offers a newsreader along with their service, such as Newshosting. Barring that, you can download a reader like Newsbin and downloading apps like SABnzbd to use the service. If you're new, however, this might be a complicated way to get started with USENET.
Support
Supernews only provides contact via web form. Support, billing and general inquiries all have their own email forms addresses. For users that are new to Usenet, the support options might be a bit thin with this provider, but Supernews generally does offer good customer service.
Contact Information
None given, but you can use the Contact page on the Supernews site to contact Supernews with questions about their service. This provider does not make a phone number or mailing address available on their site but, given their long history in the USENET business, that shouldn't be taken as a reason to not consider their service.
Security /Company Privacy Policy
Supernews does not share user information unless they're presented with a court order to do so. They will cooperate "fully with law enforcement agencies," according to their legal information, but will not give out information unless Supernews is presented with a court order.
Payment Options
Supernews accepts credit card payments and payment over PayPal. If you want to sign up for a free trial, you'll have to provide credit card or PayPal information at the time of signup. Remember to cancel your subscription within three days if you're not happy with the service.
Our Opinion
Supernews has been around for a long time and they provide a good service. Beyond that, however, they don't stand out among their peers as anything particularly remarkable. Their pricing is good, but for a comparable price Newshosting will give you the same level of access, along with a VPN service and a newsreader app, neither of which is provided by Supernews. Supernews is a good company they've been around for two decades and provide reliable and fast USENET access. There are companies that offer far more bang for the buck, however, and, given that Supernews hasn't updated their retention times in a while, there are better options.
Visit Supernews