StingyUsenet Review
Last Updated: Jan 22, 2022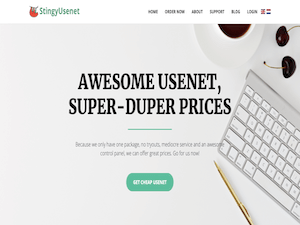 Rating
Price
€4,95 / Month
Retention
1900 Days
Free Trial
None
Features
1900+ Days Retention
SSL Included
Unlimited Speed
StingyUsenet is relatively new Usenet service provider with just a few years being in the business. Although they are one of the new kids in town, StingyUsenet has competitive plans that users can choose from depending on how long you want to use their service. The longer the availed plan, the lower the price. It's an all-inclusive service regardless of what package you select.
Quick Facts
€4,95 for 30 days
With monthly, semi-annual and annual plans
Unlimited speed with 50 connections
1900 days of retention
SSL Enabled
Bitcoin Accepted
Retention
StingyUsenet offers 1900 days of retention with a maximum of 1700 days.
Pricing
The Dutch company offers three plans. Each plan has an all-inclusive package. Download speed, number of connections and security do not vary regardless of which plan you avail.
| Name | Price | Connections |
| --- | --- | --- |
| 1 month | €4,95 | 50 |
| Semi-Annual | €28,95 | 50 |
| Annual | €54,95 | 50 |
Free Trial Info
As mentioned on their website, "because we only have one package, NO TRYOUTS, mediocre service and an exceptional control panel, we can offer great prices."
Special Offers
There are currently no special offers or coupons from this Usenet service provider. However, they do offer discount codes once in a while so you should be on the lookout for that here on our page.
Speed Test
StingyUsenet offers unlimited speed. Your only limit is your own internet connection. Here is how the Usenet service performed on a 50/Mbs connection.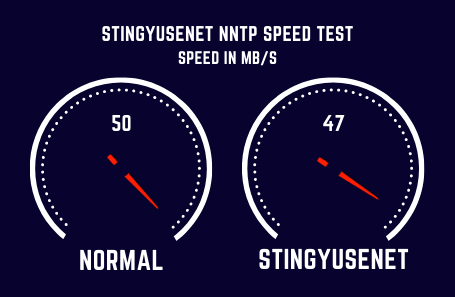 Connections
StingyUsenet has 50 connections, which is more than what most users will need. And since all their plans are an all-in package, you get the 50 connections regardless of what plan you avail.
News Servers/ Ports/ Configuration
StingyUsenet has only one news server: news.stingyusenet.com. You can use the following ports to connect: 80 & 119. To protect your privacy, you may opt to connect to SSL ports 563 & 443. SSL comes standard with all of their plans.
Frequently Asked Questions for StingyUsenet
Q: What to expect from StingyUsenet?
A: With its price point, you can expect an exceptional speed and a decent retention with the packages in their existing plans.
Q: Is Usenet faster than BitTorrent?
A: In almost all cases, yes. Usenet offers faster download speeds than that of BitTorrent.
Q: What are the specifications of their service?
A: StingyUsenet plans include unlimited speed with 50 connections, 1500+ days of retention and safety and security via SSL.
Q: Who is StingyUsenet's Usenet access processor?
A: StingyUsenet's backbone is Abavia who serves as their hosting and database and Usenet access processor.
Q: Does StingyUsenet offer support?
A: Yes. A contact form is available on their website and users may email them via support@stingyusenet.com, but receiving a response from them may take a while.
Q: Is StingyUsenet safe?
A: SSL comes standard with all of their plans.
Q: Does StingyUsenet monitor user activity over Usenet?
A: StingyUsenet does not log what users do on Usenet. It ensures you that your Usenet activity will not be recorded by StingyUsenet and cannot be seen by other users of their platform.
Q: Aside from being able to get information off of Usenet, can StingyUsenet users post on Usenet as well
A: StingyUsenet servers allow this. Users just need to use the same server address.
Q: Is account sharing allowed?
A: This Usenet service provider does not allow account sharing. Inform others about StingyUsenet rather than sharing your account.
Q: Is there a Paypal payment option?
A: There is no Paypal payment option, but the company has applied to Paypal. In the meantime, payments can be done via major credits cards, iDeal, Sofort and Bitcoin/ Bitcoincash among a few.
Q: Does StingyUsenet offer refunds for any reason?
A: Because money is well spent on new high-tech equipment for server farms, they do not offer refunds. But if a user feels like he or she really needs to get a refund, just contact them and they will work it out.
Q: Where can users go if they have other questions?
A: If you are an existing StingyUsenet user, you can open a ticket through your Control Panel and StingyUsenet will get back to you as quickly as they can. For non-users, use the contact form on their website or their support email address.
Security/ Privacy Policy
All personal data shared with StingyUsenet within the context of using their service is stored as long as you have an account with them and afterwards for a period of up to two years. They only share personal data with "processors" who assist in their services. These processors are used to store the login data and process payments of users, but they are instructed not to use any of these data for their own purposes. All processors comply with relevant legislation.
In a legal context, they said, "we will not share your personal data with others – unless we are legally required to do so".
Support
This Usenet service provider provides a contact form on their website and email support via support@stingyusenet.com. It's also important to note that they might not have a good response time. As mentioned on their support page, "do not expect to get a reply within an hour. Sometime we do, most of the time we don't."
Contact Information
Reach StingyUsenet via email: support@stingyusenet.com or through the Facebook page.
NectoFarm B.V.
Prümelaan 47
6824 HR Arnhem
The Netherlands
Payment Options
StingyUsenet accepts: credit cards, iDeal, Bancontact/ Mistercash, AliPay, Sofort-überweisung, Giropay, Multibanco, EPS, Przelewy24 and Bitcoin/ BitcoinCash
Opinion
StingyUsenet hasn't been around that long in the Usenet industry, but they provide an exemplary service for the price they offer. Although their days of retention could be better when you compare it to other Usenet service providers, you're still getting a great deal with their unlimited speed, connections that are more than what most people need and a secure system via SSL.
And while other Usenet service providers have differentiated packages across their multiple plans, StingyUsenet offers a one package service across all their plans which makes deciding which to avail a lot easier - no fuss in comparing what is included in each plan. The only thing you need to think about is if the price is right for you.
Visit StingyUsenet