Slrn Review
Last Updated: Jan 31, 2022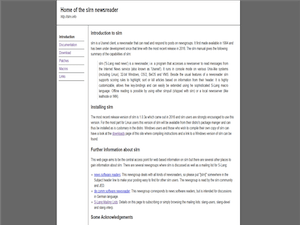 Rating
Price
free
Retention
500 Days
Free Trial
None
Features
Very Traditional Usenet Newsreader
Read and Respond to Posts
Works on Multiple Platforms
S-Lang Read News or Slrn is an NNTP-based Usenet client that accesses news servers to read messages from Usenet. Initially developed in 1994, the program has been updated several times with its latest version released in 2016.
Based on the Slrn manual, the program has the usual features of a traditional newsreader. Aside from that, it supports scoring rules to highlight and sorts or kills articles based on information from their header. Slrn is also highly customizable and allows free key-bindings. It can easily be extended using the S-Lang macro language and is capable of offline reading by using either slrnpull or a local news server like leafnode or INN.
The Slrn website was last updated in June of 2021.
Highlighted Features
As mentioned, Slrn is a traditional newsreader. It does not have advanced capabilities that other more modern newsreaders have. However, as a basic Usenet client, it functions well with the key features that it has.
Freeware, released under GNU licensing terms
Downloads headers
UnZips and UnRARs files
Advanced filter support
Allows free key-bindings
Multiple server support
Offline reading available by using Slrnpull or a local news server
SSL encryption, available
Anonymous and authenticated server access available.
Courtesy copy and miscellaneous settings are available
Customizable interface
Uses Slang editor to compose a message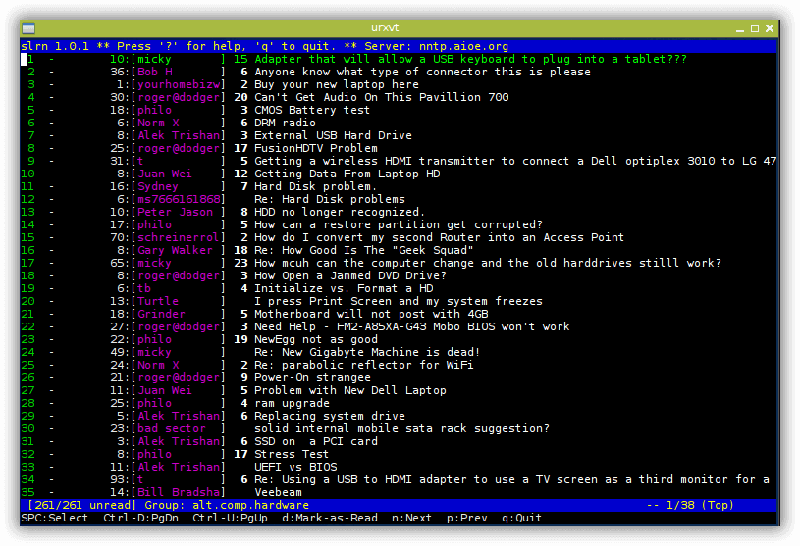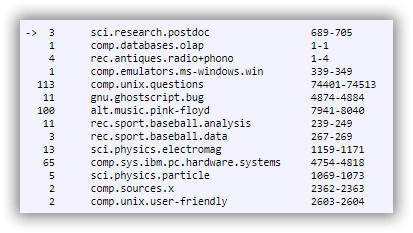 Plans & Pricing
Slrn is free to install and use. There is no donation information for this program.
Usage Overview
Slrn can run on multiple platforms including popular ones like Linux, Mac and Windows. However, the whole installation configuration process of this program is not as simple as other newsreaders in the market where you would simply need to download a file and run it to install. It requires some technical knowledge both to install and set-up. Meanwhile, its interface is also not as user-friendly as we'd like. It may be hard to figure out, especially if you are new to Usenet.
Installation
Users are encouraged to use the latest version of Slrn for its bug fixes and updates. The Linux version of slrn is available from distro's package manger and can thus be installed as is customary in the distro. Windows users and those who wish to compile their own copy of slrn can have a look at the downloads page of the slrn site where compiling instructions and a link to a Windows version of slrn can be found.
The installation process for this newsreader is quite complicated and varies depending on the operating system of your device. There are no installers readily available for Slrn. You would need to run some codes on your command prompt or terminal to be able to install this software. The information below is based on the guide stated on their website.
The source code for slrn 1.0.3 can be downloaded directly from the slrn releases page and compiled in the usual manner. Besides the obvious need for compiling software, slrn 1.0.3 also requires version 2.2.3 or greater of S-Lang and its "development" files to be installed before compiling slrn.
$ tar xavf slrn-1.0.3a.tar.bz2
$ cd slrn-1.0.3
$ ./configure
$ make
$ su
make install
The various configure options can be seen by using the ./configure –help command. Note: there has been a great deal of work done in recent times with slrn, so you are strongly advised to use the release version 1.0.3 rather than older versions.
There are a lot of installation instructions available on the Slrn website. There is also a direct link to a Windows package (.zip) available. You can check out their download page and explore other links to learn more. The information and screenshots below are based on the installation guide included in their .zip file.
Unzip the entire zip file to your 'C:' drive. This will leave the expanded archive in C:/slrn.
Open the file 'nntpserver' with a text editor and on a single line place the address of your news server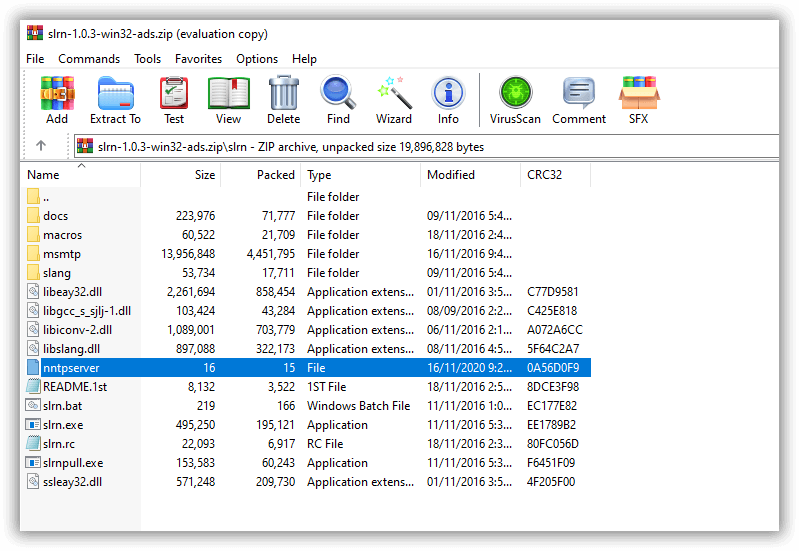 Optional: Add the slrn and msmtp executables to your PATH by running the following command in a 'Command Prompt (Admin)'. Reach this window from the following trail: Windows Key + x -> Command Prompt (Admin)

setx /m PATH "%PATH%;C:\slrn;C:\slrn\msmtp"

Configuration
As mentioned, the Slrn configuration process is also quite complicated. There are a lot of commands that you would have to do to fully customize your newsreading experience with this Usenet client. That being said, Slrn is highly configurable and they provide an abundant list of information on their website on how to customize user experience.
Usability
Slrn is available in multiple languages including English, Italian, Spanish and French. But despite this good feature, using this newsreader is still quite tricky. It is completely different from other modern-looking newsreaders that have icons and easy-to-click functions that provide efficiency and convenience to users.
You will definitely feel the need to intensely read the Slrn manual to be able to understand how to use this software. And with some luck and persistence, you might be able to enjoy the full features of this newsreader. However, we still recommend users to look into other more convenient newsreaders that are simpler and easier to use.
Conclusion
Slrn is definitely not a newsreader for the impatient and the "weak-hearted". From installation to actual usage, it requires a lot of technical skills, that although can be learned, take quite a bit of time – and that is something that not a lot of people have these days. It has a very unique interface, which we must say needs improvement, and functionalities and terminologies that are not at all user-friendly. This newreader is definitely not something that we can recommend to beginners, and we are quite certain that even veteran users would opt to go for simpler and more developed newsreaders out there. We recommend that you check out our list of the best Usenet newsreaders and see which one would work well for you.
Best Usenet Newsreaders