Prowlarr Review
Last Updated: Jan 11, 2022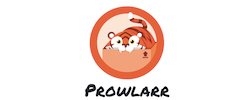 Rating
Price
Free
Features
Indexer Manager
Supports Torrent Trackers
Supports Usenet Indexers
Integrates With Various PVR Apps
Prowlarr is an indexer manager/proxy built on the popular arr .net/reactjs base stack to integrate with your various PVR apps. Prowlarr supports management of both Torrent Trackers and Usenet Indexers. It integrates seamlessly with Lidarr, Mylar3, Radarr, Readarr, and Sonarr offering complete management of your indexers with no per app Indexer setup required.
Prowlarr is constantly updated by its developers, and based on their github page there has been constant activity in terms of bug fixes, interface updates and other application improvements.
Highlighted Features
Usenet support for 24 indexers natively, including Headphones VIP, and support for any Newznab compatible indexer via "Generic Newznab"
Torrent support for almost 500 trackers and more coming soon
Torrent support for any Torznab compatible tracker via "Generic Torznab"
Indexer Sync to Sonarr/ Radarr/ Readarr/ Lidarr, so no manual configuration of the other applications are required
Indexer History and Statistics
Manual Searching of Trackers & Indexers at a category level
Support for pushing releases directly to your download clients from Prowlarr
Indexer health and status notifications
Per Indexer proxy support (SOCKS4, SOCKS5, HTTP, Flaresolverr)
Plans & Pricing
Prowlarr is open for donations and contributions via opencollective. Contribution details are as follows:

Usage Overview
Prowlarr is supported natively on Windows. Prowlarr can be installed on Windows as Windows Service or system tray application. However it can also work on OSX and Linux.
Installation
A Windows Service runs even when the user is not logged in, but special care must be taken since Windows Services cannot access network drives (X:\ mapped drives or \server\share UNC paths) without special configuration steps.
Additionally the Windows Service runs under the 'Local Service' account, by default this account does not have permissions to access your user's home directory unless permissions have been assigned manually. This is particularly relevant when using download clients that are configured to download to your home directory.
It's therefore advisable to install Prowlarr as a system tray application if the user can remain logged in. The option to do so is provided during the installer.
For OSX
For Linux
You'll need to install the binaries using the proper commands
Ensure you have the required prerequisite packages
Download the correct binaries for your architecture
Uncompress the files
Move the files to /opt/
Ensure ownership of the binary directory
Configure systemd so Prowlarr can autostart at boot
Reload systemd
Enable the Prowlarr service
For complete installation instructions and instructions for other platforms, you can check out the Prowlarr site.
Configuration
To add an indexer, first click on 'Indexers' on the left, then 'Add Indexer' (the Plus symbol) at the top of the page.

Choose your indexer from the list, or type a partial name in the box to find your indexer. If your indexer is not listed, please use "Generic Newznab" (for usenet) or "Generic Torznab" (for torrents).
Once you've selected your indexer, there will be a pop-up containing further information you will need to configure it. Note that the specific settings will change slightly for each indexer based on their required fields and the type of indexer you're configuring.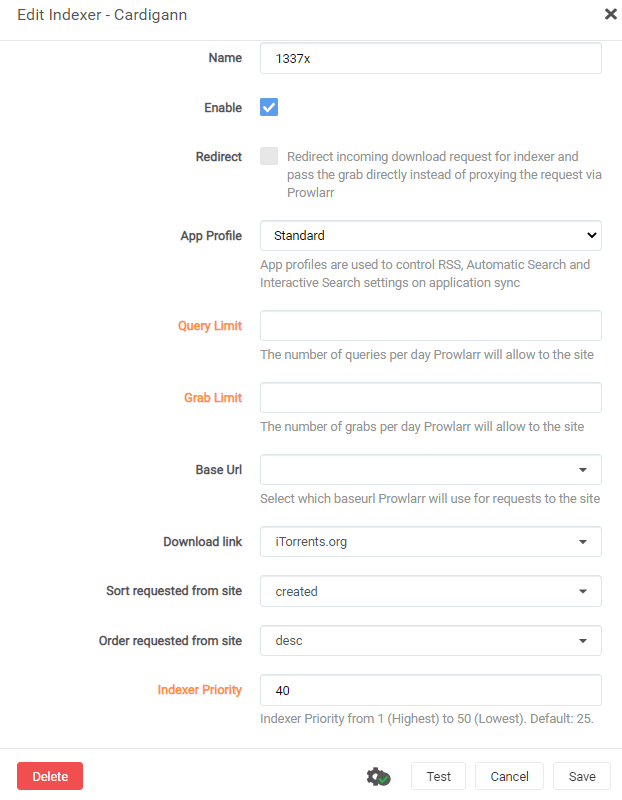 Test your indexer, and if a green checkmark appears, you're okay to save it. When you save it, depending on your sync settings, it will be added to your apps automatically.
You can also check out the settings page from the left menu to customize the following sub-menu options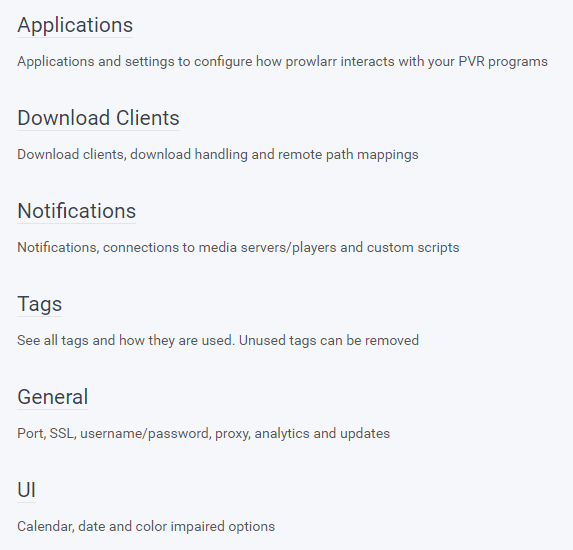 Scheduling & Automation
Prowlarr can be integrated with media automation apps Radarr, Sonarr, Lidarr and Readarr. You can do this at the Applications section of the settings page. Simply click on Settings > Applications and then click the + to add and *arr program.
All programs you can add are listed. You should only add programs you currently have installed, and if you have multiple instances of them, you should add each of them separately.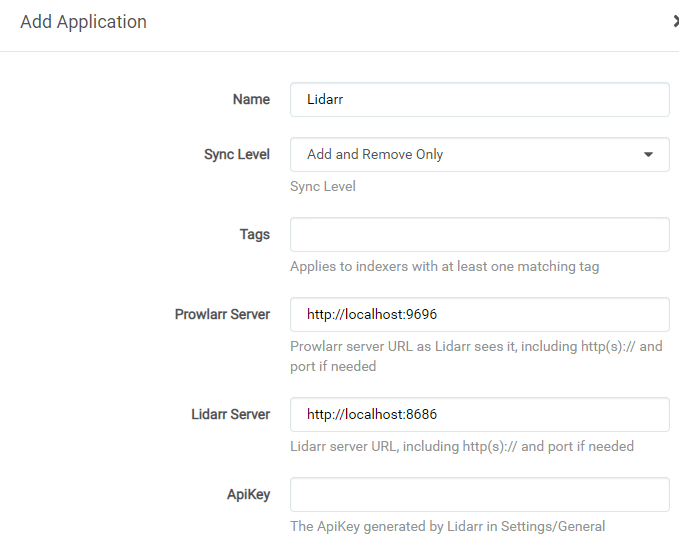 Enter a name for this indexer
Select your sync level for this indexer
Usability
Once you've configured your Prowlarr app, using it will be a breeze. Performing a search is quite basic and the process is as follows:
To initiate a search, click on Search on the left menu. There will be a mostly blank page with some options at the bottom of the screen.

Enter your search terms in the Query field
Choose your indexers in the indexers drop-down. You can check "Usenet" or "Torrents" to select all of the indexers in those categories automatically, or you can select specific indexers for your search from either group.
Choose the categories you want to search on your indexers from the drop-down. You can select top-level categories (TV, Movies, etc.) to select all of the sub-categories automatically, or you can select specific categories from any of the groups
Then click on 'Search'. Your results may take a few seconds to appear. Once they do, you can add or remove columns using the 'Options' button, and you can sort and filter your results by either clicking on the column headers or using the 'Filter' button.
You can download the result by clicking on the download icon on the right of the result. This will send it to the proper download client you have configured.
Conclusion
Prowlarr is a useful software to manage your indexers. While it may not be a very necessary tool for the whole Usenet process, it can definitely enhance your experience since it can be integrated with various PVR applications. It may take a while for you to set up this program and it may seem like a complicated tool in terms of configuring it and going through the settings. However, once you've figured it out and have learned the basics of it, it is a convenient and a really useful tool worth exploring.
Visit Prowlarr