PowerUsenet Review
Last Updated: Nov 29, 2021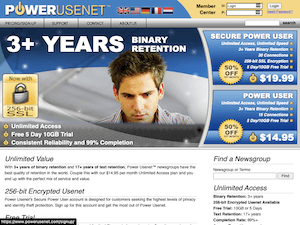 Rating
Price
$14.95 / Month
Retention
2000 Days
Free Trial
5 Days or 10 GB
Features
Free SSL
OK Retention
US Servers
PowerUsenet is a US-based Usenet service provider that offers encrypted and unencrypted USENET access. Their service is comparable with their competitors, though their prices are a bit higher than many.
EDITOR'S NOTE: While PowerUsenet seems to still be active and can be used, there has been close to no activity on their website or changes on their service for the past few years.
Quick Facts
Unlimited Access
SSL Encryption Option
Fast Speeds
Over 2000 Days Binary Retention
Up to 30 Connections
Five-Day, 10 GB Free Trial
Backbone: Multi-gigabit
Binary Retention
PowerUsenet offers 2000 days of binary retention at the time of writing. Text retention is at 18+ years.
Pricing
PowerUsenet offers two different account levels: one with encryption and one without. Both of them come with unlimited downloads and speed, though the unsecured "Power User" account is limited to fifteen connections.
| Name | Price | Download Limits | Connections |
| --- | --- | --- | --- |
| Secure Power User | $19.99 | Unlimited | 30 |
| Power User | $14.95 | Unlimited | 15 |
Free Trial info
Both account types come with a five-day free trial, with a maximum download limit of 10GB. Cancel before the trial ends and you won't be billed for the service.
Special Offers / Coupons
The first month of access on either account is reduced in price: $9.99 for Secure Power User accounts and $7.45 per month on standard Power User accounts. The prices increase to those reflected in the table following the first month of service.
Speed Test
This Usenet service provider tests well where speed is concerned. Remember that, if your speed is too low, you might have to increase the number of connections you're using.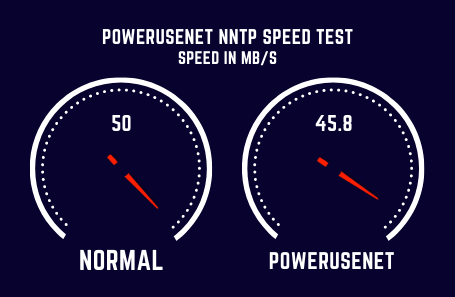 Connections
PowerUsenet allows users fifteen connections on their standard, Power User account. Their Secure Power User accounts offer thirty connections.
News Servers / Ports / Configuration
News.powerusenet.com: 119, 23, 80
Frequently Asked Questions
Q: Do I need the SSL package?
A: In our opinion, absolutely. SSL encryption provides you with protection against snooping by ISPs and other entities. Without it, your activity on USENET is transparent. Even though you might save a few bucks by going unencrypted, we don't recommend it. Always use encryption.
Q: Is the website contact form enough to get support?
A: PowerUsenet says that they provide always-available, high-quality support, but contact options are limited compared to other providers. They do provide an FAQ on their site that answers the most common USENET questions. If you have a more advanced question, however, the FAQ might not have much for you in terms of answers.
Q: Do I need 30 connections?
A: In all likelihood, no, you don't. Increasing the number of available connections provides a bit of extra value to the package, but most users won't use anywhere near thirty connections. For most, in fact, fewer than twenty will be all they need and any more than that is likely to slow down, rather than speed up, download times.
Q: How do I figure out how many connections to use?
A: Add ten connections to your downloading app. See how fast it goes. Add another 10 and see if it goes faster. If it goes slower, reduce your number of connections until you have the fastest speed.
Q: Does this company offer block access?
A: No, PowerUsenet only offers unlimited accounts on a subscription basis. If you want block access, check our reviews for other providers that offer it.
Q: This provider doesn't have a VPN, do I need one?
A: If you're using an encrypted connection to the USENET server—any provider's—you have adequate privacy protection. A VPN provides protection when you're using any online service, however, and the value-added element is that providers that offer a VPN add-on allow you to secure all your surfing. The encryption available from PowerUsenet will secure your connection to their USENET servers, but nothing else. Short answer: If you want encryption for everything, you need a VPN, so look for a USENET service provider that bundles it with their services. Newshosting and Tweaknews are two good examples.
Q: Do I need a newsreader with this service?
A: Yes, and this is a bring-your-own-reader service, meaning you'll have to use Newzbin, SabNZBD and other tools to download binaries and browse posts on the USENET system. PowerUsenet will work with the most popular downloading apps out there, including ones such as Sonarr and Headphones.
Support
PowerUsenet only provides web forms for support. They say their support is available 24 hours per day, but do not provide a telephone contact or other means of contacting support outside of their website.
Contact Information
PowerUsenet only provides a contact form for support. There is no separate contact email. General questions can be sent to the contact form on their website.
Security /Company Privacy Policy
PowerUsenet monitors their servers for performance, but says that they do not log user activity. The company says it will not surrender user information unless they are presented with a court order.
Payment Options
PowerUsenet accepts PayPal, Visa and MasterCard payments. Payments are automatically billed at the beginning of your service period each month.
Our Opinion
PowerUsenet isn't a bad service, but it doesn't really stand out among its peers. You'll save a few dollars by using their unencrypted option, but their unencrypted account is more expensive than encrypted accounts from providers such as Newshosting and Tweaknews. We do not recommend that users hook up to their USENET provider unencrypted, however. That means that, for our recommendation, you should get the $19.99 Secure Power User account from this provider, and that brings up issues with their pricing.
For $8.33, you can get an unlimited account from our best Usenet service provider, Newshosting which has better retention, the same number of connections and encryption. While PowerUsenet certainly does deliver where providing a fast, reliable service is concerned, the price point is higher than it is from some of their competitors. Add to that that much of their competition offers accounts that are more affordable and that they likely provide a high enough level of service for most users and the disadvantages here are obvious.
PowerUsenet is a good service and their encrypted package offers something competitive with just about any provider out there. However, they don't come through on price. While this provider really does well on the technical end, we recommend shopping around, if you don't need unlimited access, you'll be able to get more for your money from another provider.
Visit PowerUsenet