Pineapple News Review
Last Updated: Jan 31, 2022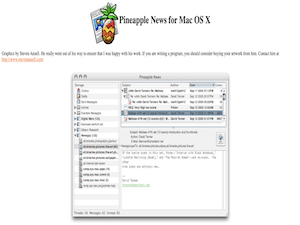 Rating
Price
free
Retention
500 Days
Free Trial
None
Features
Usenet Newsreader for Mac OSX
Primarily an Offline Reader
Basic Newsreader Functions
Pineapple News is a Mac OS X Usenet newsreader released in 2005. Primarily, it is an offline reader but has features and a user interface that is also functional for online use. Initially developed in 1999 as a BeOS software, Pineapple News was eventually released for Mac devices about 5 years later since BeOS and MacOS are quite similar.
It is a program that is easy to use and setup that even beginner Usenet explorers can run the software effortlessly. But while it is said that Pineapple News can run on Mac OS versions 10.3.9 or later, upon testing, it does not work on the most recent updates of Mac like Catalina or Big Sur. This may be because further development and support on this software has been discontinued since 2007. Usenet users may benefit from exploring other Usenet newsreaders in the market that have recently been updated and have continued support from its developers and the Usenet community.
Highlighted Features
Pineapple News is not a full-featured newsreader. While it can subscribe to, manage and read newsgroups, it is not capable of downloading NZB files. It can, however, read binary attachments of different file formats. Below are the main features of this newsreader:
Can connect to multiple servers simultaneously
Users are allowed to create multiple identities with each of its own signatures
Set individual groups for header-only or full article downloads
Create own storage folders
Killfile feature to ignore unruly posters
Built-in Spell Checker
Extensive Online Help
Quoted text in distinctive colors
Searches message text for URLs and Email addresses (turns them into clickable links)
Decodes binaries: yenc, uuencode, MIME base64, and MIME inline
Multi-language support
Finds parts of an attachment if they are spread across two or more message files and stitches them together

However, the program does not deal with RARs, PARs or NZBs.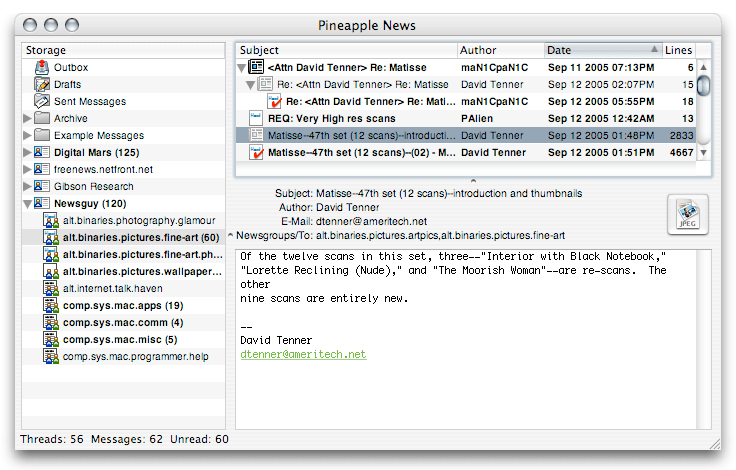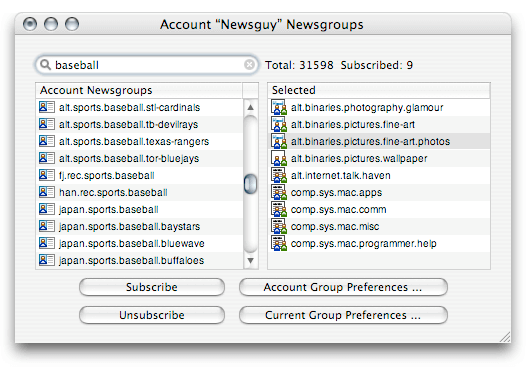 Plans & Pricing
Since its latest version release in September 2007, Pineapple News is completely free. Make sure you download the software from a legitimate site like their developers site - Platinumball. If downloading from a different site, make sure to run a virus check before using.
Usage Overview
Pineapple News was designed for simple set-up and easy use. While this newsreader is quite outdated compared to other newsreaders in the market, Pineapple News still has some pleasant features that make it a decent basic newsreader – but that is if you are able to install it on your Mac device.
Installation
As mentioned, you will need a device running on Mac OS X 10.3.9 or later. It is said to consume about 80MB on your device.
Pineapple News does not have an installer but a zip file that you can download from several reliable websites. The program can be moved to your applications folders or wherever you want to place it and you're good to go.
However, we would like to reiterate that upon our testing, Pineapple News does not run on the latest Mac OS versions like Catalina and Big Sur. The software has not been updated since September 2007, and no word about the program or the developer has been heard since.
Configuration
If you are able to download and open the Pineapple News program, the first thing you need to do is to configure your account preferences. There you will be required to enter your account settings, NNTP settings, and login information if your Usenet Provider requires this. Make sure you have an existing, active account with a reliable Usenet service Provider before using this program.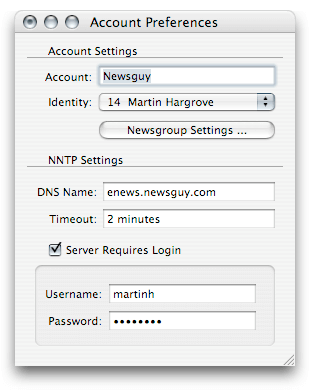 Scheduling & Automation
Being a basic newsreader, Pineapple News does not have any scheduling features or advanced automation functions. It can, however, automatically find and stitch separate message files that form one attachment.
Usability
Pineapple News has a clean and simple interface that would appeal to a lot of Mac users. It has a classic look that does not go out of style. Since it was developed with ease-of use in mind, Pineapple News can be navigated through effortlessly, especially if you are used to newsreader interfaces. If you are a newbie when it comes to Usenet, there may be a bit of a learning curve involved, but that should not take a lot of time since using this program is convenient from installation to actual usage.
In terms of activity, Pineapple News shows users the progress, actions and status of these activities. It even provides support for multiple languages to cater to different users.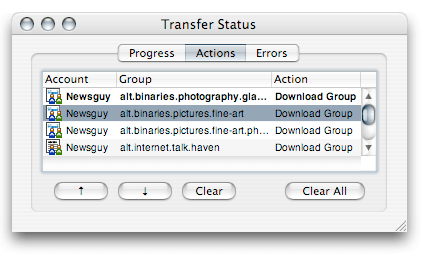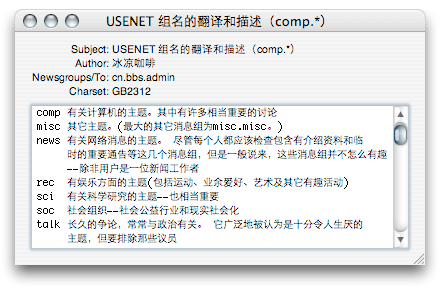 Conclusion
While Pineapple News is a decent Usenet newsreader for Mac OS X, it can benefit from being improved even more. Sadly, updates and support on this newsreader has been long discontinued and no additional information on Pineapple News can be found anywhere else except from several software sites. And while we like how simple it is to install and use, it lacks a lot of functions that our best newsreaders can provide. Users would definitely be better off with recently updated, constantly developed and more full-featured newsreaders.
Best Usenet Newsreaders