PhoneNZB Review
Last Updated: Feb 14, 2022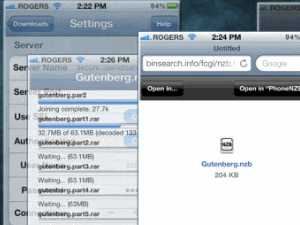 Rating
Price
Free
Features
PhoneNZB Software
4 JailBroken IOS
Usenet Downloads IOS
Not Recommended
PhoneNZB is an unapproved iOS app that allows you to download USENET content to your iPad or iPhone. It features a very easy to use interface that shouldn 't make it difficult for anyone to set it up and start downloading. PhoneNZB allows you to do more than just control your USENET connection remotely or to access your account from your provider. With this software, you can actually download the files to your mobile device. If that sounds like something Apple wouldn 't let you do, you 're exactly right.
EDITOR'S NOTE: While it seems like PhoneNZB still works, there have been no updates with this application since 2013.
Jailbreaking
You have to jailbreak your iPad or iPhone to install this app. Apple currently does not allow users full control of their devices, so you have to get rid of their restrictions to take advantage of PhoneNZB. There are programs that you can use to jailbreak your iPad or iPhone automatically, so don 't think that you have to master iOS to accomplish this. In fact, you can even do it on a PC, so users who have an iPad or iPhone but who use Windows for their desktop platform can still get rid of the nuisance restrictions.
PhoneNZB is loaded with features. According to their literature, those features include:
Integration with par2GUI, which will take care of reassembling PAR files for you when you download them.
Download Usenet files directly to your iOS device
Files that iOS supports can be viewed directly from the app itself
You can extract RAR files
It will run in the background and give a vibration notification when a download is completed
It supports SSL
For par files, it will launch par2GUI, if it is installed, to verify/repair files
Partially downloaded files will be resumed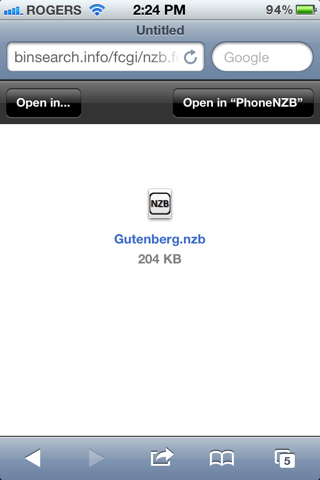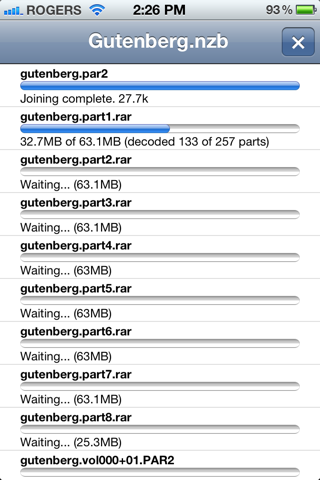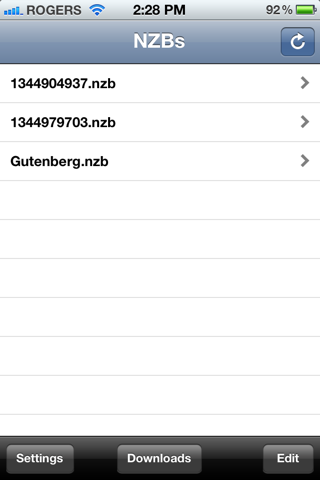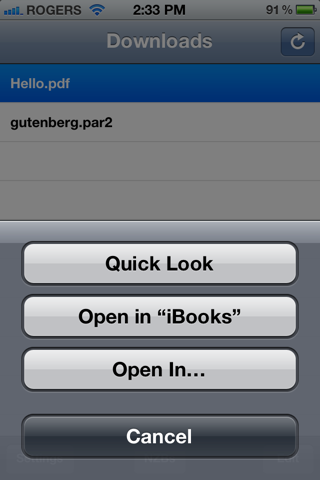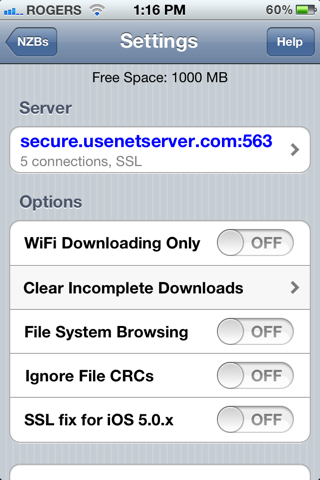 Using It
PhoneNZB is downloaded from the Cydia store. Once you have it downloaded, you can download NZB files from Safari. To launch the app, all you do is click the option to open the NZB in PhoneNZB. - See also our list of leading NZB sites.
To transfer files off the device, you can use iExplorer, it's free and wired so it's fast. Otherwise use a file management app such as iFile. Mac iExplorer doesn't like symlinks, so look here instead: /private/var/mobile/Library/PhoneNZB/Downloads
Check storage free space before downloading or rar extracting. Setting connections to greater than 10 is untested.
You do need a USENET access account to get the binaries. Any of our preferred providers will give you all the access that you need. You 'll also need to jailbreak your device before you install PhoneNZB. It will not allow you to install it otherwise.
Whether or not you want to jailbreak your device is up to you. Some users recommend against it but many users who actually want to be able to install whatever apps they want on the iPad that they paid hundreds of dollars for highly recommend dispensing with Apple 's demands that you use their device in their way instead of in your own way. PhoneNZB allows USENET users to enjoy all the power of USENET on their Apple mobile device.