NZBin Newsreader Review
Last Updated: Nov 10, 2021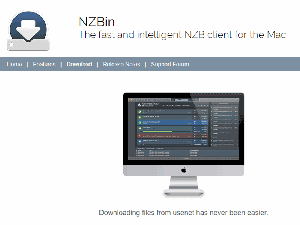 | | |
| --- | --- |
| Rating | |
| Price | Free |
| Retention | None |
| Free Trial | None |
| Features | Dead Site |
Editor's Note: NZBin has been discontinued. As mentioned on their website, you may check out their new Usenet client for MacOS, Usenapp.
NZBin is an NZB client for Mac OSX. There aren't nearly as many NZB clients for OSX as there are for Windows, of course, and this is one of the better choices among the admittedly limited options.
NZBin has a lot of features built into it that make it easier to get content from USENET. They include repair and extraction features, as well as features that help users to avoid newsgroup spam.
Installation
NZBin is available from the iTunes store. Just download it and go.
Using the Program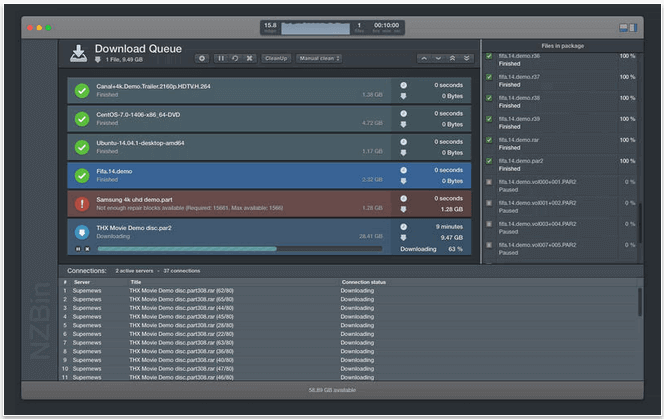 NZBin has an attractive interface that makes it easy enough to sort and manage your NZB files.
To start a binary download, you can manually import the NZB into NZBin or you can launch the NZB file directly. The content will start downloading right away.
When you do start finding NZB files, you'll benefit quite a bit from what the developers built into NZBin.
The program detects when binaries are taken down and does so very quickly. If you are downloading something that gets taken down, the program will move along to the next file on your list.
The binaries are extracted automatically by NZBin and repaired if they're damaged.
The spam filtering features include a password detector. If you start downloading something that is password protected, NZBin will give you a warning so you know not to bother with the download.
NZBin also corrects filenames that are scrambled or reversed.
When your download is finished, NZBin can move it to a different drive, if you prefer.
Technical Details
NZBin allows you to use unlimited connections. Combine this with the way it's set up to maximize your download speed and you could be getting your binaries much faster than usual.
The program also has some disk-saving features built into it. When NZBin finishes extracting content from an archive, it cleans up the unneeded files automatically.
There's a support forum on the NZBin site where you can ask questions directly, though it doesn't seem to get much use.
This program requires OS X 10.0 or later and a 64-bit processor.
Summary
NZBin is a good option for Mac users in need of an NZB client. The interface is well designed, so it's easy to find your way around once you download and start using it. It doesn't have the breadth of features that one might expect out of most Windows clients, but it does have the features that count, such as auto repair, the ability to move files and to clean up disk space. Mac users might want to give NZBin a try to see if it's a good replacement for their current client.
Visit NZBin
Best Usenet Newsreaders