NZB360 Review
Last Updated: Feb 14, 2022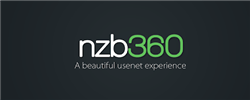 Rating
Price
$8.60/Yr
Features
Mobile Application
SSL/TSL/HTTPS Suppoter
Integrations to Known Applications
Payment via Paypal
Nzb360 is an NZB application that manages and controls your file downloads. It works well with Sickbeard, NZBGet, and SABnzbd. They claim to offer the best experience in controlling your Usenet downloads from an Android Cellphone.
Nzb360 is available on Android, and it supports all kinds of connections from SSL/TSL, HTTPS, reverse proxies, URL rewrites, and more.
The official website of the Nzb360 shows a lot of user engagement. They have over 7600+ posts, 100+ topics, and more than 2,600 members.
Highlighted Features
Android App
Compatible with all setups

SSL/TLS
URL Rewrites
Local connection switching
HTTP Auth
Reverse proxies
Wake-on-LAN (WOL)

Local and remote connections
Cloud save support
Retention: undisclosed
Ads: No Ads
Receive notifications. No configuration required
Add multiple servers
Always up to date
Attachments and polls supported
Friends and Foes lists
Bookmarking lists
Supports popular services:

Download clients - SabNZBD, NZBGet, Deluge, Transmission, uTorrent, qBittorrent, rTorrent
Search clients - Sonarr, Sickbeard, Radarr, Lidarr, Bazarr, CouchPotato, Headphones, Readerr
Indexers - Newznab, Jackett, NZBHydra2, Prowlarr
Currently NZB360 is on version 14 and has released several sub versions in 2021. Safe to say that this application is constantly monitored, developed and improved with new features and fixes including the following:
All new Dashboard. A completely new section that aims to combine all of your services into one quick and easy view to discover new content, see what's coming soon, check server health, and much more!
Dashboard -> Movies! You can now view the most popular movies being watched, see the latest downloaded movies, view upcoming/popular movies, and more!
Dashboard -> TV Shows! You can now view the most popular TV shows being watched, see the upcoming airing episodes, view trending new shows, and more!
Dashboard -> 360 Calendar! You can now view all of the releases across Sonarr/Radarr within the universal calendar view. (Android 8+ required)
Dashboard -> Server Health! You can now see your total downloaded amount across all download services, view available disk space on your server, and be alerted of any issues from Sonarr/Radarr. You can now quickly delete all finished Torrents via the 3-dot (more) menu.
Re-written Sonarr connection engine to support huge libraries (tested to up to 6,000 shows) and also improved loading performance.
Users can now press and hold the IMDb button in Dashboard/Radarr to jump right to the review section.
Upgraded image handling all throughout app to improve performance, caching, and memory handling.
Radarr movie detail view now scrolls the entire page, rather than just the info section.
Major library updates.
Revamped onboarding user flow.
Bug fixes and further improvements are done as sub versions of v14 are released.
Interface
The app is very well designed and easy to use. The app is linked to your Google account, which makes it personal with no sharing option available.
They also use wifi SSID- an advanced technology to track whether you're on a home network or remote.
The developers of this app are also open to suggestions and welcome voting for the app's new features.
Ease of Use
Nzb360 runs in an Android operating system, and it is a very handy and convenient way to manage your NZBs on the go.
They divide the settings into three sections: General Servers, and Indexers, in which you have the option to change based on what you need. They also include the queue list and history of your browsing in its features.
Membership Levels
The basic version of Nzb360 is free, but there is also an upgraded version good for a lifetime plan. An upgrade for Nzb360 is only 8.60 USD, and payments are made via Paypal. Some perks for purchasing Nzb360 PRO are the following:
Add contents to all services
Send items from search to SABnzbd/NZBGet
Backup/ Restore
Multi-select items in SABnzbd/NZBGet/Torrents
Add via IMDb
Manual search for Episodes/Movie files
Throttle speeds in SABnzbd/NZBGet
Download .nzb files directly to your device
Wake-on-LAN support
Offline queue
Control on finish action in SABnzbd (shutdown, hibernate, sleep)
Delete episode/movie files in Sonarr/Radarr
Upload local .nzb files to SABnzbd/NZBGet
And many more.
Support
Forums and contact forms are available both on the website and on mobile phones to help you with your concern.
Conclusion
Nzb360 has a lot of outstanding features, besides handy and easy to use. We found a lot of compliments from their users for being an all-in-one manager in their Usenet activities on the Android platform. The app is well-optimized, and it provides another level of Usenet experience.
Visit NZB360