NZB360 Review
Last Updated: Jul 30, 2019
Rating
Price
123.66
Features
Android App
NZB / Torrent Manager
Control Usenet
Control Torrents
NZB360 is, just as the name implies, designed to give you a way to control all of your different NZB activities. This is an app designed for the Android operating system. It gives you the ability to switch between different services and to consolidate these different services into one interface. It has features that work with SABnzbd, SickBeard and NZBGet. You can pick it up at the Google Play store and download it for your Android device.
This app has some great features going for it, but it does depend upon you having accounts with the services that it allows you to integrate. If you do, you can bring them all together in this one interface, which should be good news for those who spend a lot of time hunting on different sites for NZB files.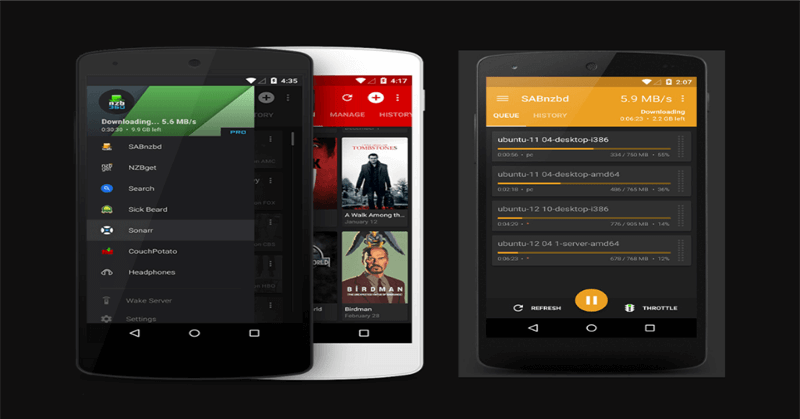 Supported Services
SABnzbd
NZBget
Deluge
Transmission
µTorrent
qBittorrent
rTorrent/ruTorrent
Sick Beard
Sonarr
Radarr
Lidarr
CouchPotato
Headphones
Unlimited Newznab Indexers
The System
NZB360 works with the biggest systems out there, so it should be flexible enough for the vast majority of USENET users. It supports SSL connections over SABnzbd and SickBeard. Any of the advanced features it supports on the various NZB services are dependent upon your account with that service, however. For instance, you'll need to have an account with NZBMatrix if you want to use NZB360 to access it.
The interface on NZB360 has an attractive layout and is very responsive. It has Nexus 7 support built into it, as well.
As far as Android apps go that make it possible for you to check NZB files, this one has a lot going for it. It hooks up to three of the most popular services available and allows you to use some of their most advanced features.
You will need a minimum version of SABnzbd+ 0.5 to use that service. If you want to use SickBeard, you'll need Build 496+. ( Also see our list of best NZB sites )
The Format
NZB360 has some features that may seem cosmetic, but that actually make it easier to use on a smaller device. For example, if you're using NZBMatrix, you can employ a layout – called the Sexy Movie Layout – that makes it easier for you to see what videos are available. NZB360 supports interface enhancements for SickBeard, as well, and has a very nice design of its own.
There is a feedback feature built right into the app. If you have trouble, you can send your question to the developer right from your phone or tablet device.
Visit NZB360