NovaUsenet Review
Last Updated: Jan 21, 2022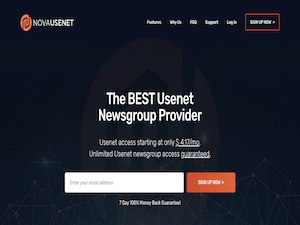 Rating
Price
$4.99 / Month
Retention
1000 Days
Free Trial
7 Day Money Back
Features
3500+ Days Text Retention
SSL Included
Maximum Speed
There are a lot of Usenet service providers available online, and there have been a lot of promises and claims on what they can offer. In Nova Usenet's case, they dare to claim that they are "among the best that can be found". With low rates, unlimited speed, more than enough connections and a safe and secure platform, Nova Usenet looks promising.
Nova Usenet runs their own Usenet platform. This means they control and operate everything with no third-party providers controlling what users can or cannot access. They also run on the latest generation servers, maxing out your broadband connection wherever you are.
Quick Facts
$4.17/ mo (for annual subscription) and comes with a 7-day money-back guarantee
Maximum speed
Built for speed and monitored 24/7 to avoid congestion
Unlimited, unmetered Usenet access
Use up to 40 connections
SSL encryption to protect privacy
3500 days retention for Usenet text messages and about 1000 days for all other messages
With its own Usenet platform. No third-party providers.
Retention
Nova Usenet's platform currently retains Usenet text messages that are over 3500 days. All other messages are retained for about 1000 days. This binary retention is a lot lower compared to the best Usenet service providers.
Pricing
Nova Usenet has two subscription options. You can pay $4.17 per month for their annual subscription or go for their monthly plan, which is at $4.99. Both subscription plans have an all-in package.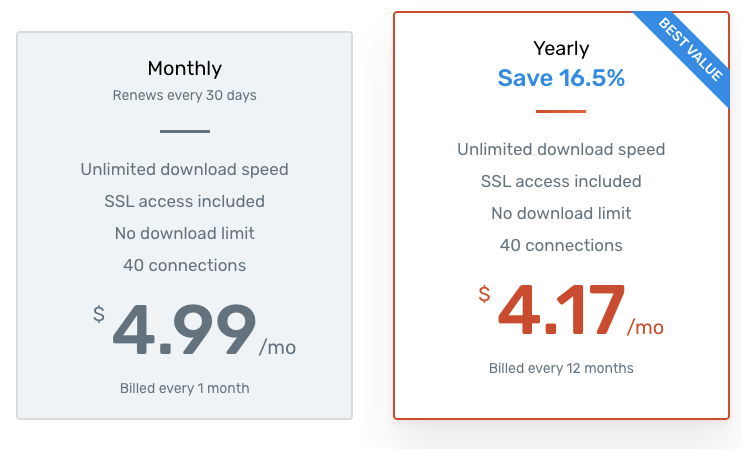 | Name | Price | Connections |
| --- | --- | --- |
| 1 month | $4.99 | 40 |
| Annual | $4.17 | 40 |
Free Trial Info
A no-limit 7-day money-back guarantee is offered once you subscribe to their service. If you are unsatisfied with their service 7 days after your subscription, you may contact their support team and they will refund you as soon as possible.
Special Offers
Currently no special offers are available as the price of Nova Usenet is already discounted. However during certain times of the year such as black friday novausenet may have special offers.
Speed Test
Nova Usenet runs on the latest generation servers guaranteeing unlimited download speed. They also monitor their platform 24/7 to prevent any congestion allowing users to have fast Usenet access anytime and anywhere.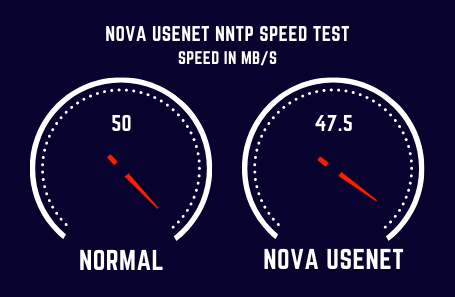 Connections
Nova Usenet subscribers can use up to 50 connections included in their plans with free SSL to protect your privacy.
News Servers/ Ports/ Configuration
Nova Usenet news server is news.novausenet.com. The standard 119 and 80 port can be used upon configuring their settings. For SSL encrypted ports, make use of 563 and 443. Both their monthly and annual plans include SSL encryption.
Frequently Asked Questions for Nova Usenet
Q: Are Nova Usenet users allowed to post content on Usenet?
A: Posting is allowed and is enabled by default.
Q: How do I update my payment details?
A: Subscribers may update their payment details by logging in to their account and clicking on "Update payment details"
Q: How do I change my Nova Usenet subscription?
A: Log in to your account and click on "Modify plan"
Q: How do I cancel my Nova Usenet Subscription?
A: You may cancel your subscription by logging in to your account and then clicking on "cancel your subscription". It is important to note that cancellation of subscription should be done before the renewal period.
Q: Is Nova Usenet a "tier 1" Usenet service provider?
A: Yes. Nova Usenet owns and operates their own servers. When subscribing to Nova Usenet, you get access to the backend of a new "tier 1" Usenet service provider. This backend is a full independent and redundant Usenet platform.
Q: When accessing Usenet, I receive a "502" error. What's wrong?
A: This error message may be caused by two things: (1) Your username and password are incorrect. Make sure you use the same username and password you use to log in on your Nova Usenet account when accessing the Usenet platform. (2) You may be using too many simultaneous connections. Make sure you do not exceed the number of simultaneous connections that come with your package.
Q: Does Nova Usenet support IPv6?
A: Yes. Nova Usenet supports IPv6.
Q: What is "Mbit/s"?
A: Mbit/s is a unit of data transfer rate. 10 Mbit/s (megabit per second) roughly equals to 1 MB/s (megabyte per second).
Q: What are "connections"?
A: This is the number of simultaneous connections you can open on Usenet platforms.
Q: What is Nova Usenet's retention?
A: The platform currently retains Usenet text messages that are over 3500 days and approximately 100 days for all other messages.
Q: Can I share my account?
A: Your account is of personal use, but you are allowed to grant one other person at a time to access your account. Please be aware that you are still the account holder and you are responsible for all activities that happen on your account.
Security/ Privacy Policy
Nova Usenet collects the basic information (name, email address and credit card details) upon account creation for subscription processing but is not used for any other purpose except if it is required by law.
Account usage is monitored for two purposes: to identify unauthorized account sharing and to identify spamming, flooding and similar abuse to their system.
Support
A contact form is available on Nova Usenet's website under the support tab, or you may email them directly at support@novausenet.com. They guarantee response within 24 hours.
Contact Information
Contact Nova Usenet via email: support@novausenet.com.
Payment Options
Nova Usenet only has a credit card and PayPal option for their subscription. Your account is automatically renewed every period unless you stop the renewal before the end of your subscription period.
Opinion
Nova Usenet is a pretty good option for Usenet users. With relatively cheap plans that provide maximum speed, no slowdowns, unmetered access and SSL encryption, there is weight to their claim of being among the best there is. They also have 24/7 system monitoring to avoid platform congestion as well as a quick-response support team that provides good customer service. And to rev up user confidence more, Nova Usenet offers a 7-day money-back guarantee for subscribers who may not be satisfied with their service. So if you're looking for a decent Usenet service provider, Nova Usenet is definitely an option to consider. However, it is important to note that while their text retention is high, their binary retention isnt. You may do better if you go for the best Usenet service providers that offers the highest binary retention rate.
Visit NovaUsenet