5000 days of retention for Newshosting, Eweka Easynews and UsenetServer
Last Updated: Apr 28, 2022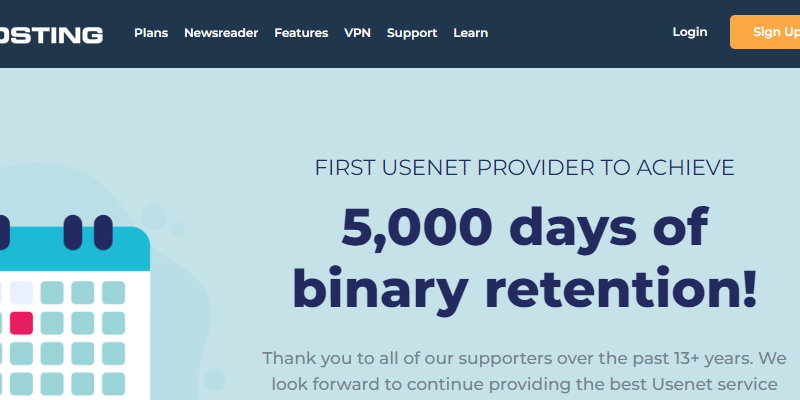 On Sunday, April 24 2022, Newshosting, Easynews and UsenetServer hit 5,000 days of retention (Eweka hit this mark 3 days later on April 27th 2022). This was a huge milestone for these Usenet providers and in the case of Omicron brands : Newshosting, Easynews and UsenetServer, this retention journey began almost 14 years ago. Since this time they have been committed to growing retention daily with no sign of slowing down.
Some important points
Retention is a measurement of how long articles are stored on a provider's servers. It's one of the most important service-level features since it determines how many articles you can access from a provider's servers. Yes, many popular files can be taken down via DMCA complaints but this isn't always the case.

The Omicron brands listed above carry every article posted to every newsgroup for the full number of days stated. In other words, subscribers get access to the full Usenet archive. Conversely, many other providers have hugely inconsistent retention levels for different newsgroups and even subsets of articles, which leads to inconsistent completion and higher failure rates. Users should take note of services listing retention 'up to XXXX days' or similar language to detect the difference between complete and partial retention services.

They are among the only providers continuing to add more storage capacity needed to grow retention day-by-day. To maintain a full and complete Usenet archive means storing approximately 150-180 Terabytes of new articles which are posted to Usenet every day. That's a lot of data. Subscribers to their services have access to a true historical Usenet archive where articles aren't systematically expired. In fact, the archive is significantly larger every day.