LiftCup Review
Last Updated: Feb 11, 2022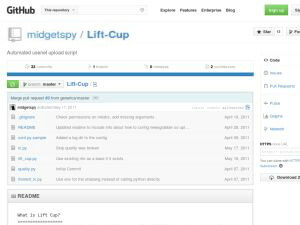 Rating
Price
Free
Features
LiftCup Software
Python Script
Share Torrent Content
Upload Content
Editor's Note: No updates have been done on this software for the past 10 years.
One of the frustrations of torrents is that, if the content is older, there oftentimes aren't very many seeders. LiftCup allows you to do something about that via USENET and, in fact, for you to make life a lot easier for people who need rare or hardly-seeded files. And while no updates have been done on this software for the past 10 years, this application can still be used. Please note, however, that this is considered outdated and there are apps that are more well-kept and recently upgraded.
How It Works
LiftCup is a python script. It takes content that you downloaded from torrent sources and automatically uploads them to your USENET service. You'll have to use software like Newsmangler to complete the process. There is some support for post-processing via Windows clients such as uTorrent, however.
The program will take the content, give it a standardized file name and indicate the quality—for video—and source information. It automatically RARs the film and creates an NFO. It then takes your RARs, converts them to PARs and uploads the RAR, PAR and NFO files at once. Essentially, it takes care of all the particulars of uploading to USENET for you, eliminating a lot of extra steps.
The video quality features are automated. It will check the file name for a quality string or use your quality denotation if there isn't one available. If you don't add one yourself, it'll take a look at the file type and base the quality on that.
The qualities it assigns include:
SDTV
SDDVD
HTDV
WEBDL
HDBLURAY
FULLHDBLURAY
If you want to make USENET users who come across your uploads very happy, this will go a long way toward doing that!
Installation
Get the source

git clone git://github.com/midgetspy/Lift-Cup.git ~/lift_cup

Install dependencies:

rar
par2
newsmangler (git clone git://github.com/madcowfred/newsmangler.git ~/newsmangler)

Set up config

rename conf.py.sample to conf.py
configure the options inside to match your system
The Potential
There are a lot of useful torrents out there that people need that are very sparsely seeded. Some of them are oftentimes down to zero seeds, making for a frustrating experience for people who need to download those files. USENET, aside from the fact that's it's exceptionally fast, is a useful alternative as large files, even rare ones, don't depend upon having seeders for distribution. See our list of Usenet Providers here.
The one caveat with this program is to keep it legal. For uploading a copy of a rare open source distro to USENET, public domain video and other above-the-board uses, LiftCup has a lot to offer. The Python scripting is compatible with multiple operating systems and the simple, but thorough, uploading process should be accessible to anyone. If you do manage to find some of those poorly seeded torrents and you know others need them, do them a favor and share them via USENET. It's a lot easier with tools like LiftCup.
Resource Links
Visit LiftCup